Cellphones Are Letting Companies Learn What Their Factories Are Really Like
With managers watching, workers often withhold the truth during audits. A nonprofit has piloted a new way to gather information on working conditions abroad.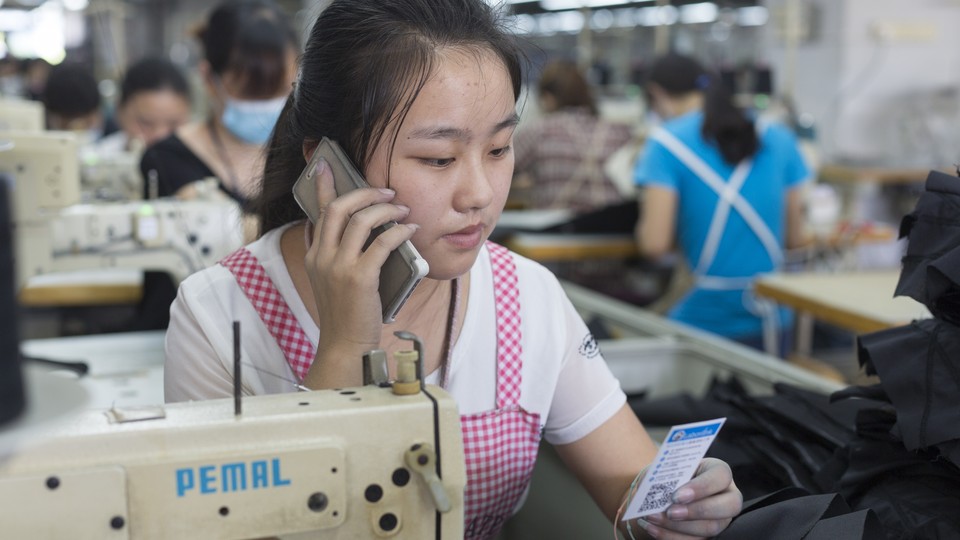 Even as some higher-end retailers such as American Apparel have made "Made in America" a signal of cool, the narrative that no clothing is produced in the U.S. anymore is still mostly right.
But even though an estimated 97 percent of the clothing sold in America is imported, its residents pay little attention to how that clothing is produced. The occasional front-page news about abysmal factory conditions, such as the deadly Rana Plaza collapse in Bangladesh in 2013, can cause brief spikes in awareness, but for the most part Americans don't pay garment workers abroad much thought. Today, the consumers who have concerns about their clothing often wonder how to act on them.
That apathy goes a long way in explaining why garment work remains so unsafe, but even if companies wanted to clean up their supply chains, could they? A study from NYU's Stern Center for Business and Human Rights last year found that the sheer size of the clothing industry and its dependence on off-the-books workers make it difficult to reduce health violations and dangerous practices at factories overseas. Beyond garment workers, the same concerns apply to millions of workers assembling electronics abroad.
"The dominant paradigm that companies use to check on working conditions is the social audit. And that paradigm is broken," says Heather Franzese, the executive director of Good World Solutions, an Oakland-based non-profit that's aiming to change the way brands in the U.S. can assess working conditions abroad. A "social audit" is one conducted in person, which sounds rigorous. But in practice, managers are often present during audits, making factory workers hesitant to complain for fear of retaliation, and, on top of that, some workers have reported being coached by managers on the "correct" responses to inspectors' questions. "We've seen, from factory fires and factory collapses, thousands of workers dying because brands and retailers don't have proper visibility into the true conditions of the factory floor," says Franzese.
In 2010, with funding from USAID, Good World Solutions developed a program called Laborlink to help companies get better data on labor conditions at their factories abroad. Taking advantage of the fact that 89 percent of people in developing countries have mobile phones, Good World Solutions was able to gather data that was near impossible to get before. Factory workers call a phone number given to them by an instruction card, and then get an automated call back from Laborlink (so they're not charged for the call) with a multiple-choice survey about their working conditions. The process is designed so that even workers who are illiterate can give feedback. By letting workers report conditions on their own time, without managers listening in, Laborlink lets workers share (and companies collect) honest feedback.
Six years later, Laborlink has surveyed half a million workers in 16 countries, collecting some 1.4 million data points that tell a story different from the one companies are used to hearing. Across all of its projects, Laborlink found that only 77 percent of factory workers felt safe, and 32 percent reported not being paid for overtime work. One in five workers reported working seven days a week, and 50 percent reported verbal abuse from supervisors. (About 41 percent of workers provided access to Laborlink have used it.)
Franzese says these figures are proof that Laborlink is able to gather sensitive information that would otherwise go unheard. In some of the factories that reported verbal abuse, the issue wasn't even picked up in social audits. "You can imagine why," says Franzese. "Workers might not feel comfortable telling a stranger face to face that they're being harassed or verbally abused by their supervisor or possibly by other workers. But by giving them an anonymous channel, we're able to pick that up."
So far, Laborlink has been used by a handful of companies in both retail and electronics, including Target, Cisco, Disney, Vodafone, and Marks & Spencer. Good World Solutions has also started a pilot program to address holes in the supply chain: In southern India, Laborlink cards were handed out to subcontractors, who could report working conditions along with the brand labels of the garments they were making.
To companies, Laborlink's information is unique. "When it came for us to be looking at who could we partner with so that we could get a greater insight into some of the more sensitive issues around working hours and pay and that we'd be able to hear directly from the workers about this, it was obvious that Laborlink was the service provider we could turn to to give us access on a broader scale that we might not otherwise get," says Ivanka Mamic, the director of responsible sourcing at Target. (I reached out to a handful of companies who have used Laborlink, and all of them declined to comment.)
Mamic says that in China, getting good data on working conditions remains a huge challenge for companies. Target partnered with Laborlink to conduct surveys in four of its factories in China, and is currently analyzing the results. Mamic says that the preliminary findings have confirmed some of their suspicions about what she calls "challenges" regarding working hours: Target says that 81 percent of their workers were satisfied with their hours, but that those who worked more than 10 hours a day weren't so happy. In China, worker satisfaction has become a corporate concern, because high turnover rates can be costly.
As small as this test-run was—it only covered four factories in a single country, out of the 3,000 factories in 50 countries that Target relies on—Mamic called it "an extremely valuable pilot project." Though Target isn't sure it'll keep using Laborlink, Mamic says that its scalability is certainly a positive. "What I like specifically about the Laborlink approach is that we're looking at a win-win both for us and for our suppliers, and the concept of shared responsibility, and also providing an avenue for the voices of workers to be heard," she says.
Franzese is optimistic about the future of using data from mobile devices to assess factory conditions. "We've started to work with some very big name brands...and they have said to us, 'We see this as potentially an essential part of our supply-chain engagement strategy.' So I really think that within five to 10 years, we'll see all mass retailers and major apparel and electronics companies having some sort of direct worker engagement as a core part of their supply chain engagement."
There's clear incentive, too, Franzese says: "Because they realize that in this age of transparency, you cannot hide what's happening in your supply chain, cannot hide factory conditions, and you'd certainly rather know about it before it's on the front page of The New York Times."