The For-Profit College Conundrum
When graduates aren't getting the jobs they were promised, are institutions guilty of fraud or failure?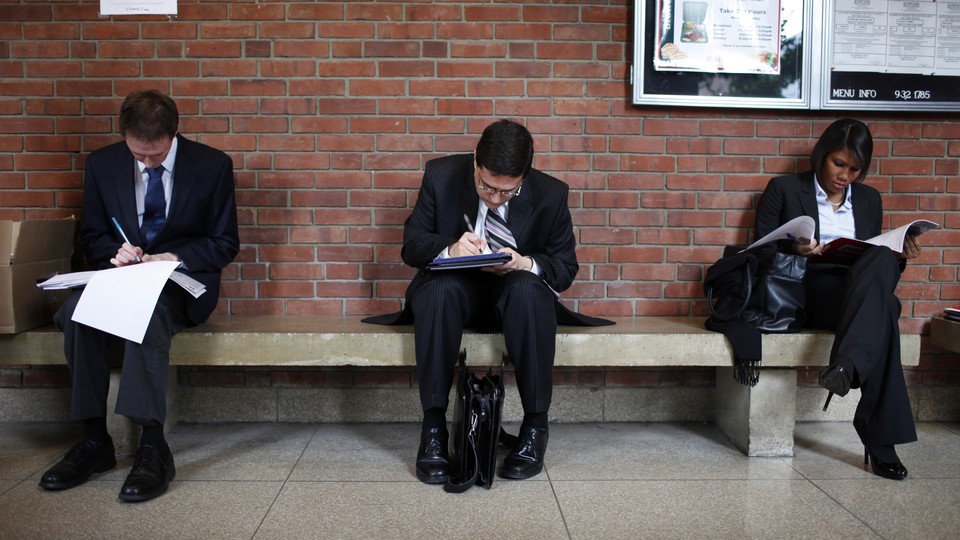 On Monday, the U.S. Department of Education announced that it's establishing a new office to address the complaints of students who attended for-profit colleges. In particular, this new initiative, the Student Aid Enforcement Unit, will investigate colleges that engage in misleading marketing—presenting overly optimistic statistics about graduation and employment rates—and will be able to punish colleges by cutting off their access to federal student loans and grants.
The momentum has been building for quite some time for the federal government to crack down on for-profit colleges' marketing tactics. Last year, thousands of for-profit students applied to have their federal student loans forgiven on the grounds that they were recruited under false (and illegal) pretenses. In December, the Department of Education agreed to forgive $28 million worth of federal loans provided to students who attended the now-defunct Corinthian College. And last month, the Federal Trade Commission and the Department of Education announced that it would take action against DeVry University for deceptive marketing claims.
Federal funding is the primary source of revenue for for-profit colleges, which have faced a barrage of criticism: Some say they offer poor results at high prices and others say they exploit veterans and low-income students. On top of this, for-profit schools' low graduation rates and high loan-default rates have been highly publicized. These colleges, for their part, have defended themselves by saying that they are taking in non-traditional students for vocational training and providing educational opportunities for those who don't have other promising options. And that's why, they insist, the outcomes of these students are not comparable to those of students who attend state universities or top-tier schools.
The Department of Education's new unit will be led by Robert Kaye, who has worked at the Federal Trade Commission and the Bureau of Consumer Protection. One of his unit's tasks will be "to identify potential misconduct or high-risk activity among higher-education institutions and protect federal funding." But in the realm of education, it's worth asking what constitutes fraud. Has a for-profit college actually defrauded its students, or has it merely failed them? How can the government tell? The difference between fraud and failure can be hard to disentangle, as determining the return of an investment in education has never been straightforward.
Higher-education institutions have long shied away from attempts to measure that return, perhaps because not every college is selling the promise of employment. While for-profit colleges frequently play up their students' excellent job prospects after graduation, liberal-arts colleges in the U.S. more often talk about education as an end in itself. There's a reason why this is the case: The type of student who attends a liberal-arts college is typically willing to pay for an education as well as the prospect of a good job post-graduation, whereas the type of student that for-profit colleges attract might simply be looking for a credential in order to get a job. The government's focus on marketing highlights this contrast: nonprofit colleges rarely guarantee post-graduation employment the way for-profit colleges do, so they aren't likely to be suspected of fraudulent marketing.
Indeed, it's probably unwise for any college—for-profit, public, or nonprofit—to promise its students eventual employment, and the new unit might well find such promises fraudulent. But cost is a real issue for both nonprofit and for-profit college graduates: The fact that Americans now owe over $1 trillion dollars in student loans means that the Student Aid Enforcement Unit's mission to "help ensure that students at career colleges don't end up with debt they cannot repay" could reasonably apply to those beyond for-profit career colleges' attendees. The difference is that graduates of nonprofit institutions usually blame the economy and the labor market, and only sometimes their alma mater, for their mounting debt. The debate over nonprofit schools centers around sky-high tuition costs, not fraud, because most graduates feel that they've gotten what was advertised.
But it's important to remember why for-profit colleges became popular in the first place: In a country and an economy that places a lot of importance on having a degree, they serve students who don't have the chance to attend a more traditional university. Additionally, the outsized cost of for-profit-college tuition seems particularly unfair, since their student pools tend to have lower earning potential to begin with. (Though it's also worth mentioning that there are for-profit colleges out there that produce decent outcomes.) In light of this, it's worth asking whether an emphasis on having a college degree is a good thing for everyone. While for-profit colleges might not be the best option for many reasons, it's hard to ignore the reality that most employers require, or at least strongly prefer, candidates with college degrees.
It's possible that U.S. employers can play a part in reducing the demand for for-profit colleges and career schools. Elyse Rosenblum, the principal of Grads of Life, a campaign that works with nonprofits and employers to create talent pipelines for those without college degrees, says American professional culture isn't very supportive of hiring young adults who haven't attended college. "We have this perspective here [in the U.S.] that everyone has to get a college degree. And yet, there are many jobs out there that don't in fact require college degrees, and a college degree has become the marker for lack of alternative pathways into work," says Rosenblum. She believes that employers would benefit from flouting the social norm, because they'd open themselves up to hiring an untapped source of talent.
"There's a tremendous amount of effort to focus on college as the great equalizer, that if everyone can just get a college credential, we'll be able to address things like income inequality and social mobility," Rosenblum says. "I think we've gone so far in the direction of this focus on college credentials that we've lost sight of what really matters for companies and young people."
Rosenblum says that some companies the EPP has worked with have seen success after bringing on young adults without degrees. She points to examples such as the transport and logistics company Expeditors, which has a recruitment program that trains high-school students in the "middle skills" needed for a career at the company.
In the U.K., employers have started to embrace the fact that talent pipelines should include candidates without college degrees. Last fall, the accounting firm EY (formerly Ernst & Young) announced that starting this year, the British arm of the firm will be evaluating candidates based on pre-employment tests instead of college degrees, after an internal 18-month study found little evidence that academic success correlated with job performance. Penguin Random House in the U.K. also followed suit, and now no longer considers degrees in its hiring process.
In the conversation about for-profit colleges and deceptive marketing, it's worth thinking about what those colleges' students could be doing instead. Some of them might attend community colleges, and for those who don't, there's a hope that some employers will be willing to train them.