The Best Business Reads of February
The month's best stories from around the web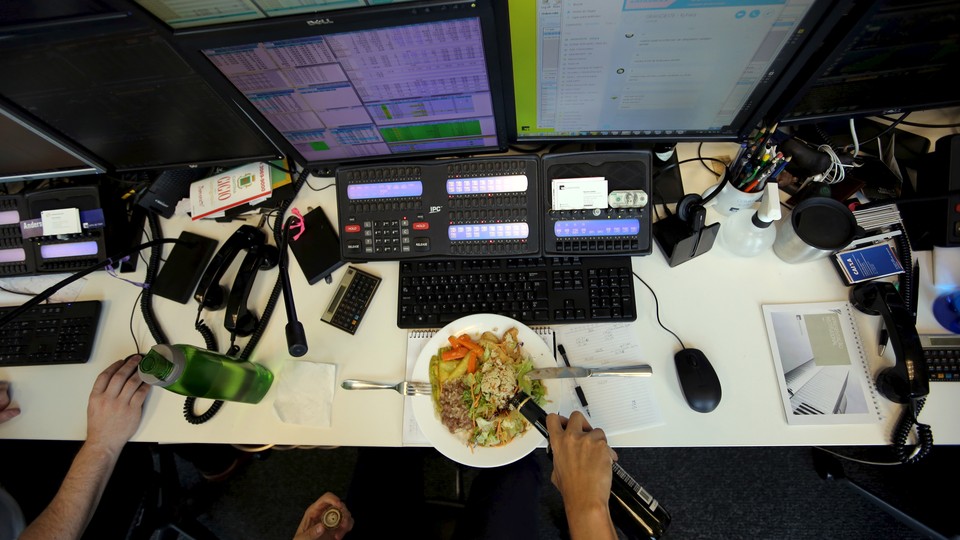 For the past few months, The Atlantic's Business section has been compiling lists of the best stories we've read on the subjects of money, economics, and work from around the web. February's picks offer everything from sad-desk lunches to the disparities in how businesses dole out perks, to apartment evictions in minority communities. These are stories that take a look at how work culture and the state of the economy affect political leanings, and stories that question what's wrong with the current welfare system. Basically: They all are too good to miss.
If you've skipped previous months, be sure to check out best reads from December and January.
* * *
"It's Time for Welfare Reform Again"
Annie Lowrey | New York Magazine
So here is my humble suggestion for the Clinton and Sanders campaigns: If you really want to help low-income families, bring back welfare. Make it easier to get and easier to keep. Rename it, rework it, and destigmatize it. Use it as a vital, instrumental tool to help all very low-income families with children, not just a last resort for some. Make reform about helping kids and ending extreme poverty rather than punishing parents.
* * *
"The Faces of American Power, Nearly as White as the Oscar Nominees"
Haeyoun Park, Josh Keller, and Josh Williams |  The New York Times
We reviewed 503 of the most powerful people in American culture, government, education and business, and found that just 44 are minorities. Any list of the powerful is subjective, but the people here have an outsize influence on the nation's rules and culture.

After some years of progress, the diversity of the corporate elite has stalled in recent years, said Richard Zweigenhaft, a professor at Guilford College who studies executive diversity. "Once that barrier is broken, there may be a little less pressure to keep appointing people from that previous excluded category," he said.
* * *
"It Takes 890 Days to Become a Barber in Nevada"
Andy Koenig | Politico
To understand just how out of control occupational licensing is, first consider the relatively reasonable example of emergency medical technicians. The Institute for Justice, a nonprofit public-interest law firm, estimated in 2012 that the average EMT license costs $85 and requires 33 days of education and training.

Now compare that to other professions where the stakes aren't so high — barbers, for instance. Alabama is the only state that doesn't license them. On average, a would-be hair trimmer must spend more than a year in training and fork over $130. This may not seem like much, but it may be a serious barrier for a low-income job seeker who cannot afford to quit one job to train for another profession, often at his or her own expense and without a paycheck. In Nevada, the education and training requirement for barbers is 890 days — about two-and-a-half years.

Cosmetologists must be licensed in all 50 states, and the average cost is $142, plus more than a year of education and training, and two exams. Commercial carpenters and cabinet makers, licensed in 29 states and the District of Columbia, fare even worse. They're looking at about $300 and roughly 450 days in school.

The list goes on — and gets increasingly more ridiculous.
* * *
"The NYPD Is Kicking People Out of Their Homes, Even If They Haven't Committed a Crime"
Sarah Ryley | Pro Publica and New York Daily News
Jameelah El-Shabazz and Shakoor sat in cells on Rikers Island for the next week awaiting the results of police lab tests. Finally, the results confirmed what she had told the officers all along: the wooden tray and the 45 paper cups of powder were drug-free. Jameelah El-Shabazz and Shakoor were released from Rikers and fully exonerated.

But El-Shabazz's battle with New York's legal system was only beginning. That September, another of her sons called to say the police were back, this time with a lawyer and a court order to seal the Bronx apartment. Her entire family had to leave — immediately.

El-Shabazz was facing a nuisance abatement action, a little-known type of lawsuit that gives the city the power to shut down places it claims are being used for illegal purposes. The case against her was based on the same drug allegations that had been dismissed in May. Incredibly, the filing, signed by a New York Police Department attorney, stated: "recovered during the execution of the search warrant were forty-five (45) paper cups of cocaine."
* * *
"Why Sexism at the Office Makes Women Love Hillary Clinton"
Jill Filipovic | The New York Times
The mothers-versus-daughters narrative, long an election-year trope, is particularly pronounced now, and tinged with stereotypes on both sides. The idealistic but ungrateful naïfs who think sexism is a thing of the past and believe, as Mr. Sanders recently said, that "people should not be voting for candidates based on their gender" are seemingly battling the pantsuited old scolds prattling on about feminism.

Instead, the reality may be another kind of simple numbers game: More time in a sexist world, and particularly in the workplace, radicalizes women.

Radicalism isn't expressed only by supporting a socialist; it can also take the shape of women, increasingly disillusioned by a biased culture, throwing their weight behind someone who shares both their political views and their experiences.
* * *
Stacey Vanek Smith and Robert Smith | Planet Money
For years, Saudi Arabia has been living off one resource and one resource only: oil. They have free healthcare, free education, and 6,000 princes. They've never charged taxes. They're a major ally of the U.S., and our most stable partner in an extremely troubled part of the world. But that stability, like everything else in Saudi Arabia, rests on oil money.

But the price of oil has plummeted, and Saudi Arabia is scrambling to adapt. So what happens now?
* * *
"It's Time to Kill the $100 Bill"
Lawrence H. Summers | Washington Post
Illicit activities are facilitated when a million dollars weighs 2.2 pounds as with the 500 euro note rather than more than 50 pounds as would be the case if the $20 bill was the high denomination note. And he is equally correct in arguing that technology is obviating whatever need there may ever have been for high denomination notes in legal commerce.
* * *
"The World's Favorite New Tax Haven Is the United States"
Jesse Drucker | Bloomberg
After years of lambasting other countries for helping rich Americans hide their money offshore, the U.S. is emerging as a leading tax and secrecy haven for rich foreigners. By resisting new global disclosure standards, the U.S. is creating a hot new market, becoming the go-to place to stash foreign wealth. Everyone from London lawyers to Swiss trust companies is getting in on the act, helping the world's rich move accounts from places like the Bahamas and the British Virgin Islands to Nevada, Wyoming, and South Dakota.
* * *
The Economist
Seldom has any country been so transformed by one industry as the Philippines has by call centres. The first "businessprocess outsourcing" jobs appeared in the 1990s: the term covers tasks from answering phones to processing invoices and animating TV shows, mostly for rich-world firms and governments. This loosely defined industry now employs some 1.2m people and accounts for about 8% of the Philippines' GDP. The country is especially strong in call centres: it has already overtaken India, even though India has about 12 times as many people.

Yet the Philippines is also, probably, the end of the line. New technologies are poised to abolish many call-centre jobs and transform others. At best, jobs will be created more slowly in the Philippines and India; at worst they will vanish. And it is likely that nowhere else will be able to talk its way out of poverty as they have done. There might never be another Manila.
* * *
Malia Wollan and Brian Finke | The New York Times
After all her conversations, note taking and analysis, Lee summarizes her findings like this: ''The way people eat at work is pretty sad.''