The Recovery's Geographic Disparities
A new report finds that since the recession, wealthy American communities have seen a lot more progress than poor ones.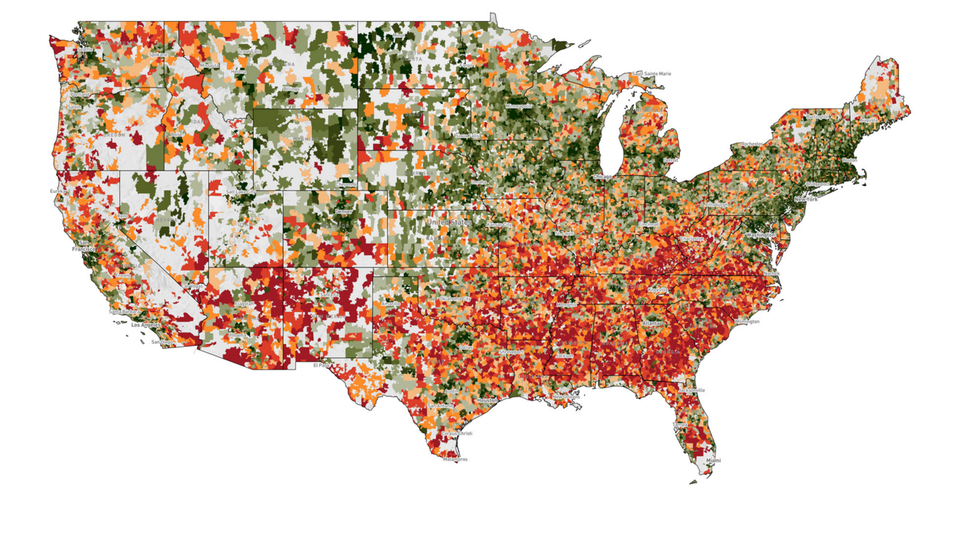 The U.S. economy right now is a pretty mixed bag: On Tuesday, the White House released a reassuring economic report that says the overall U.S. economy has rebounded strongly since the Great Recession, and that it's still on the rise. But the report also acknowledged that rising wealth and income disparities urgently need to be addressed.
A new report by the Economic Innovation Group, a nonprofit focused on researching and advocating on America's economic challenges, confirms this duality. The report looks at how the nation's poorest communities have fared during the recovery and it finds that for these places, the recovery is a distant phenomenon, something taking place far away. Wealthy communities, by contrast, have been booming.
EIG's analysis examined economic conditions in 25,000 zip codes and mapped them onto their Distressed Communities Index. Seven factors were used to determine whether a community is distressed: the number of adults without high-school degrees, the prevalence of vacant houses, the number of adults not working, the poverty rate, how the medium income measures up against the state's median, and whether business and job opportunities were disappearing. Taken together, this offers a more comprehensive view of an area's economic health than evaluating just one of those factors.
"The DCI's zip-code analysis allows us to better understand the dramatic differences in how Americans have experienced the post-Great Recession economy," said John Lettieri, the EIG co-founder and senior director of policy and strategy. "Equality of opportunity varies widely based on geography. We know now better than ever before that one's zip code at birth has an enormous impact on one's chances of accessing the American Dream."
The report found that for the bottom fifth of U.S. zip codes—which the researchers term "distressed"—the medium income only reaches 68 percent of the state-wide median and 27 percent of adults live in poverty. These communities saw employment decline by 6.7 percent during the recovery. Not the recession—the recovery. In the nation's median and prosperous zip codes, the situation is much brighter. Employment in median zip codes rose by 2.3 percent, while in prosperous communities—the top fifth of U.S. zip codes—employment rose by an incredible 17.4 percent.
EIG's analysis supports the notion that in the U.S. economic gains continue to be captured by those at the top. "The data outlines two different Americas from an economic standpoint," said Steve Glickman, the co-founder and executive director of EIG. "The communities taking advantage of the knowledge economy are booming, but the areas where the industrial economy has traditionally held firmest have really suffered. These trends predate the Great Recession, but the recovery has continued to accelerate the fortunes of the most-prosperous areas and the downturn of the most distressed."