Between a Detention Center and a Home of One's Own
In Chicago, a few undocumented immigrants find shelter and work as they wait, sometimes years, for a court date.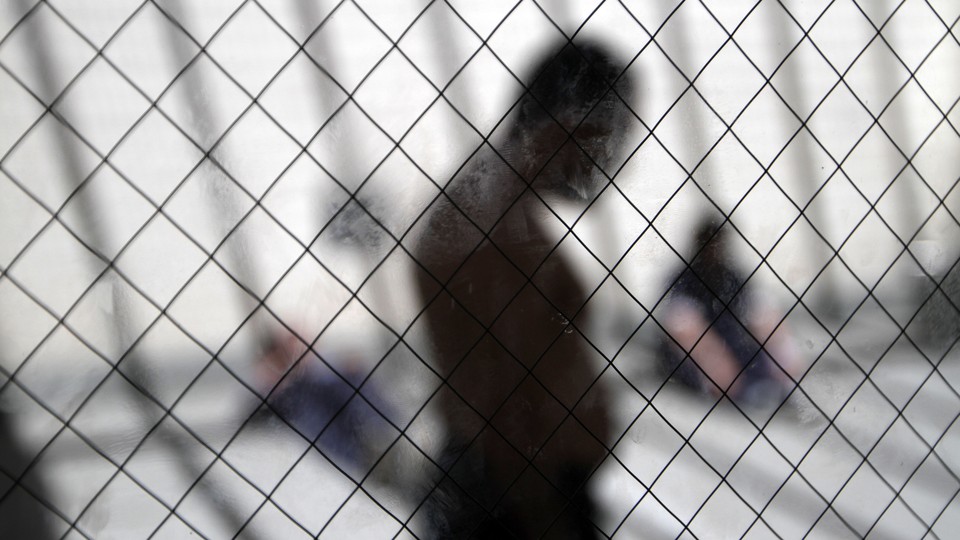 CHICAGO—Immigration detention centers here in northern Illinois and southern Wisconsin are inundated. In three county jails originally for local criminals, nearly 600 undocumented immigrants are locked up, waiting for court hearings that may be as many as three years down the road. They can't leave—bail for release costs anywhere from $2,000 to $15,000, an amount few have—and following an influx of unaccompanied minors in recent years and the retirements of several local immigration judges, there just aren't enough people to process all the claims.
And for those who do get released on parole before their hearing, the outside may be in some ways even harsher: Without a work visa or family to help, they have few job prospects and little to fall back on.
This was the fate of one Eritrean woman who arrived in Chicago seeking asylum last year. She was immediately detained by immigration officials and sent to the McHenry County Jail. She was pregnant at the time. When I met her in Hyde Park on the city's South Side in December, she was finishing her lunch, her newborn baby resting on her chest. (She asked to remain anonymous for fear of retribution in her home country if she were to have to return there.)
Four months into her pregnancy, at the detention center, she fell ill. Immigration officials quickly sought to release her to an outside facility, she says, hoping to avoid another potentially high-profile mishap involving a pregnant undocumented immigrant in custody.
But where would she go? Immigration officials turned to the Marie Joseph House of Hospitality—less a house, really, and more of a floor in the Catholic Theological Union dormitory in Hyde Park. Twenty people, mostly women and young children, are given a room, a bus pass, food, and some pocket money. Essentially, though, they're given a community setting as they try to find work to help pay for a lawyer to represent them in expensive immigration proceedings.
In the past few months, a growing number of undocumented immigrants released from area detention centers, either by parole or bond, have found refuge at the Marie Joseph House and the House of Hospitality in Cicero, two homes operated by the Chicago-based Interfaith Committee for Detained Immigrants, or ICDI. Lacking a work permit and with court dates sometimes years in future, those immigrants would normally be released out to the streets, sometimes living in overnight homeless shelters, not knowing anyone in the country. These homes offer an alternative, and one that immigration officials requested in the Eritrean woman's case.
"Asylum seekers struggle to get stable and get on their feet," says Becky Sinclair, one of two case managers at the homes. "Our goal is for everyone to be independent and have a decent job, and be able to have their own apartment and be a functioning member of society." Asylum-seekers can apply for work-authorization papers 150 days after filing for asylum, a process that can itself sometimes take 90 days. During that time, the ICDI homes fill in the gaps. Once people can work and find jobs, the money they earn often goes to family members back home or, in some cases, to the traffickers that helped get them to the United States, Sinclair says.
The house in Hyde Park is full right now, with a long waiting list of undocumented immigrants, most of whom are asylum seekers, wanting a shot to get back to work. There's only enough rooms for 20 people, each room equipped with old furniture from the Palmer House Hotel downtown—a double bed, a desk, a desk chair, a recliner, and a dresser. The two case managers assist residents in scheduling English classes, doctor's appointments, and so on, and helping them get around.
Every member of the house signs a covenant committing them to avoiding drugs and alcohol, contributing to house chores such as vacuuming the hallways and running the dishwasher, keeping the common room and the tiny kitchen clean, and abiding by a 10:30 p.m. curfew on weekdays and 11:30 p.m. curfew on weekends.
It's a functioning household, says Mary Ann Penner, the housing manager in the Hyde Park home. The immigrants all cook their meals in a small kitchen, which was converted from a bathroom, using food Penner purchases at a neighborhood discount store and sometimes ethnic markets on the North Side. The smells of food from their native countries—Pakistan, Rwanda, Guatemala, El Salvador, Honduras, and Egypt—waft through the hallways. Spanish is often heard in the common room, including from people from African countries who traveled through Spanish-speaking countries on their way up to the U.S. But the place can be hard for families. "Kids are kids," Penner says. "They want to run; they want to play. We don't have a big exercise area. You can't send them to the yard because we don't have one."
House staff say they "become like family" to the residents. When it came time for her to give birth, the Eritrean asylum seeker asked Sinclair, her case manager, to stay with her throughout her labor at Northwestern Memorial Hospital downtown. Twenty hours later, Sinclair cut the umbilical cord. "Every woman needs someone with her when she gives birth," she says.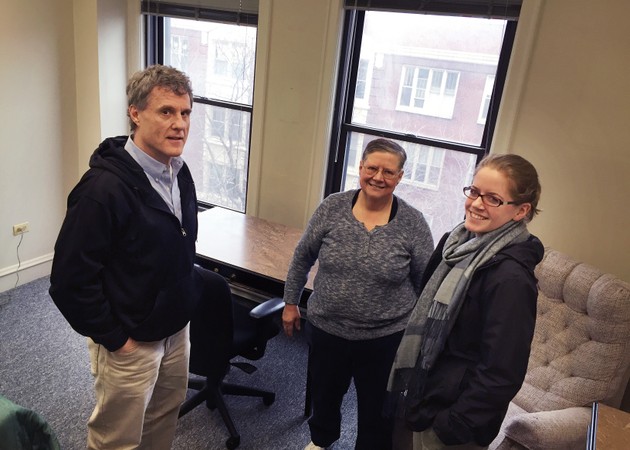 The home in many ways shows the failures of the immigration system. While Chicago is far from the Mexican border, the city is still dealing with the continuing crisis of unaccompanied minors from Latin America. In the two months before I visited Chicago, 10,000 unaccompanied minors crossed the border. If ICE picks them up at the border, it has 72 hours to turn them over to the Office of Refugee Resettlement, which then contracts out to other organizations to take the children in. In Chicago, Heartland Alliance operates nine centers, where staff are charged with relocating children, connecting them to their families, and placing them in foster care. But on their 18th birthday, they're placed in immigration detention centers.
Michael Gosch, the director of the Justice, Peace and Integrity of Creation Office within the Viatorian Catholic Community, sought to make sure that some of those children made their way to the Hyde Park home. His agreement with ICE only allows for these children to move into the home a day before they turn 18, bypassing the need to put them in detention centers with other adult undocumented immigrants. After they move in, Gosch and other staff throw them a birthday party to celebrate their arrival.
"Because we're not on the border, we're not in it as deeply as other organizations," he says. "But our houses have been filled now for several months and there's no end in sight. We have a waiting list of people who are in detention who can get out if they have a place to stay. We just need more housing and more funding."
While they do get some funding from organizations such as Sisters of Mercy and Lutheran Services in America, and from personal pitches to a few select donors, money is tight. Gosch sees their homes as a cost-saving, community-based alternative to federal detention centers that are run less efficiently.
"Are there some people who need to be in detention? Sure," he says. "Are there some people who need to be deported? Absolutely. Did they mess up big time? Sure. But the majority of people that I visit in jail, the kids that I see in the detention centers, all of the people in our houses, there's no need for them to be in detention and the government having to spend all this money to house them."
Immigration officials have already worked with their organization for several years now, allowing volunteers into three area detention centers to provide prayer, a little commissary money, and writing materials to undocumented immigrants in custody. On days that some of those detained immigrants are being deported, volunteers offer them prayer before their buses depart, and also provide counseling to their families, who are often distraught. On weekdays, they attend court hearings two sessions a day out of solidarity to immigrants who attend their own hearings in person or by video from the detention centers. The group calls it "a ministry of presence and accompaniment." Now, they're hoping to be a model for long-term facilities for asylum seekers and other undocumented immigrants to stay as they wait for their court hearings.