The Man Who Tames the Today Show Crowds
Every weekday morning, Alex Ficquette shows up at 5 a.m. to help hundreds, sometimes thousands, of people indulge their fandom.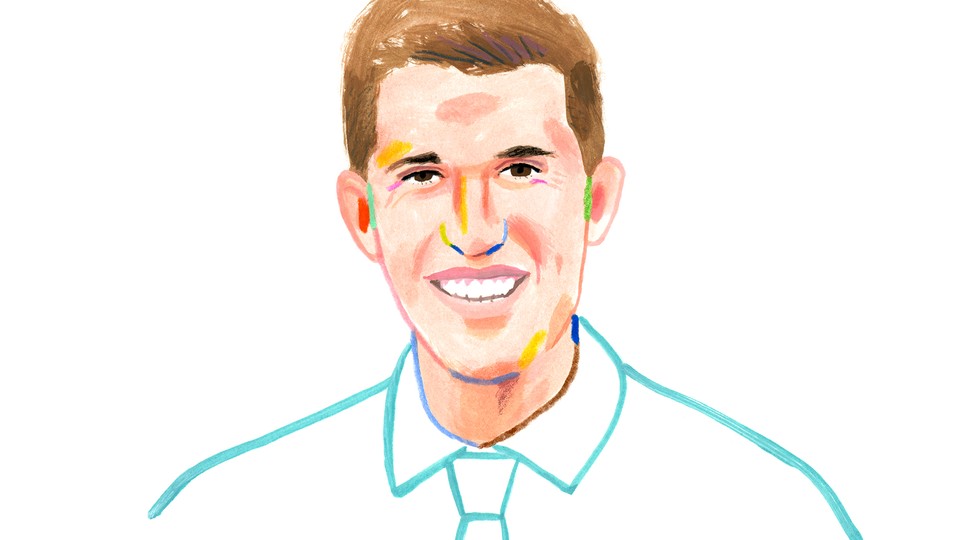 Alex Ficquette has a peculiar job: He manages the hundreds to thousands of people who show up every weekday morning in midtown New York City to watch the filming of NBC's Today show. The Today show debuted in 1952, and its fans from across the country are eager to be part of it when they visit town.
For The Atlantic's series of interviews with American workers, I spoke with Ficquette about how he handles the sheer number of people, the nature of fandom, and how to make sure everyone has a good time early in the morning. The interview that follows has been lightly edited for length and clarity.
---
Bourree Lam: How did you get this job?
Alex Ficquette: I was a big fan of the show. I'm from Florida, but I've actually been on the plaza with my mom as a kid visiting New York. Two years ago, they started to put more emphasis behind the plaza. They revamped it and redesigned it, [and] launched a whole new website that has all the information you need to know when planning a trip to the show: an RSVP page where people can write in and let us know they're coming, special requests, or stories they want to share. In addition, they also wanted a dedicated producer to just always be outside with fans—to choose people for segments, find ways to involve them in the show, handle all the giveaways. I was the really lucky person that they chose.
Lam: What time do you show up to work?
Ficquette:  I show up to work around 5 a.m. There's a 5:30 a.m. meeting each day where we basically go over the show that's about to happen … and then pretty much hit the ground running from there. We start setting up the plaza around that time, and security opens up the gate and starts letting people in at 6:30 a.m.
Lam: Are people already lining up when you get to work?
Ficquette​: Totally. Pretty much our visitation is controlled by the school calendar, and the tourism calendar. Summertime is our peak: Labor Day until Memorial Day everyday of the week is just completely packed, and I will always see a line by then.
Lam: How many people do you deal with at work on a daily basis?
Ficquette​: Over the summer, close to a thousand people—and this is excluding the summer concert series, which is just thousands and thousands of people. But on a regular day in the summer, high hundreds. This morning, it's freezing cold [with a] big snowstorm coming to New York and we had around 150 people outside.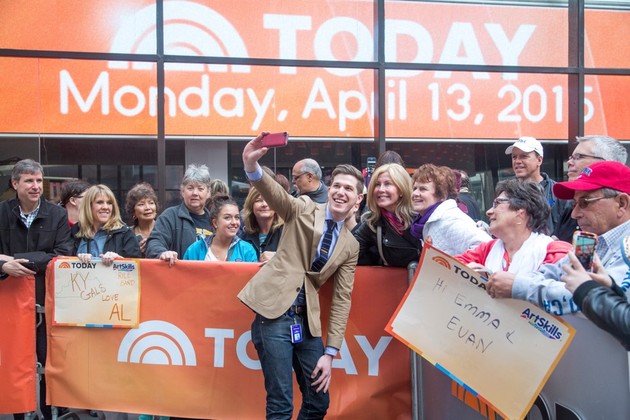 Lam: Why do you think so many people come out for the show? And what are people's expectation when they're there?
Ficquette​: I have learned that people have a deep connection to the show—it's really a part of their morning routine. I'll even hear from little kids that are in grade school that actually watch the first 45 minutes or just the opening. That's how they know cereal is supposed to hit the table for breakfast. It's also generational, we'll get three or four generations at a time together on the plaza, and the show has been passed down from each generation.
I often find that it's the start of people's iconic day in New York City. They'll start with us, they'll walk up Fifth Avenue to the flagship stores, look at St. Pat's Cathedral, go to a tour of Central Park, back down to the Statue of Liberty. It really is a tourist destination, it's very iconic.
Most people out there, I would say 90 percent, are there because of the deep connection to the show and to the anchors ... Just a month ago, we had on a little boy who spent a lot of time in foster care growing up. He just found his forever family, and they brought him to the plaza because he is a huge fan of Al, and in his own words he said that Al was the constant in his life when he was constantly changing homes. He could turn on the TV and see Al doing the weather and that's what he could depend on. There are stories like that everyday, and it's just unbelievable. In this instance, I introduced him to Al, Al took him inside, gave him a tour of the studio, and signed a mug for him. Those types of connections ... the plaza is where the fans can come to make those things happen.
Lam: Who is the most memorable person you've met while working on the plaza?
Ficquette​: Her name is Tisha and she is from Shelby, North Carolina. I met her shortly after I first started. It was almost the end of the morning, we were actually wrapping up, so probably about 9 a.m. I was chatting and going over the schedule with her, suggesting that maybe she could come back tomorrow. She had this photo that was taken with her and Matt from years ago and asked me if I could get that photo signed. There was something very genuine and sweet about her. I ran inside, Matt had already left for the morning. He had to go and do an interview so he was already out of the studio, but I took the picture from her and said I would do my best to get it signed and sent back to her. And I did—we got it all done.
A week later, I heard back from her in a written note thanking me and Matt for the signed picture. She wanted to explain what the picture meant to her, which we didn't know at the time. It was a picture that was taken shortly after her son had committed suicide, and she was in New York on a trip with her other son for Model UN. They had stopped by the plaza as a part of a field trip, and she had gotten this picture with Matt that she sent around to her family. Her parents and the rest of the family called her, and said "you know this is the picture that makes us know that everything is going to be okay. We haven't seen you smile like that since this tragedy." And that's what that picture meant to her, and when I took it to Matt to sign it, we didn't know any of that.
The point I'm trying to make with Tisha's story [is] I always carry that with me, because you don't know how deep some of these connections run. I always kind of assume that each person is like Tisha. That's why every single person, even if it's thousands of people, should be treated really special.
Now Tisha comes every year, multiple times a year. She was just here in December with her friend, and they dressed up in these amazing Christmas-tree costumes that they made at home that had all the anchors as ornaments. They were dying for tree-lighting tickets, and those are really hard to come by here at NBC, we can't even get them! But our whole show put the weight behind trying to get her these tickets: our anchors, our control-room staff, me—all of us. She's such a special fan, we all know her at this point and we really wanted to get her these tickets, and we were able to. She watched the tree lighting from the ice rink.
Lam: What's the most and least fun part of your job?
Ficquette​: So the most fun is 100 percent the people. I have a desk full of things that people have brought: funny posters, a build-a-bear that someone made me, the photo of me and Tisha, and a crazy dancing frog that this elderly lady brought. People come to play and have fun.
It is also super fascinating learning about fandom. The concert series, where you have thousands and thousands of people in such a tight space, just sort of tapping into that: understanding that type of fandom, feeding off of that energy and the high. There is never a day when I come off the plaza not ecstatic and in a great mood. I may come to work in a bad mood, but I always leave the plaza in a great mood because the people are there to have so much fun. That, hands down, is completely the best part.
Hardest part is two things. The weather itself can be challenging. Polar vortexes and really hot days, and a Justin Bieber concert in a downpour. So the weather does always present a challenge, but it can also add to the fun. The second thing is that I take a lot of responsibility in making sure everyone has a great time and gets something out of the experience. As part of that, I make my way around the plaza and try to spend time with every single person, at least for a quick moment. But on days when we have thousands of visitors, such as a concert, it can be challenging to get to know everybody who's there. So when I miss a good story or I'm not able to make a connection for a fan of the show, it's hard.
Lam: It's like you're hosting a party every morning.
Ficquette​: Right! I don't know where else it exists because I keep saying I'm just paid to have a good time, to have fun, and to meet all these really cool people. But I also think it speaks volumes about the show, and how much emphasis they put behind the fans that they're willing to dedicate a person just to this. That, to me, is really cool. And obviously I'm really grateful, because that's why I have a job.
---
This interview is a part of a series about the lives and experiences of members of the American workforce, which includes conversations with a tour guide, an education rapper, and an actress.