Budget Woes in One of America's Wealthiest Cities
If San Jose can't afford its basic public services, what city can?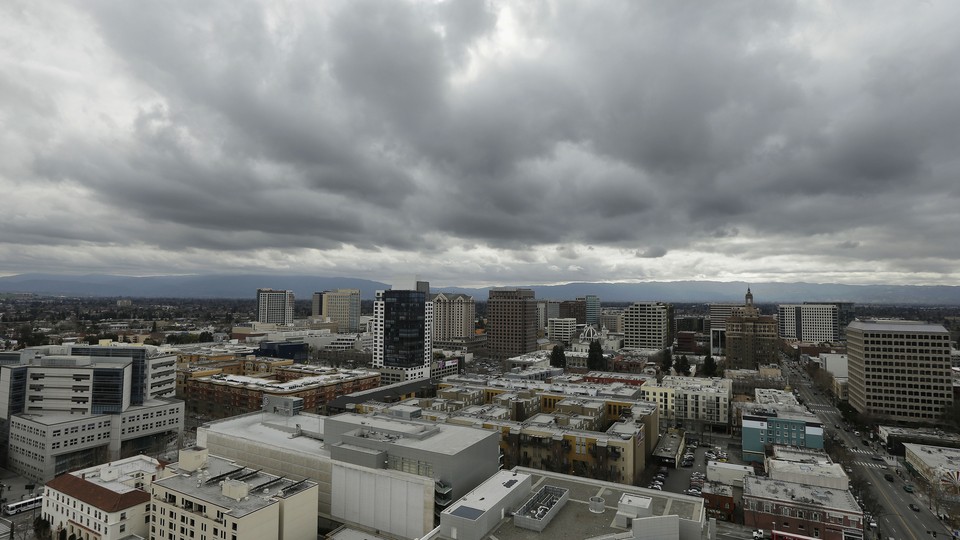 SAN JOSE, Calif.—One would think that the richest city in America would have better roads. And more police officers. And more adequate housing for the poor.
And yet, San Jose, which has the highest median household income of any major city in the country, at $77,000 a year, and is home to billion-dollar companies such as Cisco and Adobe Systems Incorporated, also has some of the worst roads in the country, a shrinking police department despite a growing population, and, until the city shut it down, one of the largest homeless encampments in the nation.
As companies in this city and in surrounding Santa Clara County, which encompasses Silicon Valley, have raked in billions over the last few years, the city of San Jose has been trying its hardest not to go broke. In 2012, the mayor put a controversial pension-reform proposal on the ballot, saying he couldn't cut services or staff any further. It passed, but was then challenged in court. Police and firefighters have agreed to pay cuts and staff reductions, and the city employs some 1,700 fewer people than it did in 2001, although it has added 100,000 in population. The city has a billion-dollar backlog of deferred maintenance costs for infrastructure, according to a city spokesperson, and may ask voters in June to approve a sales-tax increase to raise more money for basic city services.
"Unless we can secure a significant new source of revenue, we do not expect our resources to grow in a manner that will allow the City to fully restore services to pre-recession levels," Norberto Duenas, the city manager, wrote in his annual budget message last May.
Part of the problem is the unique nature of taxes in California. In 1978, California voters overwhelmingly passed Prop. 13, which rolled back property taxes to 1976 assessed values and limited property-tax increases to 2 percent a year as long as the property was not sold. Prop. 13 has meant that as real-estate values in California have skyrocketed, longtime homeowners have continued to pay extremely low property taxes.
This has hit San Jose especially hard. The city has traditionally been a bedroom community, with more homes and fewer jobs than surrounding areas such as Palo Alto and Cupertino. For every 100 employed residents, San Jose has just 87 jobs. San Francisco, by contrast, has 138. Without big employers downtown or in many of its business districts, San Jose has failed to develop the thriving commercial districts that generate sales tax and revenue for a city, said Stephen Levy, the director of The Center for Continuing Study of the California Economy (CCSCE).
The difference is easily apparent: Visit the main street of Palo Alto, where Stanford and numerous startups are located, and you'll see dozens of fancy restaurants and stores and may not be able to snag a parking spot among the luxury cars parked there. Castro Street in downtown Mountain View has a slightly more relaxed vibe, with candy stores and book shops and restaurants and bars. But downtown San Jose is a strange mix of parking lots, scattered restaurants, and homes.
Without a big commercial district to generate substantial sales-tax receipts and because property taxes are so low, San Jose is constantly in need of more cash.
"We have been able to see some of the benefits of the economic boom in Silicon Valley, but because of the way municipal finance is structured in California, we don't see much of the boom coming our way," said David Vossbrink, the city's chief communication officer.
Even though sales taxes in Santa Clara County are nine cents for every dollar spent, San Jose only gets a penny of that, according to Vossbrink. That wouldn't be such a big deal if it had other sources of revenue, but it doesn't. Sales tax and property tax are the two biggest sources of the city's general fund revenue. And San Jose collects less revenue than other rich cities, where homes have changed hands for millions of dollars and where people spend more in commercial districts. Palo Alto, for example, gets five times as much per capita tax revenue as San Jose, he said.
San Jose is battling a number of social problems as it deals with those fiscal challenges. Its poverty rate is 12.9 percent, and there are still hundreds of homeless people, even though the city shut down the homeless people's encampment known as "The Jungle" in late 2014.  As more people are unable to keep up with rising costs in the region, many end up on the city's streets.
"We have the social costs of the income divide in San Jose without the resources to address them," Vossbrink said.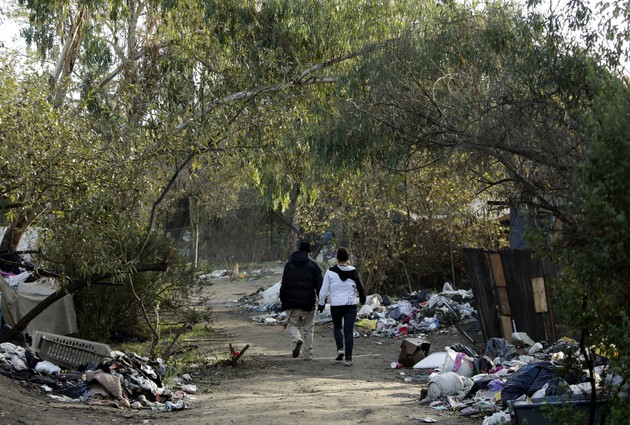 It can be disconcerting to see the poverty amid so much prosperity, especially because poverty in San Jose looks different than it might elsewhere. There are no hulking public apartment complexes here, nor are there homeless people begging for money on the subway, because there isn't a subway (though there is a downtown light-rail system). Instead, people here stay in their cars and drive from work to home, making it possible to completely avoid seeing poverty at all.
Lisa Silva, for instance, has spent weeks sleeping behind a library. I met Silva in a well-manicured parking lot for the county's social- services office, where she was sitting on a bench, guarded by her dog Shorty, who was in a shopping cart nearby. Silva had lived in a duplex in San Jose for seven years, until the landlord decided to make it into a single-family apartment and charge more rent. Silva, who is on Social Security Insurance, could no longer pay the rent—she only receives $900 a month—so she became homeless. She's signed up for the Section 8 housing list, but was told the waiting list is 12 years. The website now says that waiting list is closed.
"I've never been homeless before, but it's gotten very expensive," she told me. "It's a hard place to live."
With such a gap between rich and poor, some advocates say that San Jose should be requiring the billion-dollar businesses based here to pay more in taxes. The San Jose State professor Scott Myers-Lipton is gunning to put such an initiative on the ballot in November. The gross-receipts tax, as it is known, would charge local businesses anywhere from 60 cents to $1.20 for every $1,000 they earn. (Businesses that make less than $1 million would be exempt.) The measure would raise an additional $30 million to $70 million a year, he believes.
"Why is it that San Jose, the richest city in the richest country in the world, has the third-worst roads in the U.S.?" he said. "We're trying to expose some of the contradictions within our community."
Myers-Lipton, who created a group, San Joseans for a World Class City, to advocate for the tax, is no stranger to local businesses. In 2012, students from one of his courses, which encourages students to engage in social action, felt that raising the minimum wage in San Jose would improve life for residents. So they gathered 20,000 signatures and put the initiative on the ballot. When it passed, raising the minimum wage from $8 an hour to $10 an hour, San Jose became the largest city in the country to increase its minimum wage.
To hear Myers-Lipton explain it, a gross-receipts tax is the best strategy for dealing with the myriad problems San Jose is currently facing. The tax code hasn't been modernized in decades, he argues, and businesses pay a much smaller percentage of their income than they did in, say, the 1950s, because currently the 90,000 or so businesses in San Jose pay a flat rate—just $150 a year, plus $18 per employee, up to $25,000.
The GRT, as the tax is called in the city, would replace this with a new tax that would make businesses pay based on their gross receipts in the city. A business with $1 million in gross receipts would see merely a $564 increase in its tax bill, the campaign says, while businesses with $100 million gross receipts would see its tax bill go up by $42,144. More than 20 California cities, including Oakland and San Francisco, have already passed a gross-receipts tax.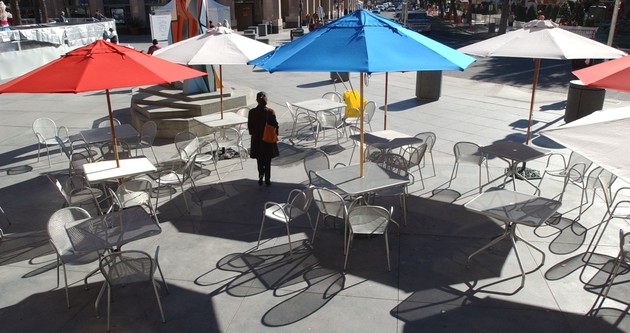 The gross-receipts tax could help create more jobs in the middle, Myers-Lipton said, by bringing in money to fix the roads and hire more police officers and fire-fighters. It could also help build more affordable housing so that people in San Jose don't have to spend so much of their income on rent. San Francisco, which implemented the gross-receipts tax in 2014, saw more revenue, but also happier companies, since it got rid of a previous tax that hit businesses when they hired new employees in the city, according to The San Francisco Chronicle.
Some in the community say the idea of asking businesses to pay more could help the region return to what made it great, when local business leaders felt they had a civic commitment to the region.
"There's a real worry among the civic elite that that folks who have come in have moved for the Internet boom, and that they're a lot less attached to the region, and have less of a sense of stewardship of the region" than in the past, said Manuel Pastor, a professor at University of Southern California who has studied San Jose. "Stewardship is the kind of thing that makes you want to invest overall, in everybody's schools in the entire region, in everybody's transit system."
Other cities in the region are making the argument that businesses should pay more, too. The mayor of Cupertino, home to Apple, said he wants to tax businesses with more than 100 workers $1,000 per employee.
So far, though, businesses are not convinced.
The San Jose Chamber of Commerce opposes the gross-receipts tax. The Chamber's staff sat down with Myers-Lipton and reviewed a draft of the ballot language, but as the Chamber president Matthew Mahood wrote to me in an email, "We will not only be opposing this measure, but also leading the charge against it."
The measure punishes job creators, Mahood says.
The San Jose Mercury News has come out against the proposal, too. The proposal has "blindsided" local companies, the Mercury-News editorial argued. Additionally, the editorial said that it would set a bad precedent by establishing a tax by ballot, just as the city is succeeding in attracting more companies. (Last year, Apple bought a parcel of land in San Jose that could accommodate 15,000 workers)
Myers-Lipton is undaunted. After all, the Mercury-News opposed his proposal to raise the minimum wage, and the Chamber raised hundreds of thousands of dollars to fight back that campaign. That measure still passed with 60 percent of the vote.
And the city itself is giving the idea of a business tax some serious thought. City staff are analyzing the proposal and the city council has scheduled it for discussion on March 8, Vossbink said. They're also looking at alternatives to the gross-receipts tax, figuring out different ways to ask local businesses to pay more.
"We have some of the world's wealthiest corporations right in our backyard," said Vossbrink, with the city. "They have employees who live in our city. They have employees who use our streets and highways, who have children who go to our schools."
Alternative proposals may mean removing the $25,000 cap on the current business tax, or somehow adjusting the tax for inflation, he said. The current business tax has not changed in three decades, and hasn't kept up with the changing profiles of the business located in San Jose. And the city's revenues haven't been able to keep up with its growing problems.
"Therefore," he said, "there is an appropriate role for our large companies to go beyond what they're paying in property tax or sales tax, to show some leadership in how to solve these really tough problems in Silicon Valley."