The Amazon-Store Mystery
Is the company going to build hundreds of physical locations? Why would it want to?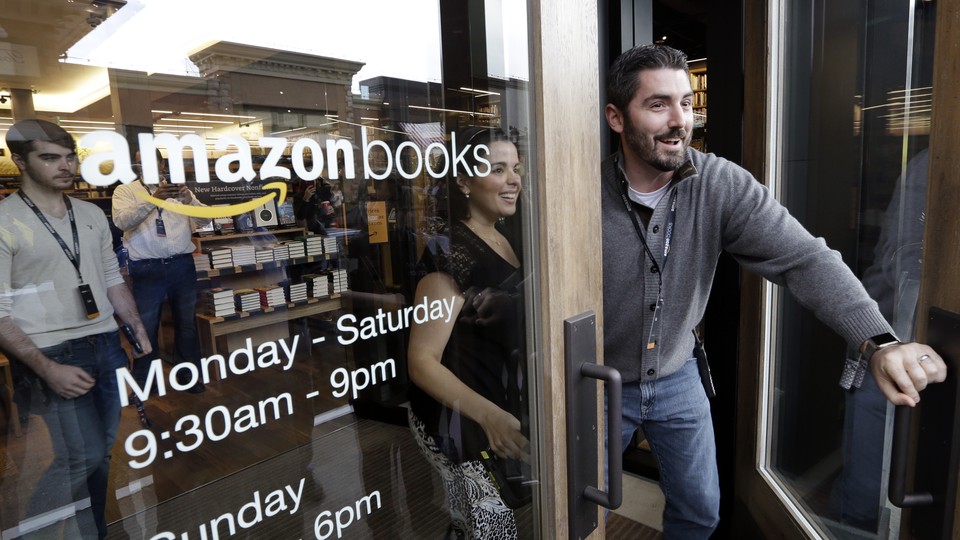 On Tuesday, a routine earnings call hosted by a mall developer became the call that launched a hundred articles (and yes, this is one of them). According to The Wall Street Journal, Sandeep Mathrani, the CEO of General Growth Properties, responded to a question about foot traffic with the surprising answer that Amazon will soon play a role in attracting shoppers, since the company is aiming to open 300 to 400 physical bookstores. After lots of speculation and a good deal of anger displayed by sources within Amazon (who haven't yet officially denied the reports), Mathrani released a statement Wednesday afternoon saying that his comment "was not intended to represent Amazon's plans."
Regardless of whether it's happening or not, the idea that Amazon might be opening hundreds of bookstores is clearly blowing people's minds. One of the story's main attractions is the irony that after beating physical bookstores to a pulp by selling books online at competitive prices, Amazon would open brick-and-mortar stores of their own. In fact, Amazon's first "physical extension," opened in Seattle last year, was seen as an oddity as well.
Here are a few possible reasons why Amazon would entertain the idea of opening physical stores:
Theory 1: It's not happening
Slightly further down in that Wall Street Journal article is this line:  "It wasn't clear where Mr. Mathrani got Amazon's store figure, but he could have spoken with Amazon's real-estate executives about their plans." Mathrani has since retracted his statement, but the original reporting was already skeptical of where the information came from. Further, The New York Times has an anonymous source observing how unusual it was that Mathrani, whose specialty is malls, became a go-to source for this information in the first place. The Times anonymous source did say that Amazon has a "modest" plan for physical bookstores.
Theory 2: They're showrooms
This was a popular theory after the opening of Amazon's Seattle store. According to The Seattle Times, Amazon's store there is different from traditional bookstores in that "every book will face out, rather than be stacked tightly with only their spines showing. That leaves far less space for books." So basically it's just a physical space to show the things it sells online. A physical store could have the benefit of capturing customers who don't know what they're looking for and feel overwhelmed by browsing Amazon's gigantic catalogue.
Theory 3: It's about speed
Unlike Amazon's lockers (locations, often in cities, where customers can retrieve their purchases) a bookstore isn't a place where people simply pick up their online orders. Amazon has been experimenting with ways to get people their orders faster and faster, from same-day delivery (which is on offer in 16 cities), to Prime Now (which takes one to two hours), to the experimental Amazon Prime Air (the one with drones). Perhaps if people needed a book immediately and cared a lot about price (Amazon's Seattle store matches its online prices), going to a physical Amazon location would save them from going to Barnes & Noble and using their phones to check Amazon's prices and see if a book is worth buying in-store.
Theory 4: They're an experiment in playing Walmart's game
Another theory is that Amazon's bookstores are just a way for the company to see physical stores will work generally. If they do, it could set the stage for all kinds of things sold on Amazon to be sold at physical stores at the same prices as online—particularly for items that consumers don't feel comfortable about buying before seeing in person.
Theory 5: It's a response to how expensive shipping has gotten
Amazon spends billions of dollars on shipping a year. Earlier this year, reports surfaced that Amazon was looking into using container ships so Chinese sellers could reach its customers faster. Amazon's shipping costs grew 31 percent in 2014, much faster than its shipping revenue. Diverting customers to a physical store might be a way to combat increasingly expensive shipping costs (and also avoiding the aggravation produced by delays).
---
Amazon's Costs of Shipping vs. How Much It Charges Customers for Shipping​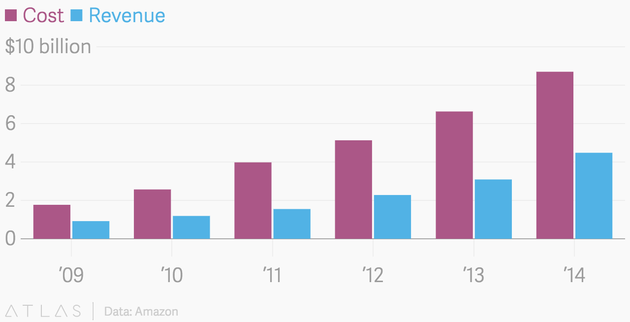 ---
Theory 6: It's about personal data
This is kind of a strange one, but a comment on the economics blog Marginal Revolution it got me thinking about my mother, who doesn't use Amazon due to privacy concerns. She's probably the exception to the rule, but privacy concerns and data tracking could be driving a certain kind of customer away. If Amazon had a store, where customer could pay in cash for a book, CD, or anything they don't want anyone to know they're buying, it might just bring that kind of customer around.
Theory 7: It's a play for customers in airports
If there's one part of bookselling Amazon has failed to capture, it's the impromptu purchases of travelers everywhere. Bookstores at airports and train stations have been reporting a print revival with sales surpassing projections. That's growth Amazon could potentially get in on if it had physical bookstores.
Theory 8: It's about sales taxes
Amazon has to collect sales tax in 28 states. Nowadays, Amazon collects sales tax from 84 percent of its U.S. customers. Earlier on, this wasn't the case, so it's no longer a reason to keep sales online.
Theory 9: It's about seeing if there are undiscovered profits to be earned
Paul Sawers over at VentureBeat suspects that Amazon's offline experiment might have to do with its desire to add a vertical that has room for growth:
Amazon has long transcended its roots as an online retailer — for example, it's also a video-streaming platform competing with Netflix, and a meal-delivery service for restaurants competing with the likes of Uber and Postmates. While it still has room to grow across most of its verticals, the physical retail realm is one that perhaps has the most room for traction.
Theory 10: It's about market share
Isn't it always with Amazon? The razor-thin profit margins. The vast offerings. The price cuts. This could just be another arena for the company to set down a stake in.