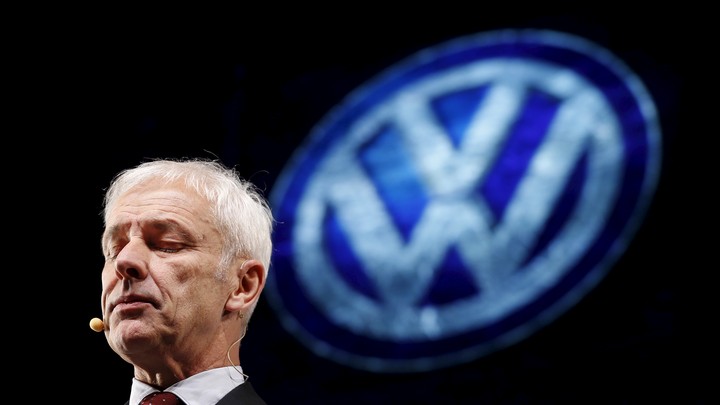 By now, Volkswagen's explanations, apologies, lawsuits, and goodwill programs have all had their turn in the headlines. But a central question still remains unanswered months into the fallout from the company's emissions-cheating scandal: What will happen to the 11 million offending "clean diesel" vehicles worldwide?
Experts have floated three possible options: One is to rewrite the engines' software, another is to install new hardware, and the last resort would be to buy back the affected vehicles.
Since VW's cheating scheme was discovered, the EPA has been waiting for the company to propose a plan to make its clean-diesel vehicles comply with emissions standards. On Tuesday, the California Air Resources Board, or CARB, announced that it has rejected Volkswagen's recall plans on the grounds that they "contain gaps and lack sufficient detail." Though it hasn't been specified what Volkswagen's proposed solution was, the EPA has stated that it supports CARB's decision.
In Germany, regulators have already approved a fix covering 9 million vehicles in Europe that involves tweaks to their software and hardware, and Volkswagen says it takes under two hours to perform. The same fix might not be enough for U.S. regulators, as America has always had tougher emission standards for cars than Europe. (For their part, when it comes to altering the cars' software or hardware, many VW owners worry that their vehicles' performance might be harmed.) Volkswagen's chief executive, Matthias Mueller, suggested that a new catalytic converter could get vehicles in the U.S. to meet emission standards. Neither that nor the German fix is cheap, and some recent reports have speculated that Volkswagen might find it more cost-effective to repurchase thousands of affected vehicles in the U.S. rather than fixing them.
As much as Volkswagen and Mueller want to put the emissions-cheating scandal behind them, it's looking like it'll be a long while before it's over. Last week, the U.S. Justice Department announced that it is suing Volkswagen Group on behalf of the EPA for violating the Clean Air Act. The civil suit could result in $48 billion in fines, but some environmentalists are hoping for criminal charges. Mueller is meeting with U.S. regulators about the case in Washington, D.C., on Wednesday, but his U.S. visit became tense after something he said in an interview with NPR over the weekend: When asked about intentionally deceiving EPA regulators, Mueller answered "We didn't lie." Volkswagen issued a statement following the NPR interview stating that Mueller is not fully fluent in English, and so his choice of words might have "resulted in some confusion."
We want to hear what you think about this article. Submit a letter to the editor or write to letters@theatlantic.com.
Bourree Lam
is a former staff writer at
The Atlantic
. She was previously the editor of Freakonomics.com.