The Age of the Ghost Company
In the last few years a couple of tech companies have become massive, but where are the jobs?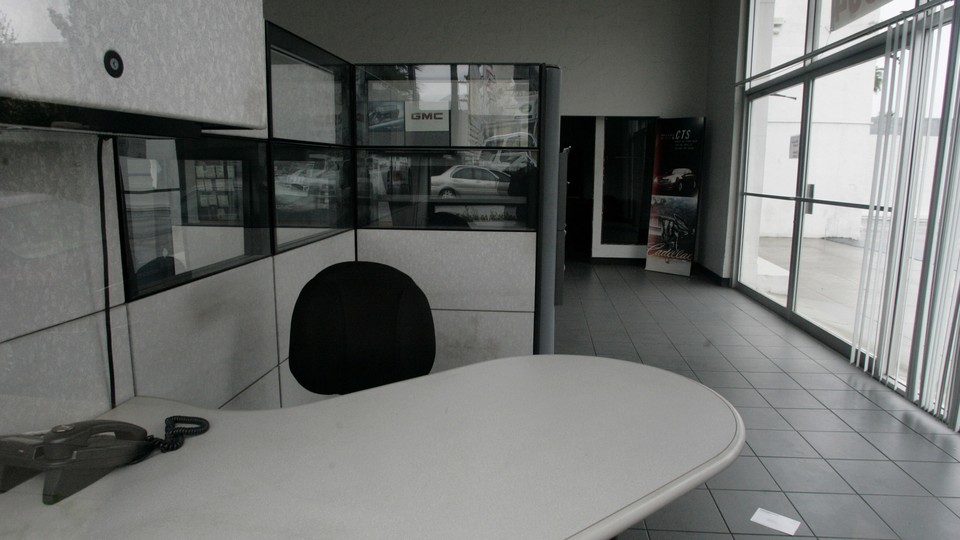 For most of the 20th century the companies that brought in the most money also employed the most people. For example, in 1962 General Motors was one of the top five companies by market capitalization and employed more than half a million workers. In fact, four out of the five most highly capitalized companies that year employed more than 100,000 people each. The fifth, IBM, had over 80,000. But the 21st century has seen a reversal of that pattern. By 2012, only one of the five largest companies by market capitalization (Walmart) employed more than 100,000 people, and it had way more—2.2 million. The other four—Apple, Google, Exxon, and Microsoft—had a combined total of just 300,000.
It seems that we have entered the age of the employee-less company, led by the high-growth, highly profitable tech industry. And while that might be great for investors, it's less great for the middle class. After years of high unemployment and persistent underemployment, job creation—especially of full-time, adequate-wage jobs—is critical.
A new paper from the Brookings Institution digs into this phenomenon of highly productive, low-employment tech firms. Part of it is due to the nature of digital work, which involves fewer full-time employees compared with physical production. But other reasons include more automation (such as tightening screws on a conveyor belt) and more workers who aren't actually considered employees (such as the more than 1 million Foxconn employees who make Apple's devices). It's also because the stock market and shareholders now place a higher value on leaner companies that enable shareholders to reap the benefits of profits more than they once did.
Jerry Davis, the author of the paper and a professor at the University of Michigan School of Business notes that in the current market, some of the most profitable and well-known employers continue to keep workforce numbers low, even after going public. Facebook, with its nearly $300 billion market cap still has fewer than 15,000 full-time employees. Similarly, Twitter and Yelp, with high stock valuations and millions of users, both have under 5,000 employees, he notes. And those numbers might not budge all that much in the future." Most startups never actually grow much beyond their larval stage," Davis says. In fact, since the turn of the century, the company with the most significant post-IPO job growth was almost the opposite of a youth-driven technology firm, it was Brookdale Senior Living, an operator of senior-citizen facilities across the country.
There are still companies whose payroll numbers are high. After Walmart with its millions of employees, the grocery chain Kroger employs around 400,000 people, and UPS and Target have around 350,000 employees each. But most of those jobs have high turnover, paltry benefits, and low wages. By contrast, the tech jobs, with their sky-high wages and generous benefits, aren't very common, despite a push through legislation such as the JOBS Act to help such companies grow and go public.
And then there are companies like Uber and Lyft that have small rosters of full-time employees and massive networks of more informal workers. These companies are creating "jobs," but those jobs are self-employment gigs that don't come with the full benefits, compensation, and protections that full-time employment does. And that can mean millions of workers left trying to cobble together a series of gigs just to make ends meet.