A Foreshadowing of a Global Economic Slowdown?
An unexpectedly large decline in South Korea's exports—a predictive indicator for the world economy—has many traders worried.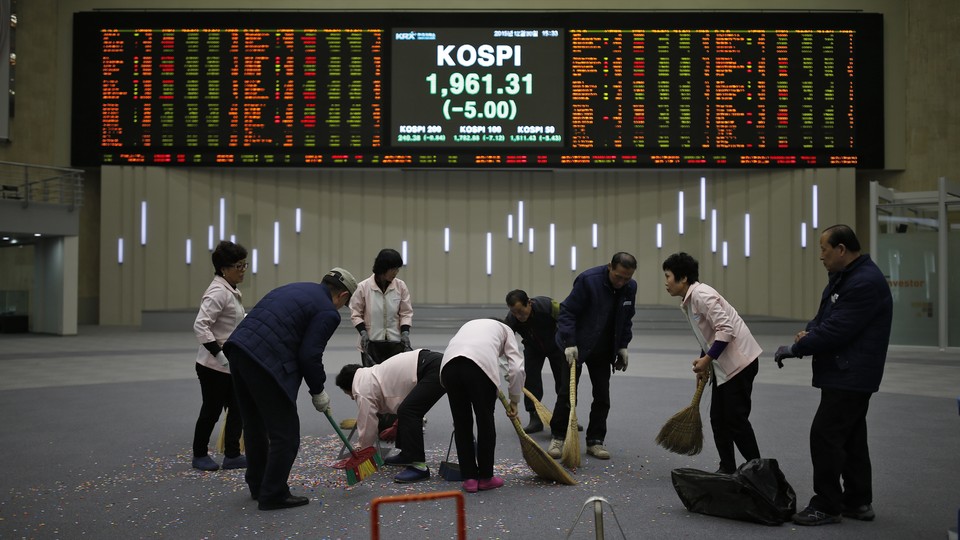 One of the more reliable indicators of the global economy continues to heighten fears of a worldwide slowdown.
South Korean exports—which has been referred to as the world's economic canary in the coal mine—fell 13.8 percent in December from a year earlier.
This was a deterioration from the 4.8 percent decline in November, and it was much worse than the 11.7 percent decline expected by economists.
Korea's exports generally reveal more about the country's global trading partners than it does about what's happening internally. "By destination, exports to all major markets fell," Barclays's Wai Ho Leong and Angela Hsieh observed. "All in, we think the underlying trend of a challenging external environment will likely extend into 2016."
Economists look to Korean exports because they are the world's imports. Major traded goods are as varied as automobiles, petrochemicals, and electronics such as PCs and mobile devices.
---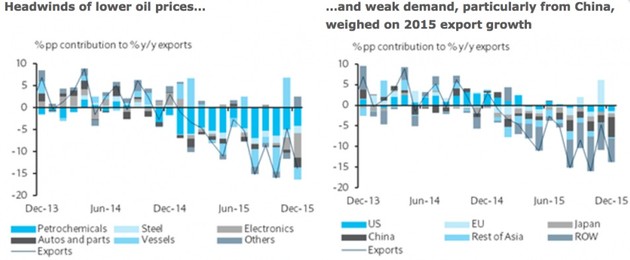 ---
In December, most major categories of goods saw declines, except for mobile devices, which added 0.13 of a percentage point to the aggregate exports number.
One of the biggest sources of weakness was China, which accounted for 4.3 percentage points of the decline in South Korea's exports. This is in line with new data out of China, which confirmed that manufacturing in the world's second-largest economy was still contracting. The Caixin-Markit manufacturing Purchasing Managers' Index unexpectedly fell to 48.2 in December, from 48.6 in November. In China, the state's National Bureau of Statistics manufacturing Purchasing Managers' Index stood at 49.7 in December. (Any reading below 50 signals contraction.)
All of this may explain at least some of the volatility currently seen in world markets.