The Revival of America's Hand-Painted-Sign Industry
Small businesses are increasingly relying on visual artists to convey that their products aren't mainstream or mass-produced.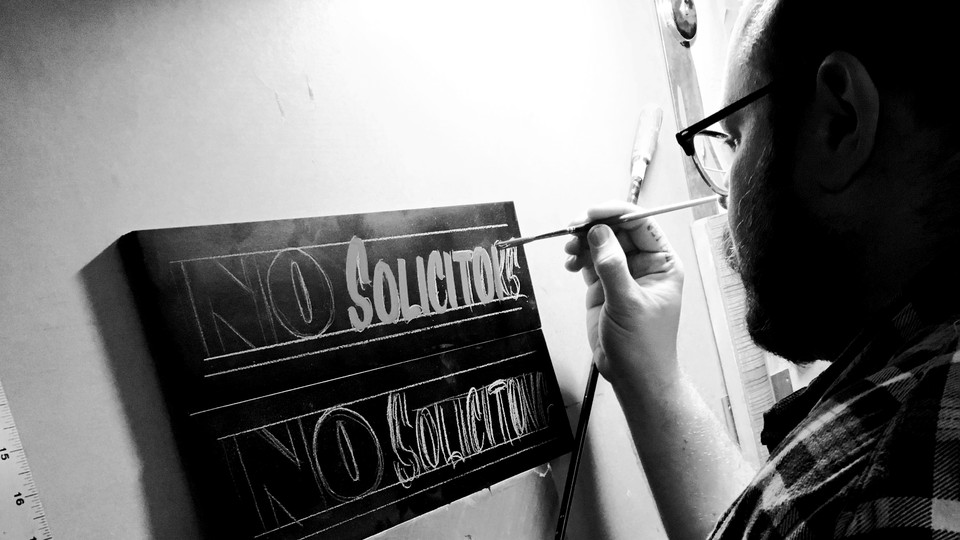 Even in an age of emoji, when people revel in communicating online using a shared set of colorful icons, it makes sense that there are still those who are able to eke out a living painting signs for businesses by hand. What is more surprising is that many people do—all over the country, from Utah to New York. Indeed, an art form that seemed moribund as big-box stores and chain restaurants multiplied is relevant again, and lucrative. And although much has changed about the enterprise itself, the essentials remain largely the same.
"People want [their small businesses] to be individual, to stand out," explains Jeffrey Sincich of J&S Signs. He and his partner Josh Stover, both originally from Florida, now run their business out of Portland, Oregon. "There's a boom right now. Hand-painted is popular," he says. A hand-painted sign suggests that a store has a personality, that its products aren't mainstream or mass-produced.
Appropriately, the pricing structure for signs can be as variable as the signs themselves. Some artists charge by the project and others by the hour, and one sign can cost anywhere from several hundred to several thousand dollars. An industry pricing guide helps set and maintain baseline standards.
Most small businesses turn to local artists, since work often has to be done on-site and sending large or delicate items through the mail can be dicey. Still, "there are tons of communities that could support this," says the visual artist Stephen Smolinski, who is encouraged by the success he and his compatriots have found in Goshen, Indiana, and who is segueing from making signs part-time to full-time. "Lots of creatives starting businesses look to other creatives," he says.
Some chains have adopted the practice, too, because it can make them seem folksy and independent. The grocery store Trader Joe's has, despite nearly $10 billion in annual revenue in the U.S. alone, maintained its decidedly non-corporate vibe in part by putting up hand-painted signs in its stores. Ashton Ludden, a visual artist, works for the Trader Joe's in Knoxville full-time, illustrating everything from whimsical murals on the walls to descriptions of dry goods on the shelves. "Some stores have a team of six artists," Ludden says. "We have one and a half—me and another girl." Though she doesn't own anything she makes, she is proud of her contribution: "It's a neat experience to be anonymous. Even the customers don't know."
Making signs for Trader Joe's works well for Ludden, as it gives her a steady income and health care. And, when Ludden's workday ends, she is free to focus on independent projects. "When you clock out, you're done," she says. "Work does not travel home."
Other sizable entities employ sign painters, too, from Hollywood, which often requires a specific look for its period movie sets, to the theme park Dollywood, which has hired artists to help maintain its old-timey aesthetic for three decades now. Disney retains a team of sign painters to set the tone of some attractions in its amusement parks. Even the basketball courts can be done by artists by hand.
But much of an average sign painter's livelihood comes from smaller clients, like local movie theaters, ad agencies, and restaurants. Shelby Rodeffer, who is originally from Nashville, Tennessee, but now works full-time in Chicago, says the country's renewed enthusiasm for unique, hand-painted signs is based primarily on young consumers' Etsy-type enthusiasm for distinctiveness and character and has flourished via social media. Indeed, the sign-painters I spoke to credited Instagram with helping them build their personal brand.
But, Rodeffer acknowledges, not everyone is thrilled: The old guard, which saw their craft go into its deep decline in the '80s and '90s when digitally produced signage went mainstream, feels both shut out and resentful. "They've been burned by our new generation," she says. There's a feeling that today's upstarts are insufficiently respectful of the ways things used to be done.
"Forty years ago, you couldn't be a renegade. The field required lots of tutelage," Josh Stover says. "We're all just picking up our tools and going for it." He recalls that when he approached a member of the old guard to ask if he had any advice about joining the profession, the man said, "Yeah: Don't do it."
Apprenticeships do seem rarer and less necessary these days. And only one school in the country still focuses on teaching the craft—Los Angeles Trade Technical College, which offers a two-year associate's degree in Sign Graphics. "I considered it, but I was already getting work," says the artist BT Livermore of Minnesota and now Portland. Other sign painters hadn't heard of the school's program at all. Most of them have Bachelor's degrees as well as Master's or MFAs, so they wondered why they should take out more loans when they can simply prove themselves through their output and still get enough clients to make a living.
That ability, to make a living doing something they love, has made this generation of sign-makers optimistic. Sincich and Stover say that, based on current conditions, they "don't see how they wouldn't be able to make a living." Rodeffer has found that she can charge $250 for a workshop and fill the room. Livermore, who also teaches workshops in the basics of lettering by hand, is confident that as long as there is capitalism, "there will always be a market for signage." Rodeffer concurs, citing a saying popular in the field: "A business with no sign is the sign of no business."