Lyft Drivers Still Aren't Employees, but What About Uber Drivers?
Under a settlement reached Tuesday, the car service will give better benefits to people who drive but will continue to consider them independent contractors.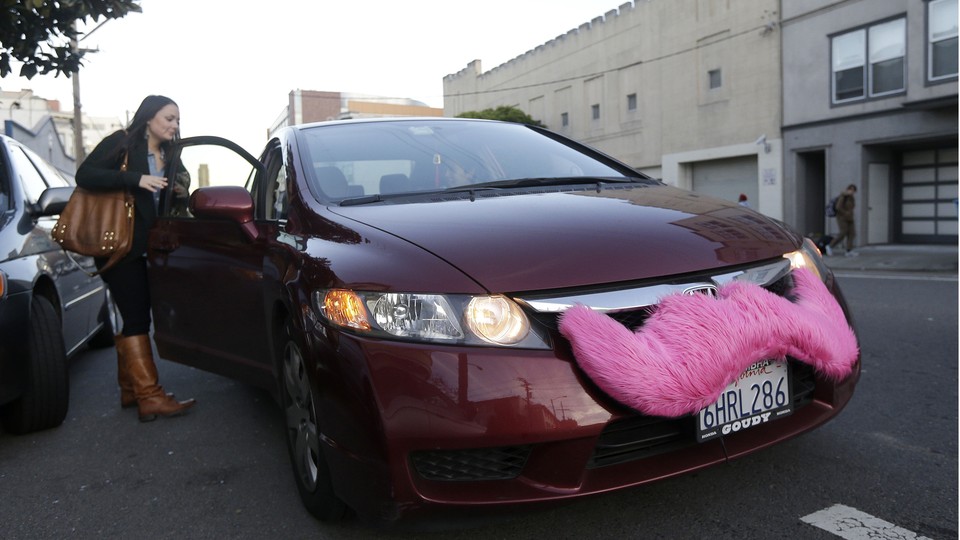 The on-demand car-sharing company Lyft has agreed to a settlement in a lawsuit brought by drivers in California who sought to be classified as employees rather than independent contractors. Under the agreement, Lyft will provide some additional driver benefits while still withholding employee status. The settlement, filed late on Tuesday, provides an interesting light in which to consider the similar-class action lawsuit against Lyft competitor Uber scheduled to go to court in June.
The Lyft settlement includes $12.25 million in damages for drivers in California, which will be paid out in proportion to how much time each driver has spent driving for Lyft in the state. The settlement also provides various changes to the terms of service. Lyft will no longer be able to fire drivers at will, and drivers will be able to contest deactivation and pay issues through arbitration, at Lyft's expense. The settlement still needs to be approved by a federal judge.
"We are pleased to have resolved this matter on terms that preserve the flexibility of drivers to control when, where and for how long they drive on the platform," Lyft general counsel Kristin Sverchek said in a statement. Liss-Riordan also celebrated the agreement, telling Wired, "We believe this is a fair settlement and adequate resolution of the claims we brought, given the risks we faced in the litigation against Lyft."
The "risks" are the result of an arbitration clause in Lyft's driver contracts—which effectively bars Lyft drivers from suing as a group. While Lyft managed to enforce this clause in a previous case, Uber has not. Liss-Riordan is also representing the Uber drivers in their case scheduled to go to trial in June. A profile in Fusion notes that she's a rock star in the land of protection against worker misclassification. "Harold Lichten, Liss-Riordan's law firm partner, describes her as 'a pit bull with a chihuahua in her mouth' when it comes to suing on-demand start-ups," Kashmir Hill writes.
At issue for both of these companies is the "1099 economy"—a large workforce of independent contractors who are crucial to the structure of the sharing economy. Classifying workers as contractors is a boon for the companies but hard on workers because, as Gillian White reported in June, employee status entitles a worker to a broad range of legal protections. Independent contractors are not entitled to minimum wage, overtime, health insurance, workers' compensation, unemployment, proof of employment, or lower taxes. They also have to pay for on-the-job costs—in the case of Uber and Lyft, for example, gas and car maintenance.
Classifying workers as employees is definitely more expensive for a company, but advocates argue that companies like Uber, with a $62 billion valuation, can afford to treat workers fairly. Liss-Riordan has argued that companies that can't afford this probably shouldn't exist. Uber, meanwhile, argues that the independent contractor system is actually good for workers as it allows them flexibility that a 9-to-5 would not.
So what does the Lyft settlement mean for the upcoming Uber case? The fact that the Uber case is headed to trial is another significant difference between it and this Lyft settlement. While the companies are very similar in terms of the service they deliver, the stakes in this issue are higher for Uber. Both companies hold financial details close to the vest, which makes direct comparison difficult, but there is agreement that Uber holds a greater market share in the industry. More drivers in more cities means more potential liability for Uber.
Liss-Riordan has hinted that she will work to prove qualitative differences between the two companies when it comes to treatment of workers. "We have not been hearing so many concerns from Lyft drivers, which leads us to believe that Lyft is treating its drivers with more respect than Uber is treating its drivers," she told Reuters. As Quartz points out, this distinction might be persuasive to a jury, especially given unflattering coverage of Uber's recruitment strategies and cases where drivers have been accused of assault.