The Best Business Reads of January
The month's best stories from around the web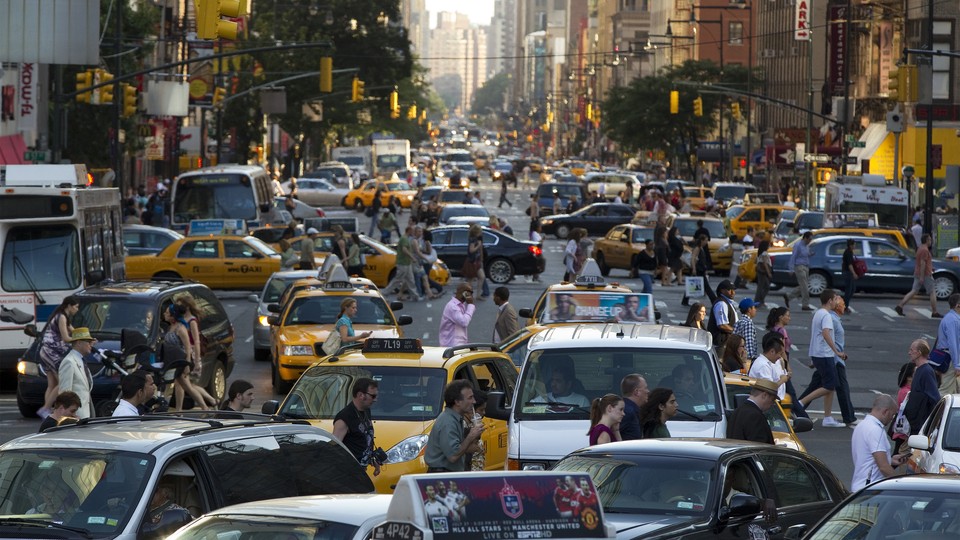 This month, the editors of The Atlantic's Business channel have been keeping a list of the best stories we've seen on the topics of money,  economics, and work around the web. We found these pieces to be heartbreaking, cringe-worthy, frustrating, and occasionally humorous glimpses of how money and finance impact just about everything. Individually, they are well-written, informative, and worth a read (or listen).
If you're still playing catch up, check out December's best reads here.
* * *
"Why Doesn't Silicon Valley Hire Black Coders?"
Vauhini Vara | Bloomberg
Pressured by employees and the press, companies began disclosing the demographics of their workforces. One figure stood out: African Americans, about 13 percent of the U.S. population, made up no more than 1 percent of technical employees at Google, Facebook, and other prominent Silicon Valley companies. This was at least partly because of the way companies recruited: From 2001 to 2009, more than 20 percent of all black computer science graduates attended an historically black school, according to federal statistics—yet the Valley wasn't looking for candidates at these institutions.
​* * *
"'I Am Drowning.' The Voices of People With Medical Debt"
Margot Sanger-Katz | The New York Times
I had to use all my savings and retirement. The future is scary - what if I get sick again? I am only 35, and cancer comes back. What will happen to me when I am older? –Marie
​* * *
Roman Mars |  99% Invisible
In September 1958, Bank of America began an experiment—one that would have far reaching effects on our lives and on the economy. After careful consideration, they decided to conduct this experiment in Fresno, California. The presumption was that no one was paying much attention to Fresno, so if the plan failed, it wouldn't get a lot of media attention.

Bank of America sent out 60,000 pieces of mail to people in Fresno. Inside was a little plastic object that has become in equal parts emblematic of opportunity, convenience, and debt.

It was a card offering a $500 line of credit.
* * *
"A Colleague Drank My Breast Milk and Other Wall Street Tales"
Maureen Sherry | The New York Times
"So how do the women who work here find this environment? Tell me the truth," she said.

...

I did not mention my first maternity leave, from which I returned to find a curly-haired stranger sitting at my desk, his feet propped on a cardboard box with my client account list packed inside. I had to re-earn the contents of that box, starting that morning. I also didn't mention the "moo" sounds that traders made when I headed to the nurse's office with a breast pump, or the colleague who on a dare drank a shot of the breast milk I had stored in the office fridge. I thought of the guy known for dropping Band-Aids on women's desks when the trading floor was cold because he didn't "want to be distracted," and the many times I had heard a women share an idea at a meeting, only to see later that same idea credited to a man.

But I didn't bring up any of that. Women like me were "team players," and I was often complimented on my thick skin. Like members of a dysfunctional family, we kept our secrets to ourselves.
* * *
Clive Thompson | Mother Jones
Studies have found that anywhere from about 30 to 60 percent of the cars you see driving around a downtown core are just circling, looking for an open space to claim. (An IBM survey found that worldwide, urban drivers spend an average of 20 minutes per trip looking for parking.) When Donald Shoup, an urban-planning professor at the University of California-Los Angeles, examined just one small business area near his university—Westwood Village—he found that "cruising" for parking, as he dubs it, burns 47,000 gallons of gas and generates 730 tons of carbon dioxide a year. What's more, all that asphalt traps heat and raises the temperature of cities during the summer. Environmentally, aesthetically, and economically, parking is a mess.
* * *
"How Worker-Friendly Laws Changed Life As a Server in San Francisco Restaurants"
Lydia DePillis | Washington Post
Over the past few years, as liberal priorities have been stymied on the state and federal level, a number of cities have emerged as islands with worker-friendly policies like higher minimum wages and mandatory paid sick leave. More are likely to emerge in the years ahead, with campaigns gaining steam around the country, and both proponents and opponents will be looking around to see what happened in the places that took the lead.
* * *
"Wall Street's Straight Man in Washington"
Joshua Green | Bloomberg
Garrett's committee is vital to Wall Street. "The rules of the road for handling money and anything with the SEC go through this committee," says Marcus Stanley, policy director of the nonprofit Americans for Financial Reform. "There's a ton of money at stake." In Washington, the committee is known as the ATM, because banks and hedge funds shower the chairman with contributions. After the Dodd-Frank financial law forced hedge funds to register with the Securities and Exchange Commission, Garrett, already the recipient of more Wall Street money than almost any other member of the House, got millions more. The banks pay to have a voice, ensure they're at the table when new rules are discussed, and insinuate themselves into the chairman's good graces.

…

But back in July, Garrett threw a wrench into this smoothly humming machine.

At a private caucus meeting, he got into a heated dispute with his colleagues by declaring that he'd withhold hundreds of thousands of dollars in National Republican Congressional Committee dues to protest the party's support for gay candidates. His outburst immediately caused a rift in the caucus.
* * *
Jane Mayer | New Yorker
As the Kochs prepare to launch the most ambitious political effort of their lives, they appear to be undergoing the best image overhaul that their money can buy. Last fall, Charles sat down in his office with Kai Ryssdal, the host of public radio's "Marketplace." Koch said of his company, "Our attitude is to, in starting any initiative, any business, is to focus on how we can create value for others rather than how we maximize profit." He chatted about how much he loved the movie "Reds" and noted that his house was "much bigger than I want." At one point, Ryssdal observed, "You are everywhere lately, right?" He explained that the Kochs, after years of "making an art of not" being known "in the public arena," had begun appearing on shows ranging from "CBS Sunday Morning" to "The Kelly File." Koch Industries had even become a sponsor of "Marketplace." "You guys are in Popular Mechanics, for crying out loud!" Ryssdal exclaimed. "Whoever is doing your P.R. is doing a great job."
* * *
Nona Willis Aronowitz | Billfold
Here is some useless shit I've bought myself since my dad had a stroke six weeks ago: Two pedicures, $30 each. Two massages, one barebones ($55), the other bougie ($115). Three pairs of nice $25 underwear, mostly for no reason but also because I have zero time to do laundry. Three blowouts, ranging from $45 to $60, one of which was irrationally booked during a torrential rainstorm. A $32 tub of bath salt scrub, which I have only used once because it stings my hangnails. Maybe $75 worth of Bobbi Brown makeup, which amounted to one lipstick and one bronzer. A $500 wrap dress. A $25 pair of sexy thigh-highs. A $48 rare ribeye steak, with garlic spinach and extra bernaise sauce a la carte, plus a glass of wine, all of which I consumed alone while perched at the bar of a fancy steakhouse during happy hour. (Total bill: $112.)
​* * *
"How the Daily Fantasy Sports Industry Turns Fans Into Suckers"
Jay Caspian Kang | The New York Times Magazine
Since the start of this N.F.L. season, I have lost roughly $1,900 on DraftKings and FanDuel, the two main proprietors of daily fantasy sports (D.F.S.). I play pretty much every night. This requires me to pick a team of players — whether baseball, basketball, football, hockey or soccer — each of whom have been assigned a dollar amount, and fit them all under a salary cap. I base these lineups on reasonably educated hunches, something to the effect of: I'll play the Indiana Pacers point guard George Hill tonight, because he's going up against the New Orleans Pelicans, who have been a defensive train wreck this season, especially on the perimeter. Also, Monta Ellis, Hill's back-court partner, is sitting out, which means more of the usage load should fall to Hill. Sometimes, usually while walking the dog, I'll even sit down on a park bench and check to make sure that at least some of those facts are real. My bets range anywhere from $3 to $100.
* * *