How Star Wars Is Boosting the Economy of a Tiny Irish Fishing Village
The coastal town of Portmagee is preparing for a tourism boom, as fans come to see where the cast stayed during filming and visit the setting of a memorable scene.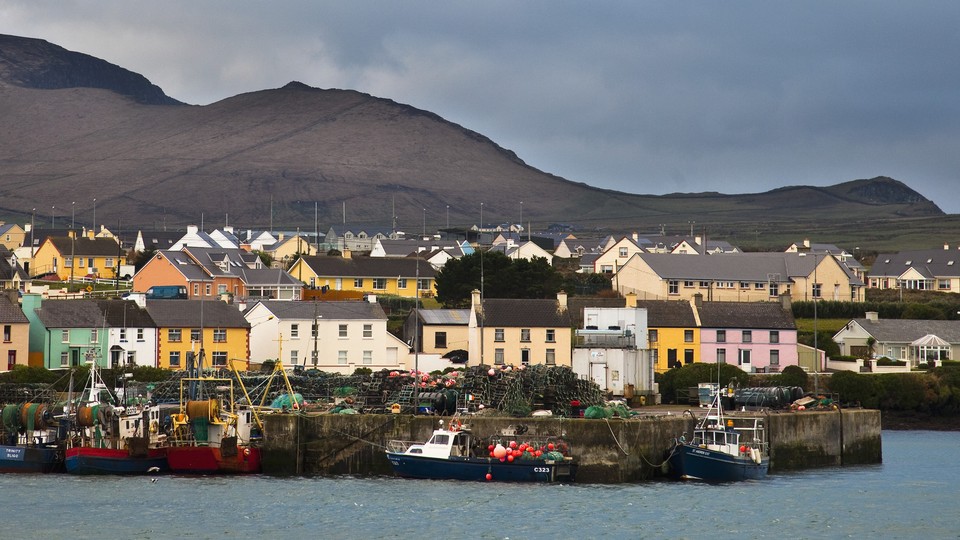 If you've seen Star Wars: The Force Awakens, you will undoubtedly recognize Skellig Michael. You know, that place where that guy appeared? The guy wearing the robe? It was a brief (but vital) scene, so here, a reminder: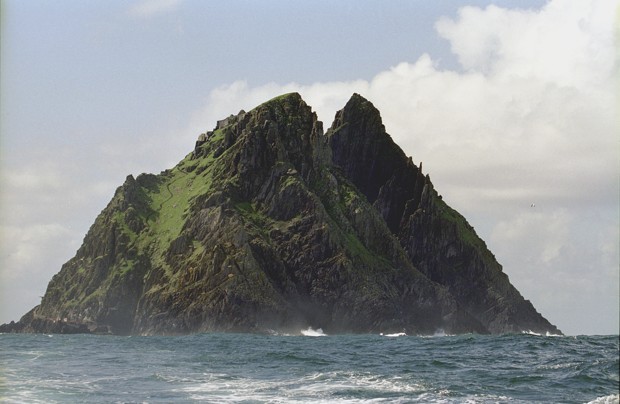 Portmagee's biggest attraction, according to the Irish Times, is a "set-dancing workshop it hosts every May bank holiday weekend." Until now.
Bloomberg reports that Portmagee is ramping up for a serious tourism boom, spurred by fans desperate for another connection to that make-believe world in a galaxy far, far away. Tourism Ireland, the country's official marketing agency, is helping it along. The organization commissioned LucasFilm to make a short film about shooting at Skellig Michael, in which director J.J. Abrams speaks adoringly about the UNESCO World Heritage Site.
"I can't believe they let us shoot there," Abrams says in the video. "I mean, it was so beautiful." Sold.
Some Portmagee businesses have already begun cashing in. At the Moorings Guesthouse, Restaurant and Bridge Bar, owner Gerard Kennedy offers a two-night Star Wars package, complete with a tour of the film's pre-production site, a chance to pull a pint at the same bar frequented by the cast, and a version of a special, local Star Wars t-shirt once donned by Luke Skywalker himself. (The t-shirt says "May the Craic be with you"—"craic," naturally, being a local word for "a good time.") The whole thing will set you back 149 euros ($160).
There are a few logistical concerns: The ferry to Skellig Michael only runs between May and October, and, until recently, the site was wasn't open to visitors because of the island's delicate ecology and the sensitive ruins of a 7th-century monastery that rest there.
But if you think Star Wars is a poor seasonal economic-development plan—well, you have not met any real Star Wars fans. Irish Tourism Minister Paschal Donohoe reported that Skellig Michael "surpassed our best ever year on record for the number of overseas visitors" by the end of November 2015—a half month before The Force Awakens actually premiered in theaters.
For more evidence, look back to March, as media outlets reported breathlessly on the safety of the A New Hope and Phantom Menace movie sets that remained in Tunisia. CNN had reported that the region—Tatooine to movie fans—was threatened by ISIS.
"This information is false and without foundation and doesn't reflect the reality," a Tunisian tourism official quickly told the Associated Press. Colonel Mokhtar Hammami of the National Guard also chimed in: "I can tell you without a shadow of a doubt that all is normal—in fact we've seen a big influx of foreign tourists and Tunisians."
Back in Portmagee, the journey isn't even close to finished, for rumor has it the Star Wars cast and crew returned in September to shoot the next installment. May the Force—in the shape of tourists' euros—be with it.
---
This article appears courtesy of CityLab.