How Immigrants Are Helping to Revive Detroit
Ailing cities might have a lot to gain from nurturing enclaves of foreign-born residents, and their thriving businesses.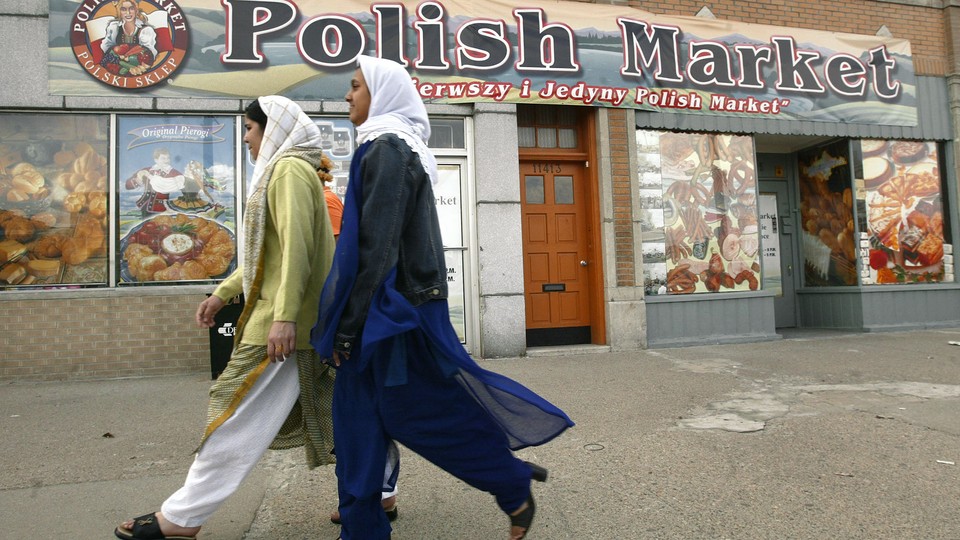 Ehsan Taqbeem has a vision for Conant Avenue, a commercial strip that runs from Detroit's east side into the neighboring city of Hamtramck: colorful rickshaws riding up and down the thoroughfare, first-rate Bangladeshi restaurants with a welcoming vibe, and clothing shops that compete with the big-box stores. And, the most important part: tourists. Busloads of them.
The 56-year-old Taqbeem—the CEO of an auto-retrofitting service and founder of the Bangladeshi American Public Affairs Committee—isn't just fantasizing. This is the aspirational plan he and other community leaders have devised for "Banglatown," a neighborhood that has steadily drawn immigrants from the Indian subcontinent during the past decade.
About 6,000 of the nation's 277,000 Bangladeshi immigrants have found their way to Wayne County, which includes Detroit. (They are mainly concentrated in and around New York City.) Bangladeshis started trickling into Detroit in the 1930s, to find work in the auto industry, and now include doctors and engineers. Buoyed lately by the depressed city's affordable housing prices—luring migrants from New York—they form a small but growing community.
"There's a lot of Bangladeshi restaurants, grocery stores, clothing stores, "but it is predominantly catering toward Bangladeshis," Taqbeem says. "Now what we'd like to do is kind of go to the mainstream."
Having experienced economic troubles of epic proportions, Detroit could definitely use a new tourist destination. The city, an estimated $18-20 billion in debt, filed for bankruptcy in 2013 after decades of job losses due to the deteriorating U.S. automobile industry. It emerged from bankruptcy last December, but its financial future remains daunting.
Immigration, the thinking goes, could play a role in the city's recovery. Detroit's foreign-born population is only 5 percent, compared with 13 percent for the nation as a whole. More immigrants could help counterbalance an aging population and add to the base of skilled workers. "Immigration alone cannot save Detroit," Steve Tobocman, the director of Global Detroit, an organization that seeks to bring immigrants into the local economy, wrote in a report last year. "But if carefully managed in the context of a broader economic-development strategy, immigration may be a promising tool for boosting Detroit's economic prospects."Across Michigan, foreign-born residents are likelier to have a college degree than natives are.
The cluster of Bangladeshi-oriented businesses is already generating economic activity among its community of immigrants, but it would benefit from expanding its customer base. In the past year, the Detroit City Council's immigration task force has begun to sketch a plan to market "Banglatown" as a brand, introducing the rest of the city—and tourists—to a commercial strip that has already proved a mini-success in a place hungry for any sign of economic progress.
"We have Mexicantown, we have Greektown," he says, citing the city's better-known immigrant neighborhoods. "So, let's have Banglatown."
Banglatown stretches for roughly a half-mile along Conant Avenue into Hamtramck, a city of 22,000 with a history as an immigrant enclave. While Hamtramck is perhaps best known as a home to Polish Americans—some call it "Poletown"—in recent years, it has attracted immigrants from Bangladesh, drawn by an affordable cost of living, a walkable community, and a spirit of tolerance toward ethnic groups. On the city council, long dominated by members of Polish descent, three of the six incumbents are now Bangladeshi Americans. (For local elections in 2013, the city printed ballots in Bengali.) During the day, local mosques broadcast the Muslim call to prayer—"really part of the fabric of Hamtramck daily life now," says Karen Majewski, the city's mayor. "The only time that it resurfaces is if the call comes too early in the day or late at night—sometimes those boundaries get pushed—or if the volume gets turned up."
These demographic shifts haven't been entirely free of political tension. Earlier this year, voters rejected a measure for public-school financing after a flier was distributed anonymously to Bangladeshi and Arab households, arguing they would save $500 in taxes by voting no. Even so, the Polish-American mayor considers Hamtramck an exceptionally tolerant place, noting an absence of hate crimes or violence targeted at particular groups. She supports the effort to promote Banglatown, although she admits she wasn't aware it was under way.
Success in branding Banglatown will need support from the mayor and also from local Bangladeshi-American business owners. Some local entrepreneurs have already taken steps to appeal to non-Bangladeshis. Shaker Sadeak owns Kabob House, a restaurant serving a wide range of dishes from the Indian subcontinent, mostly at prices under $10. Waiters are trained to explain the cuisine to newbies, and menus offer descriptions in English. According to Sadeak, three out of four customers are non-Bangladeshis, coming from as far as Ohio, Kentucky, and Toronto.
"They get surprised sometimes, like, 'Oh we never knew,'" he said. "Sometimes they come from out of town, and they spend their whole day" in the neighborhood, also shopping for Bangladeshi goods.
Still, the branding has a long way to go. "I think most people are largely unaware of the Bangladeshi presence," says Tobocman, who serves on Detroit's immigration task force and is trying to promote Banglatown as a brand. "These are not well-traveled communities."
One obstacle to branding Banglatown is the need to tell visitors that's where they are. Currently, a street sign on Conant Avenue refers to "Bangladesh Avenue," but nothing says, "Banglatown." Community advocates must also define its boundaries, to gain support from Detroit's city council.
Its promoters, at least, have a blueprint to borrow. In the 1990s, after many Mexican-American autoworkers lost their jobs, business owners in a Hispanic neighborhood in southwest Detroit banded together to protecting their own livelihoods. "They, out of whole cloth, came up with this Mexicantown brand and label," Tobocman says. "Now it's a thriving restaurant district." Although Bangladeshis aren't likely to solicit tourists with the equivalent of a margarita festival, Conant Avenue has plenty of bars owned by non-Muslims.
Interacting with tourists would benefit the Bangladeshi community, says Taqbeem, the Bangladeshi community leader, who arrived in Hamtramck from his native land in 1980. "We want Bangladeshis to assimilate into the American communities. I don't want to see these guys outside."