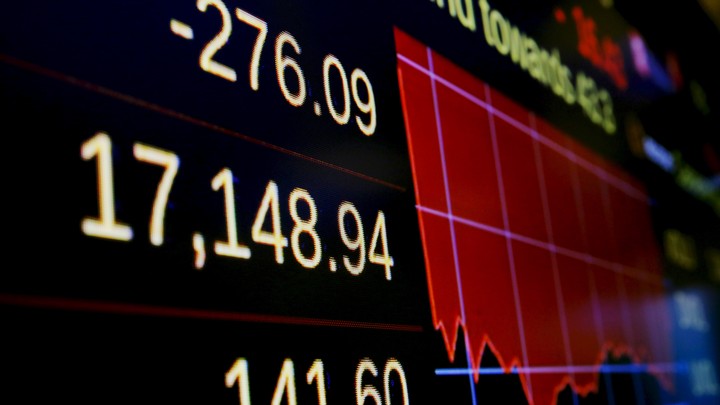 Updated on January 6, 2016
The first two days of trading in 2016 have been a rough ride for investors.
On Monday, markets tanked due to concerns about a global economic slowdown and a sell-off in the Chinese markets—where, for the first time, trading was halted after weak manufacturing data sent indexes down 7 percent. In the U.S., the Dow fell 1.6 percent and the S&P fell by 1.5 percent on Monday—the worst annual start for the Dow since 2008 and for the S&P since 2001. The Nasdaq fell 2 percent.
Things were looking slightly up mid-morning on Tuesday as global markets stabilized and U.S. indexes recovered some of the previous day's losses, but by noon, earlier gains had virtually been wiped out on all three U.S. indexes. Moreover, though China has steadied its markets for now, investors remain worried that the world's second-biggest economy might be slowing down and that the Chinese stock market is overvalued, due to previous government intervention. This, paired with fresh concerns about an oil-supply glut, is why some experts are expecting a volatile year, particularly in global markets.
This volatility comes on the heels of the news that 2015 wasn't a particularly strong year for U.S. stocks, with the Dow and the S&P closing the year with negative returns—they lost 2.2 percent and 0.7 percent for the year, respectively—for the first time since 2008. The Nasdaq, however, closed 2015 with a 5.7 percent gain.
Though investors and market watchers tend to pay close attention to market volatility, a 10-year performance chart of the Dow or S&P usually calms fears, since over the long term, investments have historically had an upward trajectory. Since 1937, there have only been a handful of years that did not provide positive returns 10 years later.
For those close to retirement, temporary downturns can represent a real loss in savings. But for those for whom retirement is still a long way off, retirement savings are long-term investments, and will have plenty of time to recover from these sorts of fluctuations. Plus, the type of financial products that retirement savings are usually parked in are exactly what experts advise people to invest in when the stock market is bouncing around—they're designed to withstand short-term market volatility.
We want to hear what you think about this article. Submit a letter to the editor or write to letters@theatlantic.com.
Bourree Lam
is a former staff writer at
The Atlantic
. She was previously the editor of Freakonomics.com.