GE's Relocation: Great for GE, Not as Great for Boston's Taxpayers
The generous subsidies that led the company to move its headquarters will use up funds that could have been put toward anti-poverty programs and education.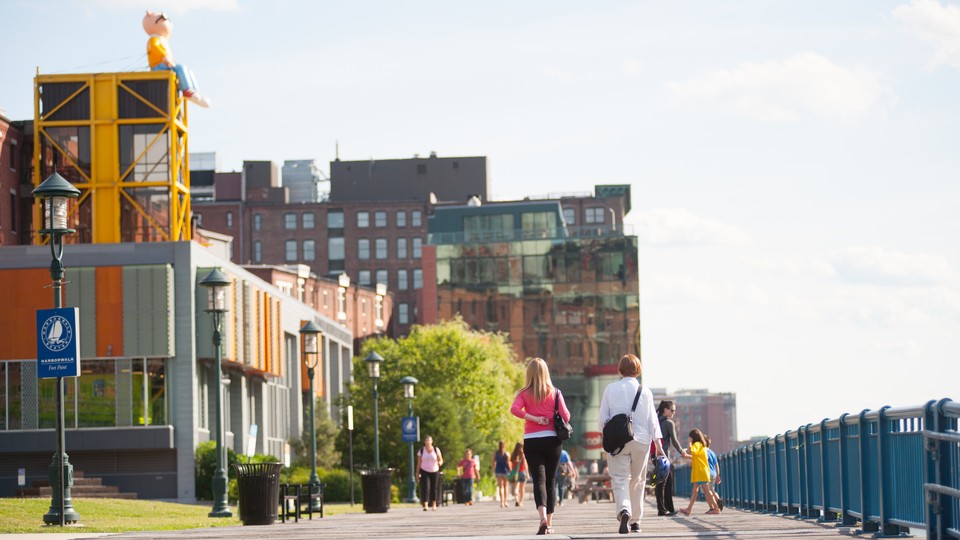 General Electric is the latest company to give up the suburbs for the city. News of GE's move from its 1970s-style corporate campus in suburban Fairfield, Connecticut, to downtown Boston's Seaport District has urbanists like me swooning. After all, it confirms much of what we've been saying for years: A massive corporation is moving to a dense, vibrant, walkable city center with abundant transit, lots of talent, superb universities, and great quality of place.
"We want to be at the center of an ecosystem that shares our aspiration," said GE's CEO, Jeffrey R. Immelt, in his announcement of the deal. "Greater Boston is home to 55 colleges and universities. Massachusetts spends more on research [and] development than any other region in the world, and Boston attracts a diverse, technologically-fluent workforce focused on solving challenges for the world. We are excited to bring our headquarters to this dynamic and creative city."
The move also shows that cities and metros like Boston can compete for and win corporate headquarters in an increasingly spiky world. Admittedly, if you had asked me to predict GE's next move, I would have guessed New York City, where the majority of its corporate peers are located. New York offers a thick labor market for the corporate managerial and creative classes, and the culture of the Connecticut-based corporate headquarters was already plugged into the city. Still, the move to Boston makes sense. While greater Boston is expensive—as expensive as, if not more than, the New York metro as a whole—downtown Boston is not nearly as pricey as Midtown Manhattan or New York's Financial District. And, according to some theories, GE will face somewhat less competition for top talent in the Greater Boston region. The fact that GE picked Boston—a city with over 650,000 people and a metro with over 4.7 million—is heartening not just for the city, but for other metros of similar size and scale.
The enormity of GE's choice was not lost on local boosters, who lauded the decision. "This is better than hosting the Olympics," wrote Shirley Leung, a Boston Globe columnist. "The world can now mention Boston in the same sentence as Silicon Valley when talking about where the future is being built."
Unfortunately, that future comes with a stiff price tag. Together, the city and the Commonwealth of Massachusetts offered up an estimated $145 million in business incentives ($120 million in grants and other programs from the state, and another $25 million in property-tax relief from the city) to secure the deal. By my calculations, that means that the city and state are doling out a whopping $181,250 in public subsidies per job, given GE's own statement that its new headquarters will employ 800 people (200 corporate staff members and another 600 so-called digital industrial product managers, designers, and developers). And that doesn't even include additional incentives such as grants for workforce training (another $1 million or so), a new "innovation center" designed to better tie GE to local universities and research institutes ($5 million more), assistance for employees to relocate to Boston, and transportation improvements in the Seaport District.
Another reason for the move, hinted at by the company itself, is to allow GE to continue avoiding state corporate income tax. In fact, The Boston Globe reports that GE essentially pays no, or at least minimal, corporate income tax to any state.
What's even more shocking is that Boston and Massachusetts have historically been reluctant to engage in this kind of corporate welfare. GE's subsidy package is the largest ever assembled in the state's history, according to Good Jobs First, an organization that tracks corporate incentives.
GE is also one of the largest recipients of incentives in the country, numbering already among the top 20 recipients of corporate welfare subsidies after hauling in a total of $1.5 billion since 1992 (with the majority of that accruing in just the last five years). In 2014 alone, GE received nearly $100 million in subsidies from Cincinnati and the state of Ohio, where its U.S. Global Operations Center is located.
This is not the first time GE has picked up and moved its headquarters. A little over 40 years ago, GE left Schenectady for its then-new corporate campus in Fairfield. While this latest move has Boston politicians and boosters cheering, these subsidies also take away jobs from people back in Connecticut. As Henry Pires, a worker and union representative at a soon-to-be shuttered GE valve factory in Avon, Massachusetts, told Radio Boston: "It hurts me to know that my tax money is an incentive to take jobs from someplace else."
The reality is that these incentives are a drop in the bucket for a $250 billion company like GE. In fact, GE turned down reportedly bigger incentive packages from other states, including New York. Ultimately, all these incentives really do is take money out of the pockets of Boston and Massachusetts taxpayers—money that could and should be used to reduce poverty and improve education in the city and state's many disadvantaged neighborhoods.
Perhaps it's finally time for the federal government to step in and stop the incentive madness. In the meantime, GE could always do the right thing and give the taxpayers back their money. For a company that wants to be seen as both cutting-edge and a good corporate citizen, such a move would set an important precedent.
---
This article appears courtesy of CityLab.