Most Americans Aren't Ready to Give Up Tipping
But there's a chance that today's experiments on the fringes of dining could one day infiltrate mainstream food culture.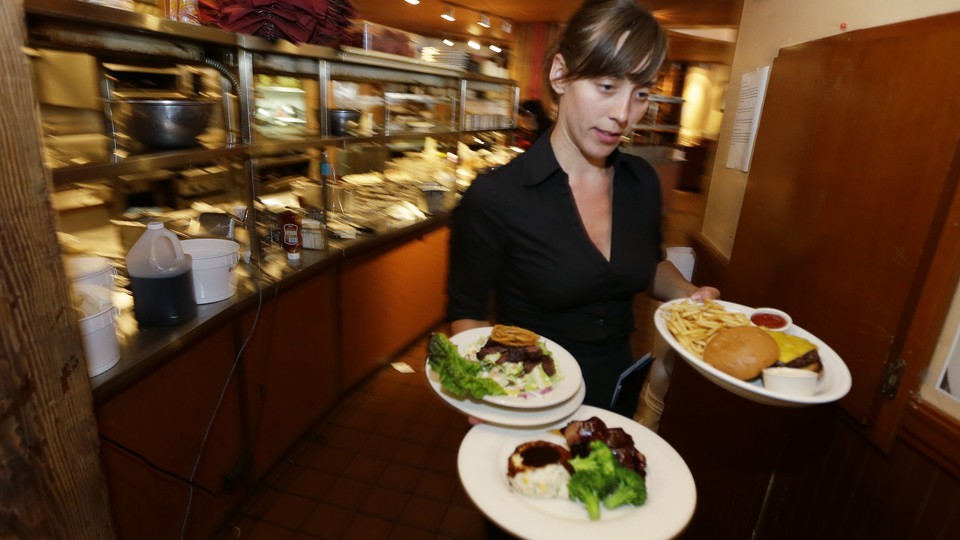 Last year, the New York restaurateur Danny Meyer announced he'd be eliminating tipping at 14 of his restaurants by the end of 2016, affecting most of his 1,800 employees' compensation. That, plus experiments by a handful of open-minded restaurant owners throughout the country and even the management of the chain Joe's Crab Shack, seemed to signal the stirrings of a shift that would overturn an American tradition that's now a century-and-a-half old.
But any tipping revolution will have to come from the top, because the public isn't on board: According to a poll conducted by the ad-buying firm Horizon Media, 81 percent of American restaurant-goers aren't interested in getting rid of tipping. According to the survey, diners are still attached to the idea of rewarding good service, and are concerned that losing the ability to tip would produce a rash of inattentive waiters and waitresses. The concept of being forced to pay a service charge—which is how most tipping-free restaurants implement their policy—doesn't sit well with people.
Some groups, though, were more open to ditching tips than others. In the poll, 29 percent of respondents between the ages of 18 and 34 thought tipping was outdated, more than twice as many as in the 50-to-64 age bracket.
There are some sound reasons for getting rid of tipping. Research suggests it's not very fair: Tips have been found to be based just as much on servers' race and age or the weather outside as on the quality of service. Plus, at The Modern, the first of Danny Meyer's restaurants to stop accepting tips, average hourly wages in the kitchen were expected to jump from about $12 to $15 an hour—which should mean not just better treatment for restaurant workers, but also less employee turnover.
How have The Modern's customers reacted? One employee told The New York Times said that when she called up diners to confirm their reservations, she informed them about the policy and didn't receive any negative feedback. Perhaps there is a class dimension to this acceptance of a no-tipping rule—diners at a restaurant where dinner starts at $122 are probably not fretting about the costs of built-in gratuity. Indeed, some of The Modern's first customers were so okay parting with their money that they didn't just accept the service charge—they left tips as high as 30 percent on top of their bills, despite the protests of servers.
Outside of New York, though, other American restaurants are seeing what happens when they get rid of tips, and finding that it brings mixed results. One San Diego restaurant owner wrote in Slate that abolishing tipping improved food and service, but a local alt-weekly helpfully noted that his restaurant wasn't very popular and eventually shut down. Meanwhile, in Pittsburgh, a restaurant called Bar Marco got rid of tips and started paying full-time chefs $35,000 a year (with benefits) without much ado. Bar Marco's sister restaurant, though, went through with a similar move, only to find some employees upset—three bartenders resigned, and very few other Pittsburgh restaurants have adopted the practice. "Ours is not a good model for everyone," Bar Marco's co-owner said to The Pittsburgh Post-Gazette.
So: The no-tipping movement is going against overwhelming public inertia, and isn't consistently successful. There's a decent chance that it will just peter out.
That said, it's possible that this start—however shaky it may be—will pan out into something far more widespread. Tipping may not seem like a trend in the same way that kale is, but plenty of non-culinary aspects of restaurants get disseminated far and wide, from tattoo-adorned servers to table arrangements that cram more paying diners into a restaurant in the name of community. Tipping could potentially become as much about how restaurants present themselves culturally as they are about compensation.
Consider that in the restaurant world, the cutting-edge trends of yesterday have become the standards of today. In 2004, "hunt[ing] down superior ingredients … and let[ting] them express themselves as clearly as possible" was one reason the restaurant Per Se earned the highest possible rating from The New York Times's head food critic. Now that's what people expect of Chipotle and Panera. Similarly, in 2012, only four years after the L.A. chef Roy Choi catapulted the concepts both of Korean tacos and food trucks to national prominence, TGI Friday's introduced a line of Korean tacos. (And two years after that, Friday's announced a promotional food truck that would rove around American cities.) In the context of Friday's, Korean tacos and a food truck may be gimmicks, but they represent the adoption of trends nonetheless.
There are reasons, then, to think that tipping will trickle down like any other food trend. "I think as Danny [Meyer] goeth, so shall the rest," the chef and TV personality Anthony Bourdain told Gothamist. "I mean, he was the first guy in New York to ban smoking—something for which I gave him a lot of shit back then, but look at us now."