The Plight of the Suburban Office Park
What will become of America's sprawling, cubicle-filled campuses as they go out of fashion?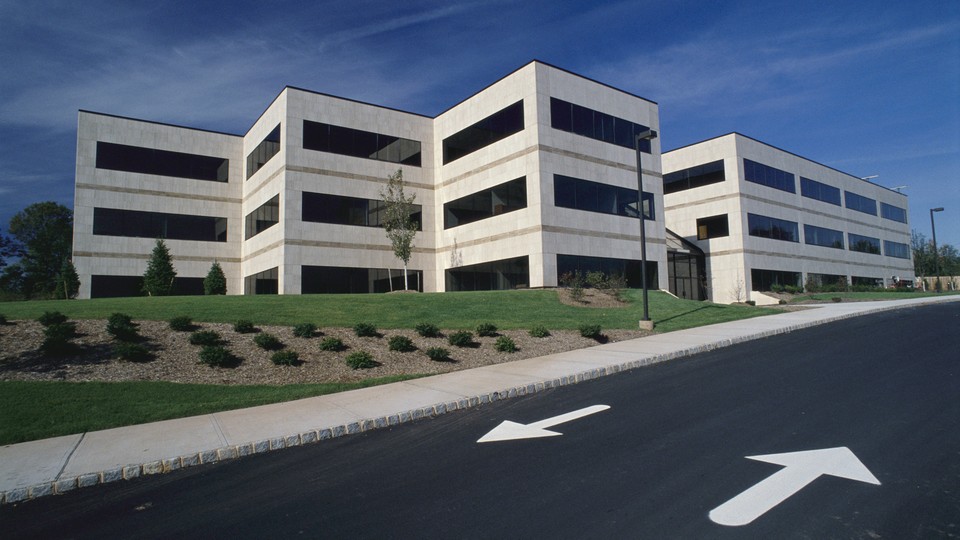 A report from the real-estate-service firm NGKF released late last year provides new numbers on an ongoing phenomenon: the slow, agonizing death of the American office park. The report looks at five far-flung office-tenancy submarkets—Santa Clara, in the San Francisco Bay Area; Denver; the O'Hare area of Chicago; Reston and Herndon, outside of Washington, D.C.; and Parsippany, New Jersey—and finds a general aura of decline.
Between 14 and 22 percent of the suburban-office inventory in these areas is, the report found, "in some stage of obsolescence," suggesting that between 600 million and 1 billion square feet of office space are unnecessary for the modern company and worker. That's about 7.5 percent of the country's entire office inventory.
What makes an office park "obsolete?" Arguably the most important amenity for the modern office is location, an aspect of an office park that is difficult to change. What's called "Class A" office space is in transit-oriented areas that are at least close to highways. These offices don't need to be in walkable, urban neighborhoods—though that's ideal. At the very least, today's workers want to get lunch or maybe even a workout without firing up an engine, NGKF finds. The newest figures from the commercial real-estate-service firm CBRE bear this out: 10.4 percent of downtown office spaces are currently unoccupied, compared to 15 percent of suburban ones.
The decline of the office park is part of a larger story, often told, about Americans' shifting working and housing preferences, from sprawling, isolated, "safe," and cubicled suburban campuses to more well-connected and increasingly well-funded urban open floor plans. (The office park itself was a rejection of the city: "The first office park opened in Mountain Brook, Alabama, an upper-class white suburb of Birmingham, in the early 1950s as commuters became uneasy with simmering racial tension in city centers," a recent Washington Post piece notes.)
The growing freelance economy, which sees fewer people traveling to a desk each morning, has contributed to a wider decline in the amount of office space occupied by workers. Much of the country doesn't need a wide-open office campus anymore.
Which is all to say: Of course it's the case that different kinds and sizes of companies want different things from their office spaces. But as the world (mostly) marches on without them, what will existing office parks be when they grow up?
There are models that developers are using to transform older office parks throughout the country, to measured success. They mostly involve turning definitely-suburban office parks into urban-like, albeit still isolated, office "cities." (It is worth noting that many of these projects involve extensive rezoning efforts.) A facility in the community of Edina, Minnesota, is in the midst of transforming from a sprawling office center into what one local developer called "not your father's or mother's office park." In practice, that means linking the park to 15 miles of bike trails, big-box-store-free retail, and green space. Other developers managing struggling office parks are considering adding farmers' markets, hotels, and housing.
Sure, those are familiar buzzwords. But it appears that the office park is not going down without a fight.
---
This article appears courtesy of CityLab.