How Much Did Jonas Cost the Economy?
There's no agreed-upon way to measure the price of a blizzard—but people do make intelligent guesses.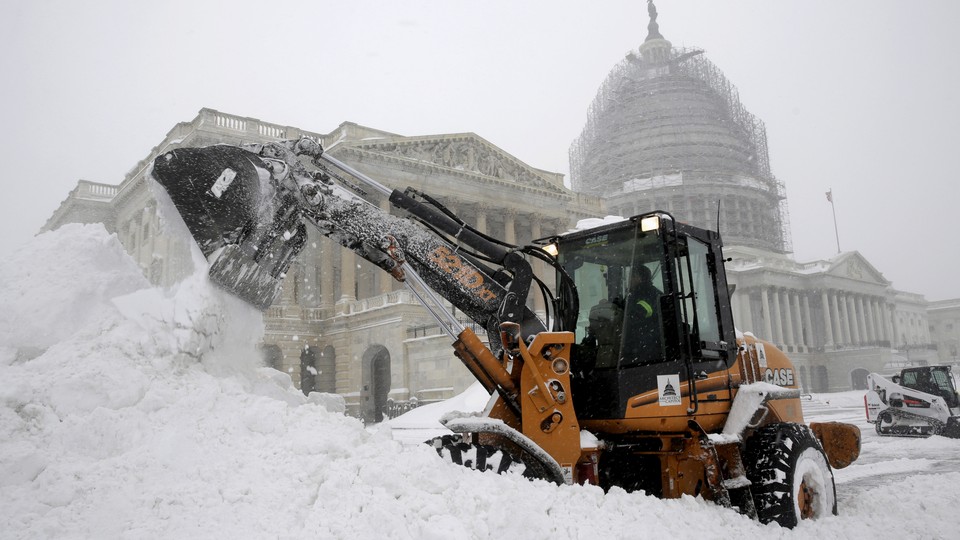 On Monday, the East Coast began bouncing back from winter storm Jonas, which dumped as much as 30 inches of snow in some U.S. cities over the weekend. In Washington, D.C., federal and local government offices were closed and many workers faced a struggle to get to work as roads were being plowed and the city's public-transit system offered extremely limited service. Additionally, an estimated 12,000 flights have been canceled in the U.S. due to the storm.
That will make for countless inconvenienced workers, but the real burden is the financial costs of a storm. First, the price to clean up a city is steep: In New York, according to a study by the city controller, it's estimated to cost $1.8 million per inch. Second, winter storms tend to give rise to insurance claims—last year, Boston noted a high number of claims due to ice damage. And third, a number of stores and businesses close because it's unsafe for workers to commute or their customers are cooped up at home.
Chris Christopher, a macroeconomist at the data-analytics firm IHS Global Insight, first estimated that Jonas's economic impact would be between $350 million and $850 million—a number that accounts for the cost of not doing business as well as hourly workers' lost wages, among other things. On Monday, after seeing the storm's impact (particularly on the Jersey Shore), he revised that up to between $500 million and $1 billion. Of the industries affected by the storm, Christopher says that services popular on weekends—such as restaurant and entertainment workers—would turn out to be the most affected, since the blizzard hit late Friday and well into Saturday. It's these hourly workers who were affected by the storm much more than salaried office workers, who get paid even during inclement weather.
An upper-end estimate of $1 billion over three or four days may sound like a lot, but one report estimates that the wages lost by workers during an intense storm in New York—something on the scale of 2010's "Snowmaggedon"—could amount to about $700 million per day.
Taking a bigger-picture view, businesses' revenues probably didn't on the whole decline significantly. It's true that many businesses shut down over the weekend, but grocery stores saw temporary spikes in spending as people panic-bought bread, milk, and eggs in preparation for the storm. Similarly, even though many retail stores were expecting losses last weekend (in what is already a slow month for retail), hardware stores moved a lot of shovels and salt. And online retail probably saw good times all around. "E-commerce retail sales does very well when people are in the house and the electricity is on," says Christopher.
There's another thing many people can do from home when they have electricity: work. Researchers favor the idea of working from home during storm days: One notable study, conducted at the Chinese company Ctrip, found that not only do high-performing employees prefer working from home, but they are dramatically more productive while doing so. The researchers wrote in Harvard Business Review:
We encourage companies to do a trial the next time an opportunity presents itself—like bad weather, traffic congestion from major construction, or a disruptive event (such as a city hosting the Olympics or the World Cup)—to experiment for a week or two. We think working from home can be a positive experience both for the company and its employees, as our research with Ctrip showed. More firms ought to try it.
And though it's worth considering whether the rise in working from home will offset a little bit of a winter storm's costs, Christopher says that this wasn't as big of a factor during Jonas. "Given that this storm is only most likely going to impact Friday and Monday in major ways … the telecommuting factor in this particular storm isn't going to be that important."
The costs of a storm, though, truly don't fall evenly across all workers. While salaried workers were getting cozy and not fretting about the workweek, hourly workers were probably a bit more stressed: As one report found, "Lost wages of hourly workers account for about two-thirds of the direct economic impact of a major snowstorm."