Chick-fil-A Peach Bowl, Motel 6 Cactus Bowl: What's the Value of Sponsoring a College-Football Game?
Marketers have a lot of faith in the sport's ability to sell hotel rooms, tires, and tax software.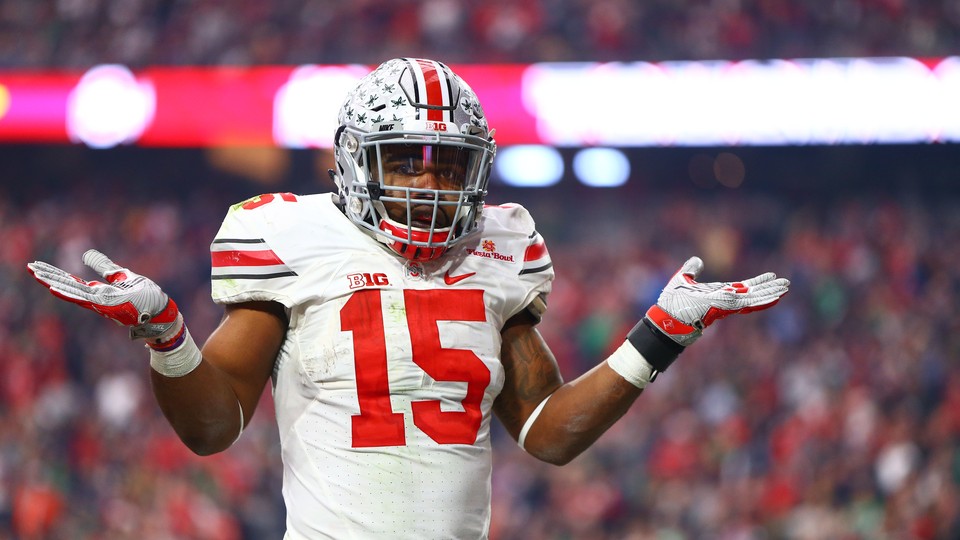 This season, in addition to competing in marquee matchups such as the Cotton Bowl and the Sugar Bowl, college-football teams have vied for such smaller-name titles as the Foster Farms Bowl, the BattleFrog Fiesta Bowl, the TaxSlayer Bowl, and the San Diego County Credit Union Poinsettia Bowl.
There are 40 bowl games this season, and every single one has at least one sponsor. Collectively, companies are estimated to spend roughly $100 million a year on the naming rights to these bowls.
Why are corporations paying hundreds of thousands of dollars (or in some cases, much more) for the right to insert themselves into the names of often-obscure college-football games? Just over three decades ago, when there were fewer than 20 bowl games, none had sponsors—instead, they tended to be named for regionally distinct products (hence the Cotton Bowl and the Sugar Bowl). As the Peach Bowl has turned into the Chick-fil-A Peach Bowl, have companies gained anything?
According to many marketing researchers, buying naming rights in sports is a great investment, not least because they have the attention of so many affluent young men. Studies have found modest positive returns to stock prices after companies announce sponsorships of the Olympics and NASCAR, as well as buying the rights to naming a sports stadium. Marketing executives tend to agree about the benefits of sponsorship: "You can't watch the game for a couple of minutes without seeing the logo," a former VP of marketing at FedEx told a reporter at the Pittsburgh Post-Gazette a few years ago.
But when it comes to college sports, is this marketing strategy worth it? It is hard to believe that the fans of the University of Washington's football team, which played in the Zaxby's Heart of Dallas Bowl, will produce much revenue for Zaxby's, a restaurant chain based in the Southeast. And while some companies sell products that fit naturally with football (like sportswear), other sponsors sell things that seem a bit more random (like tax software).
A study published last year by Penn State's John Fizel and Appalachian State's Chris McNeil in the Journal of Sports Economics casts some doubt on companies' faith in corporate sponsorships, at least when it comes to college football. It's hard to isolate the payoffs of sponsoring a bowl game, but Fizel and McNeil, as many sports economists have done before them, looked at what happened to companies' stock prices right after their sponsorships were announced, and compared those prices to how those stocks were expected to perform. (This isn't a perfect method, but it at least captures what investors think about the value of a sponsorship.)
After excluding companies whose stock prices might've been influenced significantly by a news story around the time of their sponsorship announcement, Fizel and McNeil found that naming sponsorships have on average no effect on companies' stock prices. Zeroing in on individual companies, Fizel and McNeil noticed that returns were slightly higher for companies sponsoring big-name bowls, and slightly lower for companies with large market capitalizations (two effects that might cancel each other out in many cases).
At the very least it seems that investors don't regard sponsorships as a complete waste of money. After all, they have one major advantage over traditional advertising: the power of product placement. Branding is inescapable when an anchor includes a company's name in a bowl game's title, or when brands occupy the majority of real estate in bowl games' official logos. In comparison to a banner ad or a commercial, fans have a much harder time screening sponsors out.