A Holly Jolly Eid
Should American Muslims embrace holiday commercialism? Seasonal marketing can help foster social belonging without distracting from the festival's true meaning.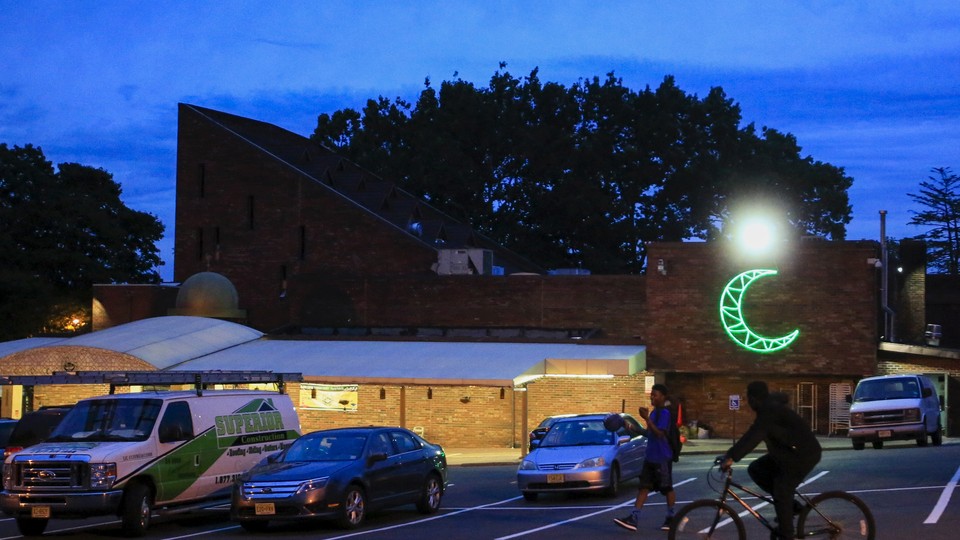 Growing up, the Eid holidays were absolutely magical for me. My parents would decorate the house with glimmering lights, and my siblings and I would gather around the dining room table to cut out paper and foil decorations—a mixture of European and Arab holiday traditions. As we grew older, we started a new tradition, filling hundreds of gift bags with candy and toys the night before Eid to hand out to kids the next morning at our mosque. We were imbued with the understanding that, even if we were part of a religious minority here in America, we were entitled to the same gifts and treats as those who celebrated Christmas.
There are two holidays every year: Eid al-Fitr, which follows the fasting month of Ramadan and will be in early July this year, and Eid al-Adha, which celebrates the story of Abraham and his son and will be in mid-September this year. I grew up taking pride in the fact that we got twice the amount of joy as our Christian friends who celebrated only once.
Although the Eid holidays in the U.S. tend to be primarily religious events, my parents made a conscious decision to play up the holidays' commercial elements by giving us gifts and money. In a nation where Islamophobia was a tired norm, they wanted their children to be proud of their religious identity, in all of its forms. But, aware that my siblings and I weren't entitled to the time off from school that our Christian classmates received for their marquee holiday, my parents took pains to keep our Eid distinctively Muslim.
Was what my parents did wrong? Every year, Muslims in America write essays arguing against commercializing Eid. They tend to fear that letting the holiday's religious focus slip would compromise Muslims' common faith and identity.
For Shahed Amanullah, the CEO and a co-founder of LaunchPosse, the answer is difficult. In an article for AltMuslim in 2014, he wrote, "Our need for belonging makes us applaud any public acknowledgement of our holiday, whether it is a Best Buy ad, a politician's Ramadan greeting or a department-store Ramadan display." With this in mind, he warned: "When you start seeing people like Wolf Blitzer at iftars, you just have to wonder what is happening to our most precious religious holiday."
Dina Toki-o, a style blogger and a designer, suggested in an essay for the website Aquila Style that too often, Muslim Americans forget the true meaning of Eid:
It's easy … to get caught up in the festivities of eating and socializing, listening to music, spending a fortune on clothes and gifts, spraying ourselves with expensive fragrances, packing on the makeup, throwing parties and all, with the reason: "because it's Eid", and then end up forgetting, or failing to truly remember the importance of Eid …
Similar sentiments are expressed by parents, who frequently worry about what the holiday will really mean for their children. "Sadly, it has become materialistic … some Muslims living in Western countries try to overcompensate for their children not being able to join in with the non-Muslim festivities by overspending on them at Eid time," writes Jameela Ho at Muslimommy.com. Raana Smith, a parent and a blogger at My Halal Kitchen, issued a reminder "to check in with yourself, to pause, to reflect, and to remind yourself there are causes much bigger than your own."
Wrapped up in the argument against commercialization is a fear of losing faith and identity. But the truth is that American Muslims writing essays about the meaning of Eid are yearning for ideals and values that are no longer mainstream in even Muslim-majority nations. In several countries in the Middle East, Africa, and South Asia, Eid has been taking on an increasingly commercial tint for decades, with exorbitant festivals, money- and gift-giving, and markets that crop up around the holiday season. American companies with an international presence continue to market to the holidays in Muslim-majority nations. For example, Proctor & Gamble launched a successful Ramadan campaign, donating one garment to those in need for every "white musk"–scented bottle of Tide detergent sold. Likewise, Mango and DKNY have released lines specifically catering to the month of Ramadan.
In fact, it's a bit puzzling that Eid hasn't become more commercialized in the U.S., because it's so easily commodified: It is a season with distinctive sounds and smells of home-cooked food, desserts of every kind, and tea and coffee for the older folks. And, around the time of Eid, there is a roughly monthlong shift in the rhythm of social life. Take that alongside the documented spending power of American Muslims, and Eid's lack of commercialization seems like a missed business opportunity. Research by Ogilvy Noor, the Islamic-focused arm of the marketing firm Ogilvy Mather, found that 86 percent of American Muslim consumers believe that American companies "need to make more of an effort to understand Muslim values." Similarly, 98 percent felt overlooked by American brands.
Perhaps companies are overlooking Muslims because, in a nation where presidential campaigners call for banning the religion's adherents entirely, they're hesitant to be seen as catering to them. Considering the fact that most news of a company's decision to market to American Muslims is met with protest, derision, and boycotts, there's a lot at risk. Customers' negative reactions have been particularly strong to the marketing of products labeled "halal," which often refers to the Islam-approved form of animal slaughter, and McDonald's decision to remove halal products from two of its restaurants in majority-Muslim communities in Michigan is typically cautious.
The case for why American Muslims should embrace the moderate commercialization of Eid, though, is a little less straightforward. Even considering that the meaning of the holidays can be lost in themed products and seasonal sales, there are plenty of things to be gained from letting businesses craft products specifically for Muslim holidays. More than just being able to find decorations, greeting cards, and gifts in mainstream market aisles for the season, American Muslims would get a chance to give future generations a sense of pride they sometimes find reflected only in their peers of other faiths. It's an opportunity to bring the celebrations to another level, even as we highlight the true meaning of the holidays. Faith is not the only reason to celebrate and partake in Ramadan and the two Eids—they've always been intended to bring families and communities together, strengthening ties and building stronger bonds through celebration, food, and happiness—no matter how that might look.
Rather than wholeheartedly embracing commercialization (like Christmas has) or shunning it, American Muslims should consider a middle route, one that promotes a faith-centric holiday season with just enough mass-market products and commodities. There's a fear in the American Muslim community that commercialism would ruin Eid, but by pushing brands to operate by the values and lessons central to the holidays—giving to the poor, celebrating with family, and remembering the origin of the special days—careful commercialization can be practiced. That would be a win for weaving American Muslims more firmly within the fabric of America.