The End of Al Jazeera America
Its chief executive said the the decision was driven by the fact that "our business model is simply not sustainable."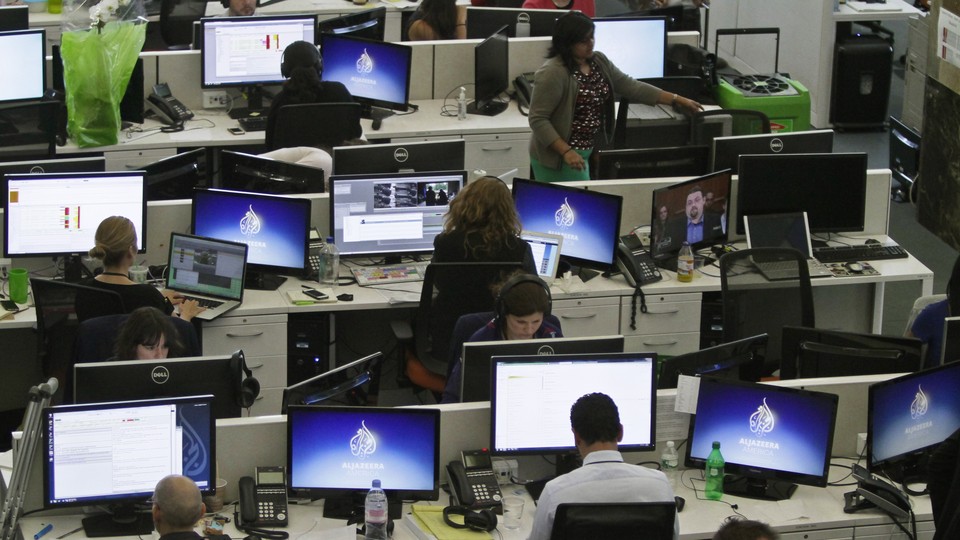 Updated on January 13 at 5:41 p.m. ET
Al Jazeera America is shutting down in April less than three years after it began broadcasting in the United States, Al Anstey, its CEO, announced Wednesday.
Al Jazeera America will stop broadcasting on April 30, the company said in a statement, which added:
While Al Jazeera America built a loyal audience across the U.S. and increasingly was recognized as an important new voice in television news, the economic landscape of the media environment has driven its strategic decision to wind down its operations and conclude its service.
"I know the closure of AJAM will be a massive disappointment for everyone here who has worked tirelessly for our long-term future," Anstey said in a memo to staff. "The decision that has been made is in no way because AJAM has done anything but a great job. Our commitment to great journalism is unrivaled."
But, he added in the memo, the decision was driven by the fact that "our business model is simply not sustainable in light of the economic challenges in the U.S. media marketplace."
Al Jazeera America staffers also confirmed the news:
@petersagal Thanks Peter. Keep an ear out...somebody must want an experienced...BUT STILL YOUTHFUL guy!

— Ray Suarez (@RaySuarezNews) January 13, 2016
Even though it's over, working at @AJAM was the wildest most intense rollercoaster ride in media. I don't regret a moment.

— Paul Harris (@paulxharris) January 13, 2016
News of the channel's closure was announced to workers at an unscheduled staff meeting on Wednesday. Al Jazeera America, the U.S. arm of the pan-Arab Arabic-language network financed by the government of Qatar, began broadcasting in the U.S. in 2013, after its parent company paid Al Gore and his partners $500 million for Current TV.  
CNN reported that as many as 700 staffers will lose their jobs as a result.
Despite its attempt to provide what it saw as sober current-affairs programming in a sea of often-rancorous cable news channels, and winning some top awards in journalism, Al Jazeera America was unable to build an audience—it reached about 60 million households, compared to 100 million for other cable broadcasters—or draw advertisers. And while the Qatari royal family financed the network, the precipitous decline in the price of oil has affected that country's economy and, presumably, its ability to endlessly finance the U.S. operation.
The environment in the newsroom was also the subject of headlines—and lawsuits. The New York Times adds:
To make matters worse, the newsroom was hit with turmoil last year when staff members complained bitterly of a culture of fear. There was an exodus of top executives, along with a pair of lawsuits from former employees that included complaints about sexism and anti-Semitism at the news channel.
Al Jazeera's statement on Wednesday said it would pursue a global strategy that would allow American viewers to watch its journalism "wherever and whenever they want." Prior to Al Jazeera America's launch in the U.S., viewers were able to watch the network's English-language arm, which carries global programming, on their computers. That ability was taken away after the American-centric network's launch in August 2013.  It's unclear if the change announced Wednesday will allow that to resume, or whether the offerings will be limited to digital content, including video.