Janet Yellen's Confidence in the U.S. Economy
In a speech Wednesday, the Federal Reserve chairwoman said that a rate hike would be a sign of strength.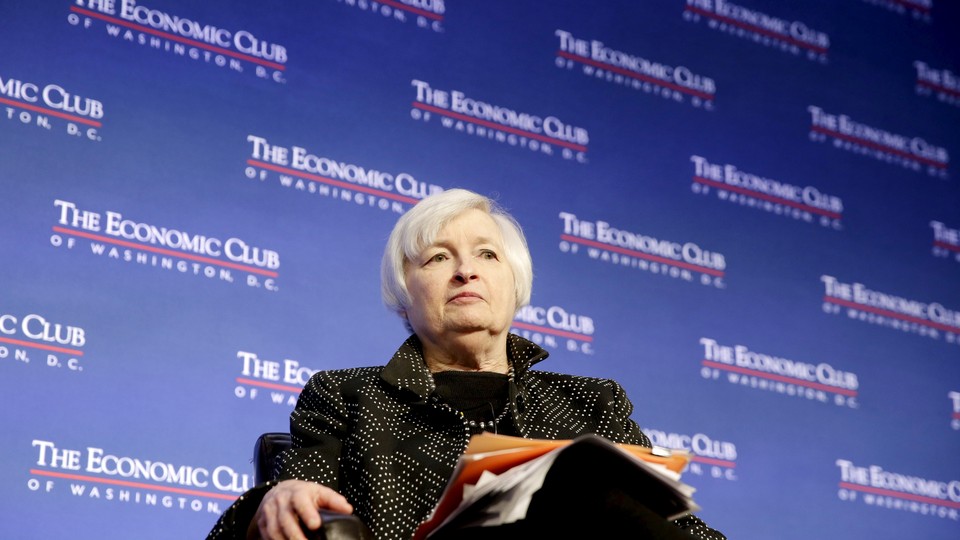 It's two weeks before the Federal Reserve's December meeting, at which interest rates have a good chance of being raised for the first time in nearly a decade. And that means that investors and Fed watchers the world over are paying close attention to any statement from Federal Reserve Chairwoman Janet Yellen, who has two public appearances this week, the first of which was a speech on Wednesday at the Economic Club of Washington.
In her prepared remarks, Yellen expressed confidence in the U.S. economy. Though Yellen said "we cannot yet, in my judgment, declare that the labor market has reached full employment," she pointed to substantial gains the economy has made in recent years. Yellen also said that she anticipates that U.S. economic growth is on track in meeting the Fed's employment and inflation targets.
The U.S. central bank's target for the interest rate has been near zero since 2008. Yellen stressed that delaying a rate hike could be risky, potentially resulting in abrupt tightening:
However, we must also take into account the well-documented lags in the effects of monetary policy. Were the FOMC to delay the start of policy normalization for too long, we would likely end up having to tighten policy relatively abruptly to keep the economy from significantly overshooting both of our goals. Such an abrupt tightening would risk disrupting financial markets and perhaps even inadvertently push the economy into recession. Moreover, holding the federal funds rate at its current level for too long could also encourage excessive risk-taking and thus undermine financial stability.
Financial experts say that the Fed has given investors a significant amount of time to prepare for a rate hike. Indeed, a "lift off" has been hotly anticipated since the Fed's September meeting. Yellen has repeatedly expressed that she expects a rate hike in 2015, as long as the economy doesn't pull any big surprises. A fantastic October job report, in which the U.S. economy added 271,000 jobs above expectations, signaled a much improved job market, another signal that the economy might be ready to bear a rate hike.
On Thursday, Yellen will testify on the U.S. economy's outlook before a joint Congressional committee. Her testimony, along with the November job report from the Labor Department on Friday, will both be closely watched for further clues about a rate hike.
Yellen ended her speech by saying that interest rates going up is a sign that the economy is performing well: "The economy has come a long way toward the FOMC's objectives of maximum employment and price stability. When the Committee begins to normalize the stance of policy, doing so will be a testament, also, to how far our economy has come in recovering from the effects of the financial crisis and the Great Recession. In that sense, it is a day that I expect we all are looking forward to."