Working Across Party Lines
In South Florida, Democratic and Republican county leaders have joined forces on climate change.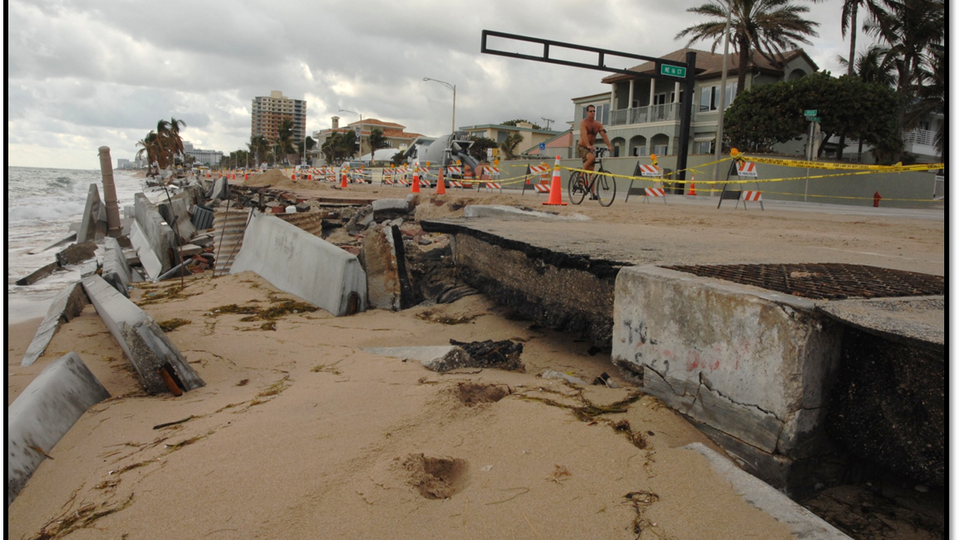 The epiphany that prompted Democratic and Republican county officials in South Florida to work together on climate change wasn't the dramatic flooding in Miami Beach during October's "king tides" or the threats to coral reefs near the Florida Keys. In fact, it didn't take place in the Sunshine State at all.
Elected officials and staff members from four counties along the southern Florida coast—Palm Beach, Broward, Miami-Dade, and Monroe—were visiting congressional representatives in Washington during a lobbying trip in 2009. A monumental energy bill was poised to pass the House of Representatives, and the officials wanted to make the case that their constituents deserved consideration for future infrastructure projects. The American Clean Energy and Security Act proposed to earmark billions of dollars for state governments to spend on energy efficiency, renewable energy, and transportation.
With so much money at stake, local officials streamed into Washington to persuade members of Congress that their regions had legitimate and urgent environmental needs. One of them was Kristin Jacobs, who was then a commissioner of Broward County. "Our real goal was not to ask for anything but just to educate," she says—to argue that climate change "wasn't some nebulous thing that may or may not happen in the future." The case shouldn't have been hard to make in Broward, home to the oft-flooded beach communities of Fort Lauderdale and Hollywood.
Jacobs and her team came prepared with projections of sea-level rise and its economic effects. South Florida isn't much above sea level (in Palm Beach County, the mean elevation is only 15 feet above the water). This leaves the region vulnerable to melting of the polar ice caps and to rising seas, potentially sending the state's picturesque—and valuable—coastland to a marshy doom.
As the county officials made the rounds of the congressional offices, they gave their presentations back to back. But they offered some incongruent statistics and overlapping goals, and the reactions from lawmakers were mixed.
"By the end of the day, each of us could tell the others' story," says Jacobs, now a Florida state representative. "We were sitting, rubbing our feet—you know how much you walk in Washington—and sipping a glass of wine, and I said, 'We should do this for real. We should do this together. We would be so much more effective.'"
That was the moment of realization: Despite their differences in party affiliation, these county officials had a lot in common, and their message would have been stronger if expressed in unison.
The legislation they lobbied for died in the Senate, where a bipartisan coalition collapsed over claims that the bill would kill jobs. In South Florida, however, the efforts at bipartisanship went forward. Six months later, leaders from the counties—three Democrats and one Republican—signed the Southeast Florida Regional Climate Change Compact.
The main objective of the agreement is for the counties to work together to draft climate-related legislation, in both Tallahassee and Washington, and to lobby for funding or policy changes. Along with that, they've sought to use their collective strength to reduce greenhouse-gas emissions and to adapt to the changing climate. The four counties, combined, are more populous than 30 of the 50 states, and their joint effort has turned out to be perhaps the most successful example of local bipartisan cooperation on climate change in the country.
It was the bipartisan nature of the agreement that seemed startling. The national debate over climate change has been dominated by partisanship, as Democrats lampoon Republicans who question whether man-made climate change is real. "I'm not a scientist"—that's the refrain from Sen. Marco Rubio, the Florida Republican who is running for president. So, too, from Rick Scott, the state's GOP governor, whose administration followed an unwritten policy to ban the use of the terms "climate change" or "global warming" in government communications, according to a news report last spring by the Florida Center for Investigative Reporting.
Getting conservatives to embrace climate initiatives isn't easy, of course. The lone Republican to sign onto the initial alliance was George Neugent, then the mayor of Monroe County and still a member of its board of commissioners. Other Republicans have been involved, including the mayor of Miami-Dade County and a former mayor of Palm Beach County (although local elections in Florida are nonpartisan).
While Neugent is a Republican, he's liberal on social issues and doesn't consider himself a conservative. And, his dominion is a strange one. Its population of 77,000 is tiny compared to its like-minded neighbors (ranging from nearly 1.4 million in Palm Beach County to Miami-Dade's 2.6 million). It is mainly uninhabitable, in that the Everglades and Big Cypress National Preserve make up most of its land, but it also includes the Florida Keys and their postcard-inspiring beaches. Those are the "canary in the coal mine," Neugent says, in judging the impact of a warming climate on sea levels. The narrow archipelago that constitutes the Keys already suffers from flooding and threats to the nearby Florida Reef.
Even so, the 67-year-old Neugent wasn't such an outspoken eco-Republican until he met with Broward's Jacobs in 2009. "She started talking to me about things that I believed in, but I just didn't want to step out front on it at that time," he recalls. "She provided the initiative for me to buy into it, gung-ho."
Local Republicans differ on the reality of climate change, Neugent says, but he hasn't been ostracized for his views. "I'm not a scientist. I'm not a biologist. But I've certainly been associated with many scientists and biologists over the years, people that I trust, that lead me to believe that this change is happening," he says. "At the very least, there is some climate weirdness. Then, the question is: What can we do about it?"
The compact in Florida has found ways to leverage its unified political clout. In 2011, its members enlisted support from scientists with the U.S. Geological Survey, the Interior Department, and the U.S. Army Corps of Engineers to predict the rise in sea level in southeastern Florida during the coming decades, an essential metric for measuring risk. Once that projection was determined, the Florida officials lined up further support from the Corps of Engineers and the National Oceanic and Atmospheric Administration to create a map of vulnerable locales.
The compact's accomplishments haven't ended there. An agreement with the Florida Climate Institute, a collaboration of local universities, gives the counties access to expertise. In 2012, county officials developed a unified climate plan that mapped out 110 actions the group would take over five years to mitigate the effects of climate change. These included designating "adaptation action areas"—parts of southern Florida considered at highest risk of flooding—to receive special attention for public-sector investment. The group, run by a project manager and a part-timer, also serves as a sort of clearinghouse on climate change; it convenes an annual summit meeting--this year's gathering is taking place in Key West this week--and keeps policymakers, scholars, business leaders, and environmental activists in contact.
"All the municipalities are learning from each other," says Ben Kirtman, a professor of atmospheric sciences at the University of Miami. "They're seeing what works and doesn't work, in terms of both the infrastructure solutions and the adaptation strategies—and also how to convince the residents that this makes sense, that this is the right thing to do."
The compact could serve as a model for adapting to climate change on a regional basis. "We decided last year that we wanted to see what we could do to replicate this," says Steve Adams, director of strategic initiatives at the Institute for Sustainable Communities, a Vermont-based environmental consulting firm that helps to coordinate the efforts in Florida. "The vast majority of local government climate-mitigation and -adaptation efforts tend to happen on a jurisdiction-by-jurisdiction level," he notes, "and there's often a remarkable lack of coordination."
Other local governments have taken note. Just last May, Boston Mayor Martin Walsh and 13 other mayors in the metropolitan area signed a "climate preparedness commitment" that, Adams says, was modeled on the Florida compact. 
Neugent isn't a typical Republican. But more Republican officials may start to see things Neugent's way as a rise in the sea level—it has advanced nine inches at Key West since 1913—continues to bring flooding and threats of property damage into Floridians' lives.
Broward's Jacobs, a Democrat, explains why. "When the tide is overtopping the seawall and filling your swimming pool with saltwater, you don't really care what party the person is that answers the phone," she says. "You want your government to do something about it."