The Failure of the Phrase 'Work-Life Balance'
"Balance" is a luxury that few will ever attain. There needs to be a way to talk about this problem that captures why it matters for everyone.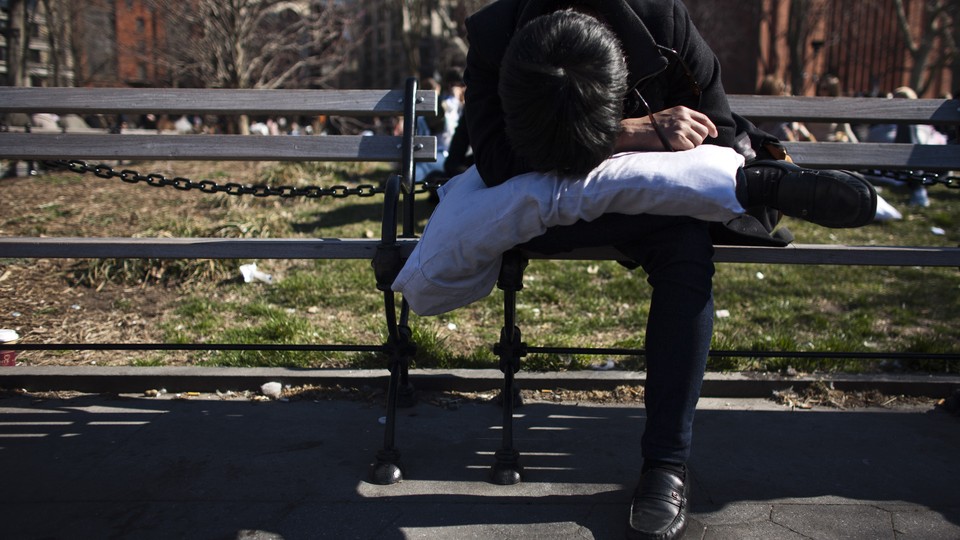 How people think and talk about an issue matters. Every time people say "working mother" but don't say "working father," every time people talk about parental issues (or caregiving issues generally) as "women's issues,"—together these small failures continually reinforce the assumption that it is up to women to raise children and care for elders, even though most people now accept that it is up to both women and men to earn a living. That assumption, in turn, enables male-female inequality to persist.
Another common idiom—that of "work-life balance"—does a disservice to women at the bottom of the income scale, implying that people have some control over this situation. The notion of "balance"
summons an image of a see-saw or a scale, a stable equilibrium in which people have the right amounts of different things that they want. It is the ultimate expression of "having it all"—just enough of this and just enough of that.
The majority of American women who have caregiving obligations are persevering in the face of seemingly impossible conflicting pressures—how to get their jobs done and be at their children's sports games and organize weekend activities and help with homework and take their mothers to the doctor and cook for or at least take dinner to a friend with cancer and and and. Or worse still, how to work two or three jobs to put food on the table and pay the rent and still have any time for children or parents at all?
Instead of balance, a better approach is to talk more simply and straightforwardly about making room for care, a concept I  explore in my new book Unfinished Business. Begin from the proposition that we cannot survive, as individuals or as a nation, without caring for one another. George Halvorson, former head of Kaiser Permanente, recently wrote: "The biggest single public health deficit and failure in America today is the fact that almost no parents of newborn children have been told or taught that they can improve their child's learning abilities significantly by exercising their baby's brain in the first three years of life." Caring for children properly, and valuing the unpaid and paid work of those who undertake this vital job, will determine America's future competitiveness, security, equality, and the wellbeing of its citizens. And at the other end of life, who are we if we do not care for those who cared for us?
Making room for care is dependent on one thing: valuing it, economically. Yet instead of valuing care as the indispensable work that it is, society as a whole free rides on the labor of family caregivers, who are not compensated for their work. Ann Crittenden, author of The Price of Motherhood, cites studies estimating a mother's worth as somewhere between $100,000 and $500,000 a year, depending on whether the measure is the replacement value of each of the services she is expected to provide or what we could expect to have to pay one individual to provide a combination of those services. But none of those goods and services is ever counted in the U.S. GDP.
---
Anne-Marie Slaughter discusses her new book on work and family.
---
They could be. Plenty of economists have shown how. Bringing together much of this work, Riane Eisler is leading over 100 organizations in the Caring Economy Campaign, which has put together a set of Social Wealth Indicators specifically designed to track the value of caring for others and to measure where the U.S. stands on these measures versus other advanced industrial countries.
If society valued care, it would be accounted for in measurements of the economy and assessments of the country's health and wealth. If society valued care, workplaces would adopt an entire set of new practices, from a right to request flexible work to the routine creation of work coverage plans for every worker, on the expectation that all workers must make room for caring for someone in their lives at some point in their lives. And if society valued care, the roles of teacher, lead parent, coach, nurse, therapist, or any other caring profession would have a degree of prestige and compensation that reflect the enormous importance of the work these people do.
"Balance" is a luxury, something only the very luckiest can ever attain. Equality—of the activities that are equally necessary for our survival and flourishing—is a better framework, as it demonstrates why care is something everybody needs to do and everybody needs access to. That's not about balancing work and life. That's about valuing all the activities that society needs for humans to flourish.