Will a Weaker Euro Lure Americans to Europe?
As the dollar gets stronger, traveling abroad gets cheaper.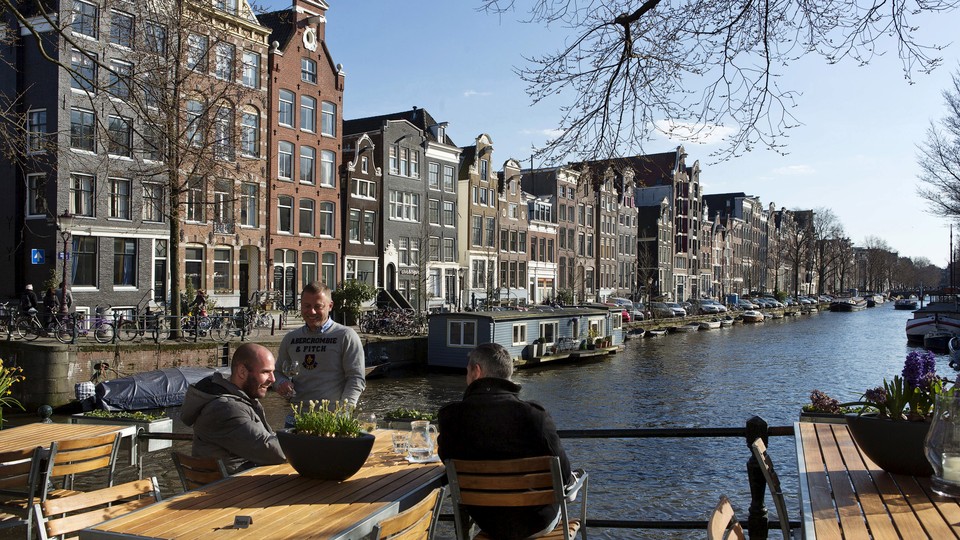 After more than a decade of relative strength, it looks like the Euro is heading towards parity with the dollar. Today, one Euro is worth few fractions of a cent less than $1.06. The last time they were almost equal was in 2002, three years after the Euro was introduced. The economic story here is that the dollar is strong because people are confident in the U.S. economy, while the Eurozone is comparatively sluggish.
But there's a story about tourism, too: When a dollar buys more value in Euros than it used to, hotels, restaurants, and tourist attractions in Europe start to look more appealing to people who spend dollars. So, with the Euro down and the dollar up, are Americans about to head across the Atlantic?
Some tourism statistics suggest that swings in foreign-exchange markets can inspire vacationers to book their flights, though causation is of course hard to nail down. This year, as the yen dropped to a 12-year low compared to the dollar, Japan saw record levels of visitors—over 9 million in the first six months of 2015. During that period, tourists spend nearly $13 billion there. In 2014, foreign tourists spent a record breaking $17 billion for the whole year.
Other countries have seen similar upswings. A weakened Australian dollar is leading to growth in travel-related sectors, such as hotels and food and wine. The same is true for Canada, where, as the loonie has tumbled, more Americans are visiting than at any point in the last five years. In Colombia, where the currency has depreciated 41 percent in the past year, the country's tourism-and-export promotion agency sees an opportunity that, if savvily combined with advertising and travel deals, could create more than a million jobs.
Meanwhile, of course, dollar-Euro parity takes a toll on the U.S. tourism industry, since foreign travelers' money all of a sudden buys less on American shores. Still, it seems there are more travelers than ever to go around: According to the World Travel and Tourism Council, the global-tourism sector is expected to have grown by 3.5 percent in 2015—making for a $7.8 trillion industry worldwide. And even with the strong dollar, the U.S. lodging sector has been seeing record-high occupancy rates.
The appeal of countries with relatively weak currencies also makes sense given that travelers' awareness of currency fluctuations may compel them to view these "deals" as a limited-time offer. Such "deals" are, in a way, a win-win: Tourists get to sleep, eat, and shop for less money, and for the countries with weakened currencies, it can be a welcome economic boost.