The Holiday-Package Waiting Game
Will shipping companies ever be able to catch up to online retailers during peak gift-giving season?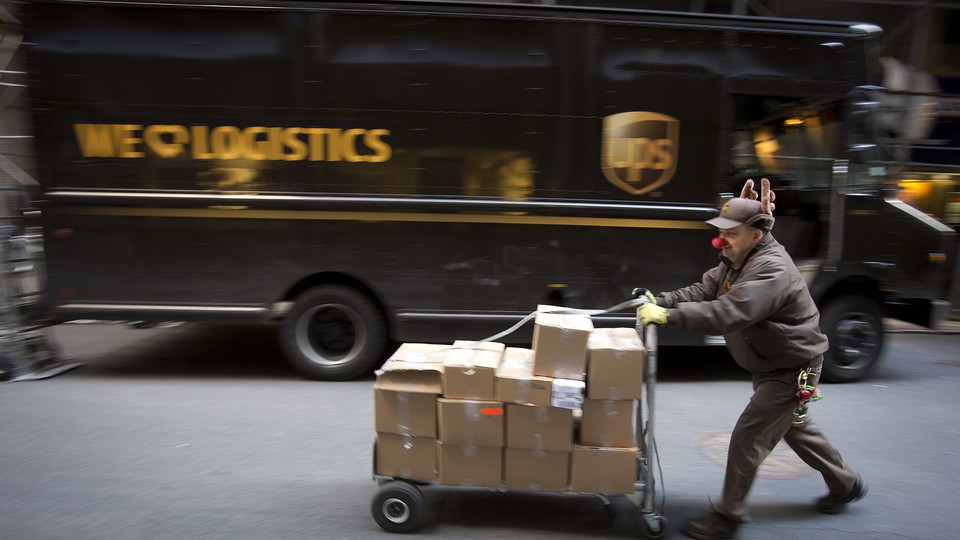 In the final few days before Christmas, there's an increasingly common scene in neighborhoods around the U.S.: Delivery trucks as far as the eye can see. But in some towns, shipping companies have found themselves stretched thin by a massive number of holiday orders, forcing them to have their drivers make drop-offs using rented trucks. In one Kentucky county, the police got so many calls from concerned residents that they took to Facebook to reassure the public that these were in fact UPS employees, not criminals working out of U-Hauls.
These makeshift delivery vehicles are just one sign that while consumers' appetite for online shopping has grown and retailers have tooled up to deal with that demand, shipping companies haven't quite kept up. While shipping companies are generally equipped to handle the normal day-to-day flow of package orders, there's a gap between retailers' ability to adjust to the sharp increase in orders over the holidays and delivery companies' ability to get all those orders to people's doors. That's most apparent during the holidays, when companies scramble to handle the orders of shoppers eager to skip trips to picked-over stores with crowded parking lots.
This discrepancy between consumers' preferences and shipping companies' capabilities reveals itself in the form of delayed deliveries more often than in the form of rented trucks. Earlier this month, an influx of orders meant a decline in on-time deliveries for UPS in particular, according to data from ShipMatrix, a shipping software company. And during the holiday season, the social-media pages of delivery companies turn into informal complaint channels for frustrated customers wondering where their packages are. Though UPS and FedEx have both actually increased their percentage of on-time deliveries during the latter half of month, and both retain an on-time delivery rate of over 90 percent, even a small percentage delays on such a high volume of deliveries means there are still millions of packages that aren't making it to the destinations on time. In most cases, it's also true that delivery companies have the ability to push a delivery time back, while still retaining their on-time status.
Meanwhile, demand for online shopping, and the shipping it entails, is only increasing. This year, the U.S. Postal Service says it expects to deliver nearly 600 million packages between Thanksgiving and New Year's Day, about 10.5 percent more than last year, according to a spokesperson. UPS expects to deliver even more than that, distributing around 630 million packages between Thanksgiving and the end of December. That's a 10 percent increase from 2014. And FedEx anticipates around 317 million packages during roughly the same period, for a 12.4 percent increase over last year.
But delays aren't entirely the fault of delivery services. Retailers too, are to blame, with their promises that down-to-the-wire orders will reach buyers before the 25th. Such guarantees are great in theory, but in practice, they're proving incredibly difficult to deliver on (womp womp).
And the looming inadequacies of the U.S.'s delivery infrastructure do not end once the package arrives on a doorstep. The same uptick in online shopping that is burdening delivery services is also leaving apartment buildings swamped with boxes—sorting them, storing them, and passing them out. Some buildings ask that residents pick up their packages quickly, or risk them being returned to sender. But plenty of property managers, worried about the expansion of online shopping more generally, are making permanent changes. Some are refusing to sort and hold onto packages, telling residents to have their packages delivered right at their doors or arrange to pick them up elsewhere, such as at work or from an Amazon Locker.
Deliveries to houses, meanwhile, bring up their own issues. For some, the prospect of leaving expensive packages unattended on a doorstep is a source of stress. Though many carriers say they don't keep statistics on how many packages are stolen, a recent report from BankRate.com estimated that about 10 percent of Americans may have experienced package theft.
While shipping companies' hiccups during the 2015 holiday season will be relatively minor—they pale in comparison to the surge in both demand and awful weather that plagued shippers in 2013—it's clear that delivery of packages hasn't quite caught up with the rate at which those packages are being ordered, at least during the hectic holiday shopping season.