The Art of Making Do
As the climate keeps getting weirder, localities across the nation are figuring out ways to adapt.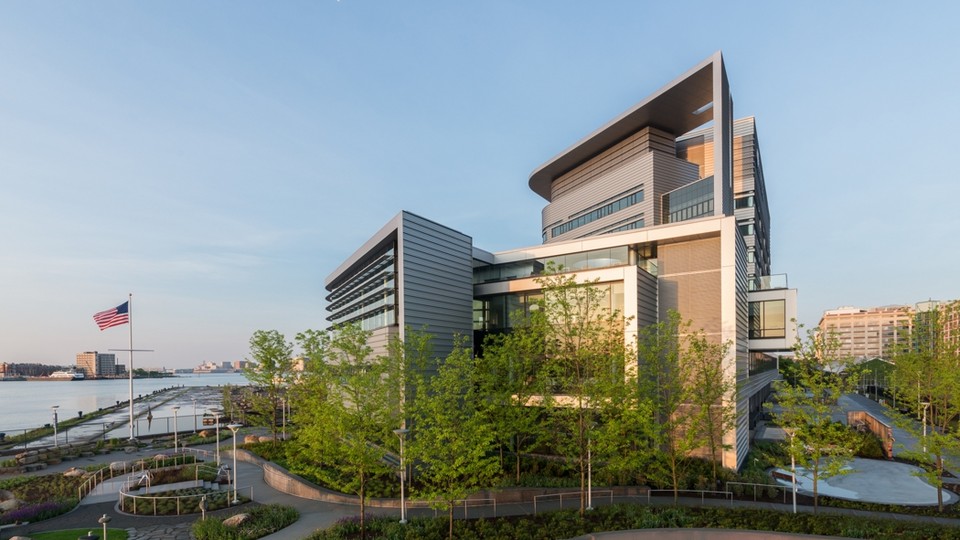 The partisan politics around climate change in the United States have made it well nigh impossible to take action to prevent global warming or even to find common ground on the scientific realities. But localities that must deal with floods or a drought—exacerbated if not caused by human activity, scientists say—don't have the luxury of debate. They need to act, and quickly—not to avert what insurance lawyers call acts of God, but to deal with them once they've struck. Even, perhaps, to anticipate.
Here are some smart ideas about how to muddle through:
Boston: A rehab hospital prepares for floods.
Large tracts of the city sit on wetlands, marshes, and landfill, so if the sea level rises because the polar ice caps melt, certain Boston neighborhoods can expect trouble. The Spaulding Rehabilitation Hospital, built in the once-abandoned, now-historic Charlestown Navy Yard in 2013, isn't taking any chances. At the edge of Boston Harbor, the hospital was designed with advice from the nation's leading thinkers about environmental resiliency. The ground floor sits two-and-a-half feet above the predicted 500-year floodplain, and the building's electrical equipment was installed on higher floors. The emergency generators are on the ninth floor, the mechanical penthouse, but the pumps that power them are in the basement, encased in a watertight, submarine-like vault. Granite blocks unearthed while excavating the site were fashioned into a berm facing the sea, as a decorative buffer against floods. The goal is to allow patients to shelter in place in a major storm. "You really don't want to evacuate patients in those conditions," said David Burson, who supervised the project at Spaulding. "It's an absolute last resort."
Tucson: Your shower will sprinkle your lawn.
The population of this city in the Arizona desert has grown by a fourth since 1990. Economically, that's great. But Tucson's growth could collide eventually with its climate. The Southwest is expected to become 5 to 10 degrees (Fahrenheit) warmer by the end of the century, with less rainfall projected during winter and spring. With this in mind, Tucson is encouraging homeowners to embrace technology that saves water. Since 2011, the city has offered a tax rebate of up to $1,000 for residents who equip their homes with systems that recycle "gray" water—mainly from washing machines, but in some cases from showers and sinks—by sending it outside to plants and lawns. All new residential construction must be built with a second drainage line for gray water. Although only 66 residents have taken advantage of the tax rebate so far, Tucson Water, the municipal utility, found that the program saved nearly a half-million gallons of water in 2014. These systems take some work to install and manage, and they won't save residents more than a few dollars a year, so their allure has been limited to environmentalist activists. But wait. "Things like this don't necessarily happen until you have a crisis," said Daniel Ransom, conservation program manager for Tucson Water—"and right now, Tucson is not in a crisis."
Hoboken: Getting ready for the next Sandy
When Hurricane Sandy tore along the East Coast in 2012, the effect on this northern New Jersey city of 50,000 was dramatic. The streets filled up like "a bathtub," Mayor Dawn Zimmer has recounted. The flooding led to power outages, forcing Hoboken police officers to use walkie-talkies and requiring the risky evacuation of elderly residents who depended on breathing devices and such. As a result, the city is exploring an investment in a microgrid, a local electricity network (run by natural gas and solar energy) that could operate autonomously from the main grid. In the event of another major flood, a microgrid would keep the lights on at police and fire stations, nursing homes, and even grocery stores. The rest of the time, it could generate power that feeds into the larger grid, earning a return on the investment. Hoboken officials are hoping to strike an agreement soon with local utilities on a plan to pursue millions of dollars in public and private financing.
Austin: The power of data, at home
Proposals to conserve energy are often more creative than pragmatic, but a project in the Texas capital is putting ideas to the test. Since 2008, the nonprofit group Pecan Street has outfitted homes with technology to allow owners to better manage and monitor their energy consumption. Initially formed by the city in collaboration with the Environmental Defense Fund, the publicly owned Austin Energy, and the University of Texas, the research project began in the city's Mueller neighborhood, a new downtown development with tech-savvy residents. Researchers now monitor roughly 250 homes in Mueller, a like number elsewhere in Austin, and another 800 in Texas, California, and Colorado. Participants see detailed data about their energy usage, so they can run their air conditioner during off-peak hours, for example, to lower their cooling costs. Pecan Street is also starting to study water use and is installing meters to help homeowners manage it more efficiently. Eventually, they want to test technology such as "smart" lawn irrigation systems that rely on online data from, say, the National Weather Service to decide when to start the sprinklers. In encouraging people to conserve resources, "saving money is one of the strongest drivers," says Colin Rowan, a Pecan Street spokesman. "It's kind of hard to ask people, 'Please use less energy because it's good for the community.'"
New Orleans: Embracing the water
Roughly half of the Big Easy sits below sea level, but it used to be less. During the past century, the city steadily drained marshy areas and pumped out storm water from the streets, which dried out the land and caused it to subside. With the sea level nearby expected to rise another 4.3 feet by 2100, the city is at risk for Katrina-plus flooding. But hey, water needn't be the enemy. A strategic plan for the city, released in August, promises to embrace the water, by absorbing and storing it in a way that won't damage lives and property. Inspired by the Dutch port of Rotterdam, the plan calls for populating parks with sponge-like plants and creating recreational paths lined with canals for drainage. The New Orleans Redevelopment Authority is already turning vacant lots into "rain gardens" that will trap storm water and absorb its pollutants, while serving as public spaces.
New York City: Public housing, too
The devastation of Hurricane Sandy prompted New York City to invest nearly $20 billion to prepare for future climate-related catastrophes and to improve the city's environmental defenses. The massive plan doesn't forget about the 400,000 low-income New Yorkers who live in the public housing developments. It earmarks $3 billion in federal funds to fix up these residences to save energy and to protect against disaster. Some of the upgrades are fairly straightforward, such as caulking windows; others are more complex—replacing boilers and bolstering the insulation. In low-lying neighborhoods, city officials want to add benches that serve as floodwalls and trap floodwater in underground tanks. "We are not designing for the three days out of 100 years when the site's going to be flooded," notes Bomee Jung, vice president for energy and sustainability at the New York City Housing Authority. "We're designing to improve the experience of the site every day."
South Florida: A foray into (gasp!) bipartisanship
It's called "sunny-day flooding"—when the seawater comes gurgling out of the sewers and fills the streets, with nary a storm cloud in the sky. It's one of the most dramatic impacts of climate change on South Florida and the sort of municipal mess that has prompted a coalition of local politicians to look past partisan politics and forge an alliance to adapt to the changing weather patterns. The Southeast Florida Regional Climate Change Compact was signed in 2009 by the top executives in four coastal counties, three Democrats and a Republican. It has lasted as an agreement between Palm Beach, Broward, Miami-Dade, and Monroe counties, involving local mayors and officials from both political parties. "When the tide is overtopping the seawall and filling your swimming pool with saltwater, you don't really care what party the person is that answers the phone," says Kristin Jacobs, a Democratic legislator in Florida who was instrumental in forming the compact. "You want your government to do something about it."
For an article about the Florida compact, click here.
Dubuque: Climate change on your basement floor
After a big rainstorm, residents of the low-lying North End neighborhood in this Iowa city on the Mississippi River have a routine: They drive down the street and watch their neighbors pump the water from their basements. Dubuque is especially prone to flooding because of its steep topography and the intense rainstorms of recent decades, attributed in part to manmade climate change. The city has undertaken a $200 million project to alleviate flooding, its most ambitious and expensive municipal venture to date. It includes "daylighting"—that is, unburying—a one-mile stretch of the Bee Branch Creek that previously ran as a covered-over sewer, so that it can handle bigger surges of storm water. Land along the creek will give rise to walking paths, an ampitheater, a playground, and a community orchard. In dealing with climate change, "I think that we are probably way ahead of other cities," says Mayor Roy Buol.
For an article about the Dubuque project, click here.
Houston: A smarter roof
Patrick Bulot, a roofer in Houston, isn't personally sold on the idea of manmade climate change, but he recognizes a business opportunity when he sees it: The city's summers are scorching, both in temperature and in air-conditioning bills. He has found a niche installing metal roofs coated in a light-colored material that reflect sunlight away from homes and back into space. He has a patent pending for a "Texas Smart Roof," which uses a ventilation system to keep hot air from warming a house. Business for Bulot should only get hotter. The South Great Plains region, which includes Texas, warmed up by an average of 1 degree between 2001 and 2012, more than during the previous century, according to an interagency report by the federal government.
For an article about the innovative roof, click here.
California: How farmers guard the groundwater
When farmers in California suffer through a drought, an insurance policy sits under their feet: Groundwater, which can keep crops thriving even when rainwater is a memory. However, the current drought—four years and counting—has strained underground aquifers in places like the San Joaquin Valley, a part of the Central Valley south of San Francisco, causing wells to run dry and land to sink. In 2011, Don Cameron's 5,500-acre farm took advantage of a nearby river's flood for an experiment: to flood his vineyards and unused fields with up to one-and-a-half feet of water. The goal? To see if he could redirect the water to replenish underground aquifers. It worked. Some 30 percent of the water trickled belowground, and the rest saved Cameron from pumping out more groundwater. Since then, he has won a $5 million grant from the state and added $2 million of his own to build an infrastructure that would allow him to refill the groundwater on a larger scale. If and when the drought ends, he'll be ready.
For an article about the experiment in California, click here.