November Jobs Report Points to U.S. Economy's Health
Many believe this clears the way for an interest-rate hike by the Fed in two weeks.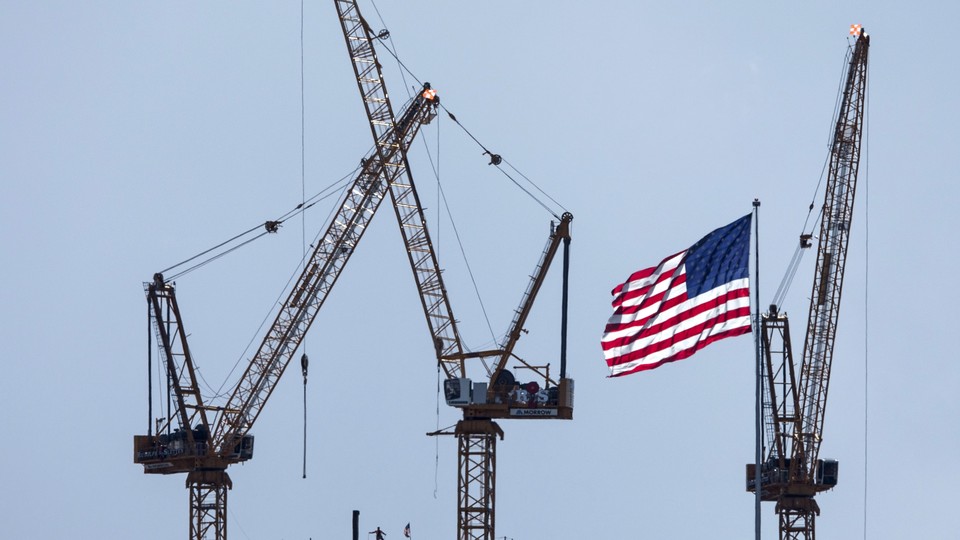 The November jobs report is out, and it's meeting what were moderately high expectations. The figures from the Labor Department show that the unemployment rate remained at 5 percent and the economy added 211,000 jobs in November. Jobs were added in construction, health care, and "professional and technical services"—the Labor Department's term for an assortment of white-collar jobs. Among those, the construction sector showing particularly strong growth, adding 46,000 jobs.
---
---
Besides slightly beating economists' expectation that 200,000 jobs would be added, another optimistic note is that the September and October numbers have both been revised up. October, then, delivered the strongest showing in 2015 after three consecutive months of disappointing jobs reports led to worries about a slowdown.
That fantastic jobs report has now been revised up from 271,000 to 298,000, while the September jobs-added numbers have been revised up to 145,000 from 137,000. In the past three months, job gains have averaged 218,000 per month.
---
---
It's two weeks before the Federal Reserve's December meeting, at which there's a good chance the Fed will raise interest rates for the first time in nearly a decade. Many have said that the Fed only needed a decent November jobs report to clear the way for a rate hike.
In two public appearances this week, Federal Reserve Chairwoman Janet Yellen expressed confidence in the U.S. economy. Still, Yellen said on Wednesday at the Economic Club of Washington, "We cannot yet, in my judgment, declare that the labor market has reached full employment." She warned that delaying a rate hike could lead to a risky, abrupt tightening. On Thursday, during her testimony at Congress's Joint Economic Committee, Yellen emphasized that interest rates would be raised slowly and gradually after the "lift off" that's expected later this month.