A Home-Shopping Network for Guns
GunTV's slogan: "Live Shopping. Fully Loaded."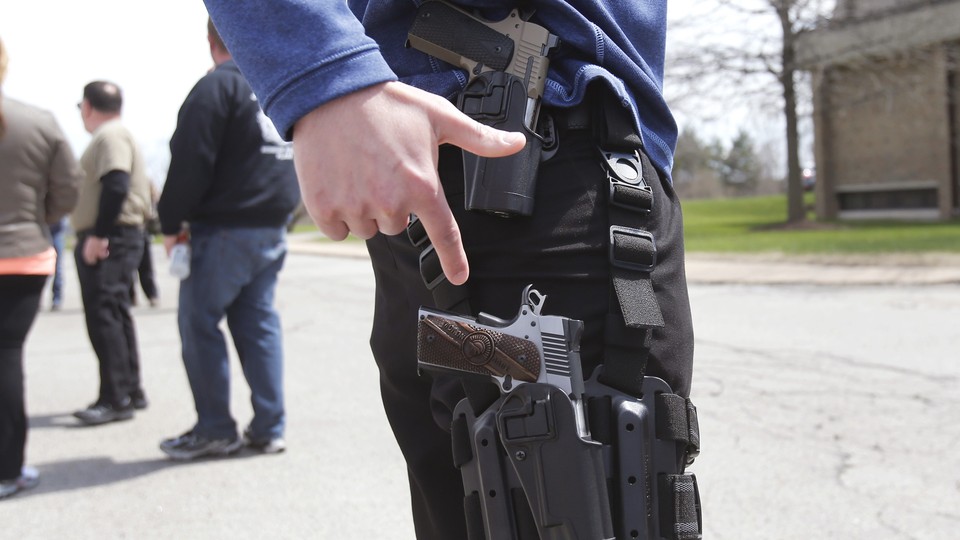 Last week's shootings in San Bernardino have left many Americans afraid, numb, upset, and angry. But also: eager as ever to buy guns.
While there's no data to speak to San Bernardino's nationwide effect, gun retailers across the country are reporting brisk sales. Mass shootings (as well as some elections) have consistently led to spikes in the number of background checks, which are used as a proxy for gun purchases. These spikes arise both because in the wake of a shooting, people may feel the need to protect themselves, but also because they worry that a shooting will prompt gun-control legislation. So: Buy now.
What better way to capitalize on this surging demand than with a 24-hour shopping channel that sells guns?
This question may not have occurred to most people, but it did occur to Valerie Castle and Doug Bornstein, who have made their careers in the home-shopping industry. Their new venture, GunTV (tagline: "Live Shopping. Fully Loaded."), will debut in January and also sell accessories such as ammo and holsters. Their Palm Springs studio, as The New York Times notes, is only about 50 miles from San Bernardino.
Ordering guns from a TV salesperson will not be quite as seamless as getting a cubic-zirconia engagement ring shipped to one's doorstep. Instead, once an order is placed on GunTV, the product will get sent to a nearby gun store and can only be retrieved once a background check has come back clear. Additionally, GunTV currently plans to air gun-safety PSAs for eight minutes out of every hour of programming, so viewers will have to sit through those.