Will the FTC Stop the Biggest Office-Supply Merger?
Regulators say the deal would lead to pricier pens, paper, and printer ink.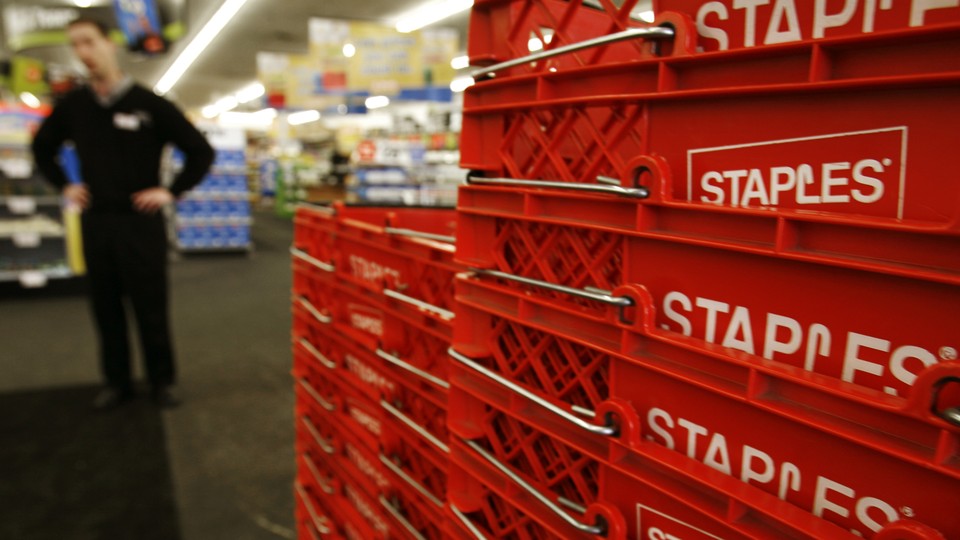 On Monday, the Federal Trade Commission moved to block a planned merger between the office-supply giants Staples and Office Depot. The FTC's complaint charges that the proposed $6.3 billion deal that the companies announced in February would violate antitrust laws and reduce competition in the market for office supplies, including "pens, pencils, notepads, sticky notes, file folders, paper clips, and paper used for printers and copy machines."
"The Commission has reason to believe that the proposed merger between Staples and Office Depot is likely to eliminate beneficial competition that large companies rely on to reduce the costs of office supplies," said FTC Chairwoman Edith Ramirez in a statement.
Staples and Office Depot are the two leading sellers of office supplies in the U.S.—Staples had $23 billion revenue last year and Office Depot had $16 billion—disagree with the FTC's complaint. In a joint statement to its investors, the two companies said that they intend to fight it on the grounds that the combined company would generate savings, boost shareholders returns, and lower prices for its customers.
This is not the first time Staples and Office Depot have tried to join forces: The two companies tried to merge in 1997 in a $4 billion deal. And that time too, the FTC got involved. It blocked the deal, a decision that was upheld by a federal judge.
In a year that's looking to become the biggest ever for mergers and acquisitions in history, there is a thick backlog of deals that are still pending regulatory approval. Billion-dollar merger proposals such as Staples and Office Depot's are being closely watched for any hints as to whether regulators are getting tougher on deals.