A New Kind of Employee Perk: Student-Loan Repayment
Companies are designing benefits packages aimed at helping workers tackle a major financial concern—education debt.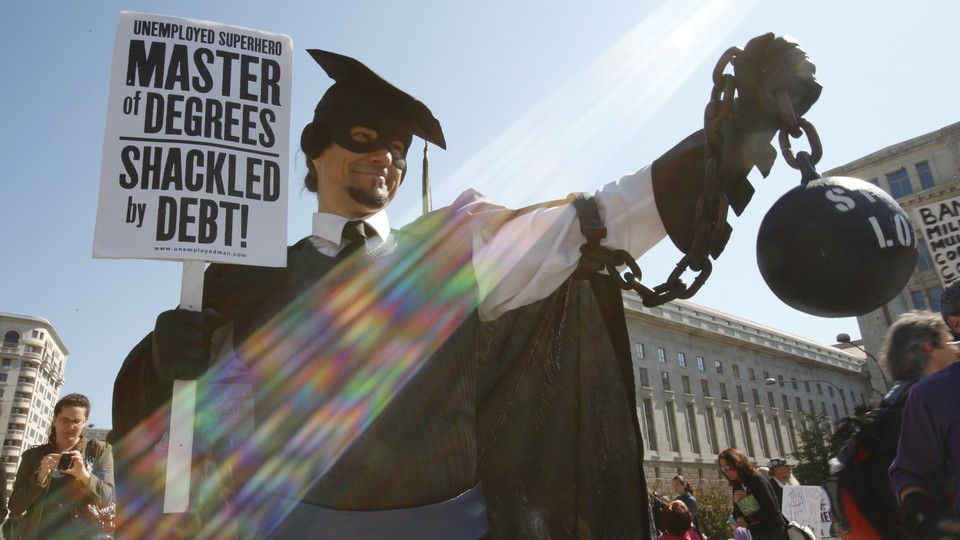 For Millennials, envy of friends who work at companies with cool Silicon Valley-esque perks is understandable. For example, Facebook has laundry services, Airbnb gives employees an annual $2,000 bonus to travel the world, Google provides massage credits, and Evernote offers twice-a-month house cleaning services. That can make traditional company perks, such as health care or a 401(k), sound boring. But there's one area that employers are starting to explore that's both pragmatic and worthy of cool-perk envy: Paying off employee student loans.
Earlier this year, the accounting firm Pricewaterhouse Coopers announced that the company will offer to help associate-level employees (who make up 45 percent of PwC's 46,000 U.S. employees) out with their student-loan debt starting mid-2016. PwC will contribute about $100 a month towards an employee's student-loan principal for up to six years, for a total payout of $7,200. Since paying off loan principal will reduce interest, the company estimates that the benefit is actually worth up to $10,000.
"Student loan debt—driven by the rising cost of higher education—is a pain point for recent graduates," said Tom Codd, the U.S. Human Capital Leader for PwC, in a press release. "As a firm that recruits more than 11,000 new hires off campus each year, this is an opportunity to differentiate ourselves with a key talent group—millennials—and provide a meaningful way to help reduce their debt."
A Boston start-up called Gradifi worked with PwC to create the program. Tim DeMello, Gradifi's founder and CEO, said that PwC is the platform's first client but that the firm has signed on another 100 companies that are interested in figuring out how to offer student-loan relief as a benefit for their employees. The move not only keeps companies competitive in recruiting talent, it also sends a message that they care about America's $1 trillion student-debt problem.
"I think they're looking to attract and retain talent … They know that for 75 percent of people who graduate college, this is a top issue for them financially," says DeMello. "So they really think they're being proactive to offer this benefit. It differentiates them from their competition."
Much like a retirement account, Gradifi gets employees to sign up for their platform, then asks them to provide information on their student loans. A big part of what the company does is student-loan verification—making sure the benefit money goes towards loans and not something else. Participating employees grant Gradifi permission to pay their loans off, via company contributions. But unlike retirement-account contributions, student-loan payments from employers are taxed as income.
A host of other companies have also recently announced student-loan perk programs launching next year: Natixis Global Asset Management is offering employees who have been with the company for at least five years up to $10,000 for federal student-loan repayment. Fidelity Investments is also hammering out the details for an employee student-loan repayment perk expected to launch next year.
And while student-loan relief isn't the sexiest perk, it's certainly cool. From a psychological standpoint, it has advantages too, such as reducing stress. And the stress of student debt is one that can plague even money-savvy employees. One study showed that strong financial literacy doesn't predict financial health, since even people with who understand finance often make irrational decisions regarding money. An employer-driven student-loan perk takes willpower (to transfer money from your account to pay off your loans) out of the equation. If enough companies decide to participate, it may mean real loan relief for a generation already struggling to pay off education costs.