$12 Love Spells and 99-Cent Tarot Readings: My Stint as an eBay Fortuneteller
Among the auction site's once-prolific mystical vendors—who together sold thousands of supernatural "products"—was a college student just looking for a little bit of beer money.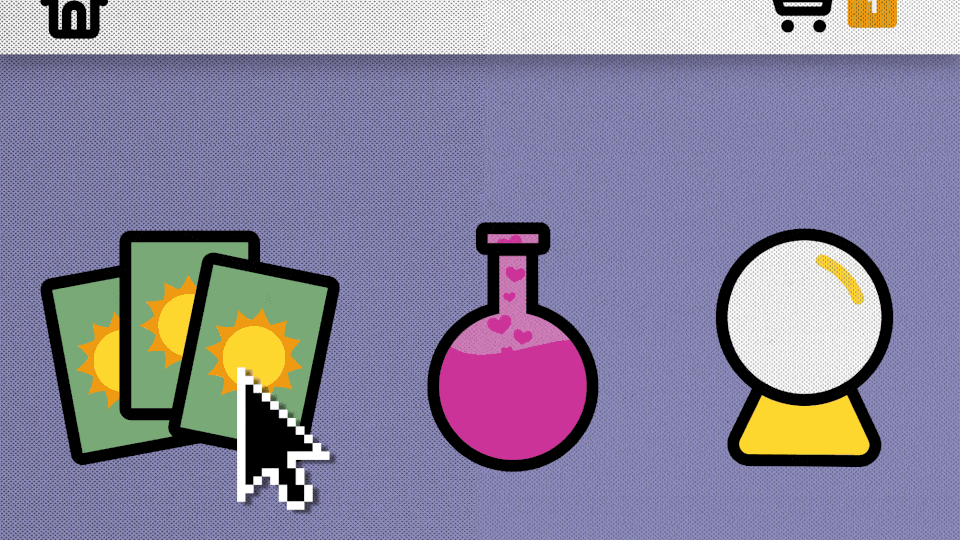 eBay's patience with witches and warlocks ended in the year 2012 A.D., when it issued a ban on all listings of the fantastic or supernatural, including spellcasting, curse-sending, and any form of prophecy. The listings had proved to be a customer-service nightmare: Upset customers were buying spells to win the lottery or find a soulmate but only had empty wallets or beds to show for it.
Sellers decried the loss of their businesses in a Wall Street Journal article a few weeks after the announcement. They felt victimized; many (purportedly) believed earnestly in the legitimacy of their services, and now their means of income had vanished. "If they got a true spell they would see the difference, they could see that these can really help people," a 33-year-old spellcaster told the paper. eBay was the simplest, safest marketplace for metaphysical goods and services, and as the company spurned these sellers, the more established ones either had to find a way to move their trusted reputations to another site or give up the enterprise altogether.
In the midst of these lamentations—most of them from middle-aged women—a college kid poked his head out and came clean: His source of beer money was gone.
I was that kid, and though my brief appearance in the article gave a glimpse of my shortcomings—I didn't believe in the stuff, did it for insignificant amounts of money, lied to customers—it didn't fully capture both my moral failure and how ludicrous the business was.
* * *
Whenever I told a friend I was selling items in eBay's metaphysical category, I'd inevitably have to explain what that was. This didn't surprise me: It was a corner of the site that few, except for the most wayward or lovelorn, knew of, even though it had tens of thousands of listings.
I had become well acquainted with the section in 2011 as an 18-year-old college freshman. Although I had vaguely known about it after stumbling upon some listings at least a year beforehand, I had to wait until I was old enough to register my own PayPal account to start selling things myself. At the time, I needed a part-time gig but didn't want to lose my weekends, so after a brief and fruitless job hunt I revisited the metaphysical category. After a closer look at its listings, I saw how easy it would be to make some money selling items with such titles as "POWERFUL LOVE SPELL—HAVE THAT CERTAIN SOMEONE LUST AND DESIRE FOR YOU!" and "BANISH BAD LUCK AND EVIL SPIRITS SPELL—CAST AWAY NEGATIVE ENERGY IN YOUR LIFE."
I started scouring eBay's metaphysical section and all its subcategories for what sold, for how much, and why. The most popular listings were fortune readings (which went for a few bucks), love spells (around $20), and enchanted jewelry (upwards of $60). These sold at an attractive rate: Some accounts had feedback numbers in the tens of thousands, selling necklaces and power crystals for thousands of dollars every month. The most established vendors occasionally listed individual items for hundreds of dollars, and they appeared to sell, if only occasionally.
At first I was daunted by such large sums—these sellers were earning livelihoods, not just beer money. But working my way up to their level wasn't exactly enticing either: I was troubled by the idea of making thousands of dollars from scamming people. I wanted a Goldilocks gig: enough money to keep me from taking on a real job, but not so much that I couldn't keep the internal question of "What the hell am I doing?" an occasional and fleeting one. Eventually, once I'd figured out the market, I started bringing in about $150 a month.
Breaking into the business wasn't difficult. The formula for selling was easily deconstructed, and subtlety was unnecessary and rarely practiced. The column of listings was a cascade of buzzwords and bawdy illustrations as sellers tried to outshout each other. For example, picture an angel—eyes closed, head tilted, serene in her heavenly backdrop—posing beside an all-caps tagline: "RARE SPELL—GAIN ABILITY TO SPEAK WITH AN ANGEL UP TO 3 TIMES FOR 1 SPELL!" That was one of mine.
The headlines and photos were easy enough to mimic, but for potential buyers wary of making a deal with the devil (or perhaps trying to), it mattered who was doing the selling. In the metaphysical category, credibility was essential. For a shopper buying something more traditional, such as an action figure, it's pretty easy to tell when the vendor is cutting corners: If the customer opens up a package and finds a superhero without arms, it's easy to argue for a refund. But in the metaphysical category, products cannot be so clearly assessed.
For a powerhouse account, a lengthy history of sold listings and positive reviews was enough to win a customer's confidence. The smaller, less-established sellers, then, had to make up for their inexperience with colorful backstories. They'd offer brief autobiographies, chronicling how they got into black magic and how they'd love to help people find love, wealth, guidance, or whatever it was they sought.
So, dwarfed by sellers with massive amounts of positive reviews, I concocted a story that would simultaneously charm buyers and explain my lack of positive reviews: I was a girl in her early 20s with a gift for the dark arts, and I developed my supernatural abilities with guidance from my recently deceased (and dearly beloved) uncle. In an effort to honor his memory, "I adopted it as my mission to help others in the best way I can, and I have decided to do it through tarot card readings along with selling spells and haunted possessions to the world." I acknowledged that I was new to the business and understood why people might hesitate to buy from me; with that in mind, I vowed that I would never sell a spell that could damage someone's life, and that it was "my personal philosophy to not overcharge my customers to make a profit—I only want to spread my gift to the world and make ends meet."
As was customary, I set this autobiography in a rustic font on top of a crude backdrop—I chose a papyrus pattern. With my backstory written and some basic HTML to freshen it up, I was ready to start listing.
* * *
My lineup of listings was subject to routine substitutions, depending on what was and wasn't selling, but my usual repertoire included a love spell, a banish-bad-luck spell, a three-question tarot card reading, and a communicate-with-an-angel spell. I relisted them daily.
Love spells, which went for $12, were extremely simple: After the purchase went through, I would ask for the names and birthdays of the buyer and the lover-to-be. They'd email me back, and I'd wait about a day to reply, telling them the spell had been cast, with wishes of good luck. (To be clear, I had no ulterior motive in collecting the information of strangers.)
Tarot-card readings sold for the lowest price, and at 99 cents, mine were the cheapest out there. The money was negligible, but it was the easiest way to get my customer-review count up and establish my credibility. The readings never took much time, anyway; after the buyer would email me their three questions, I'd pull up a tarot-card randomizer site, select a card for each question, and write up appropriate answers.
The readings sold almost everyday. Most questions were mundane, offering a candid glimpse into people's daily worries: Will I move soon? Will I get a better job? When will I meet my special someone? The questions were so uniform that at first, I struggled to come up with original answers that went beyond a simple yes or no. The only thing I knew about my customers was that they bought tarot-card readings on eBay.
The obvious solution was to tell them what they wanted to hear. But I worried that if I gave them a glowing guarantee of good fortunes ahead, I'd be encouraging them to be complacent. I arrived at a compromise: I would offer a vaguely promising reading and underline it by stating that the best way to realize such a future is through a positive, hardworking attitude. A cliché and not an absolution of my manipulations, to be sure, but hopefully it kept the customer's self-care intact. Soon, I didn't need the tarot-card randomizer anymore, and as I became more adept at making things up, the positive reviews started piling up.
Not all of my customers were concerned with finding a soulmate or long-term fulfillment. One 70-year-old bachelor who bought a love spell asked for "a red hot, hot go" with a woman he knew. Others were more explicitly disturbing. A man asked me to banish a succubus haunting him; he claimed it had hard, leathery skin and wanted to extract his semen. A German man bought a love spell and sent me pictures of himself and the lover-to-be, unsolicited. He was a pale, middle-aged man with thinning, slicked-back hair, blankly staring into the camera; she was a young woman flashing a profile-picture smile in a living room.
My customers' unifying characteristic was that they didn't like the answers the real world was giving them. I received countless pleas from upset spouses saying their partner had left them and wanted to know if he or she would come back. The realistic answer is almost always no, and I assumed that these people were either not hearing this advice from their confidantes or willfully ignoring it. But my counsel could not be so easily neglected. My voice was imbued with higher authority—their payment was proof I had earned their confidence—and I made a point of giving firm advice that would help these people move on.
But like many snake-oil salesmen, I was aware of my customers' shortcomings without appreciating my own. I liked to think that I was providing realistic advice to people who needed it, but as a teenager with little knowledge of their lives, what qualifications did I have? It took time for me to understand my moral inadequacy, and it was a fortune reading, bought by an elderly woman from Texas, that first made me reconsider what I was doing. Unlike so many of my customers, she wasn't seeking money or love for herself, but for her children, who had been left out of her ex-husband's will. When I refunded her payment and then tried to send her money via PayPal—she said she was living out of her car and sounded like she needed help—she refused.
But what ultimately brought my black-magic dabbling to an end was, fittingly enough, a higher force beyond my control: eBay shut the metaphysical category down. When that finally happened, I realized that for too long I had been taking advantage of people, and as I scanned eBay's policy update, I was oddly relieved that someone had stepped in to stop me.
Being pushed out of the business rather than excusing myself, though, was no vindication. When The Wall Street Journal called a couple weeks later, I decided that a public confession would offer a satisfactory substitute, but even that was no catharsis. When I shared the article with friends and family, the ethical implications of what I'd done was talked about only briefly and in jest.
Three years' worth of reflection, however, has made me painfully aware of the flimsy pretenses I adopted when taking advantage of my customers. I had subscribed to an "If it's not me, they'll just get it from somebody else" reasoning, one that many exploiters routinely cite when defending their work. But if they're anything like me, they're mostly just trying to convince themselves.