Stanford to MBAs: Don't Start-Up Until You Graduate
Changing the world can wait two years.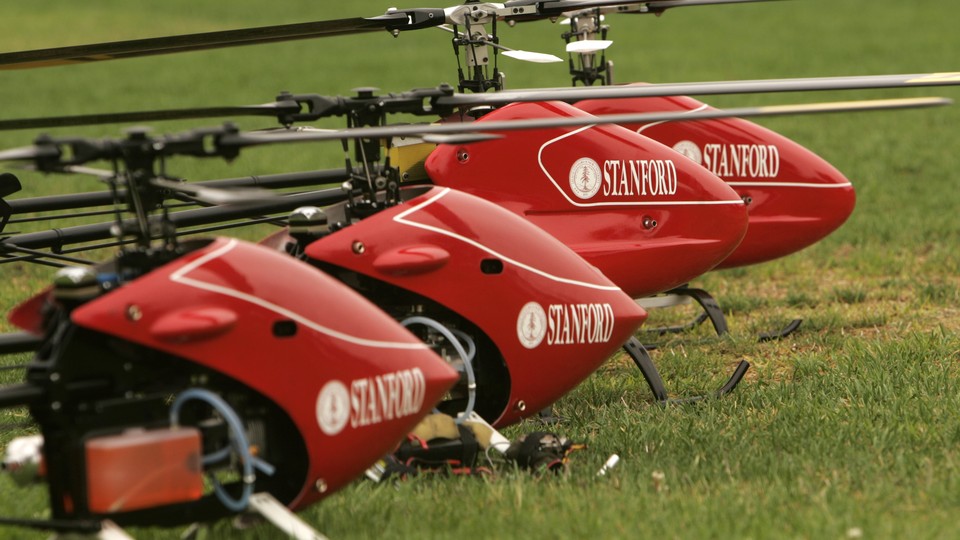 Ten years ago, students at elite business schools were obsessed with getting jobs at Wall Street's top firms. But that dynamic started to shift as, post-recession, the reputation of Wall Street soured and the appeal of Silicon Valley took off. Besides offering the opportunity to escape East Coast winters, an executive position in Silicon Valley has come to be coveted as a result of cool perks, rhetoric centered on "changing the world," and an increasing focus on work-life balance (though whether those in Silicon Valley work shorter hours than those on Wall Street is up for debate). The money does not hurt either.
This preference is showing up in the numbers. At top business schools in the country, a growing percentage of MBA grads have been taking jobs in technology in the last five years, during which the percentage going into finance has shrunk. Last year, Harvard Business School reported that only 5 percent of its graduates intended on careers in investment banking or trading compared with 13 percent in 2007.
In recent years, Stanford University has drawn elite students looking to succeed in Silicon Valley. Its draw lies in its proximity, entrepreneurial history, and access to successful alumni and venture capitalists. Stanford graduates founded Google, Hewlett-Packard, Cisco Systems, Instagram, and one study (conducted by Stanford, it should be noted) estimated that the university's entrepreneurial alums create $3 trillion in revenue annually. Ken Auletta, reporting for The New Yorker in 2012, wrote, "There are no walls between Stanford and Silicon Valley." Auletta's piece so clearly outlined the connections between university campus and corporate campuses that it prompted a debate at the university about whether industry had become too intertwined with its academics.
But now, the usually pro-entrepreneurship Stanford seems to be sending a different message to its students. The Wall Street Journal reports that the university is urging its MBAs to wait until they graduate to pursue their start-up ambitions.
The call to focus on classes and campus life isn't to say that the university doesn't want its students to be career-minded: Stanford, like many prestigious colleges, has traditionally allowed Wall Street firms, as well as plenty of consulting companies, to aggressively recruit both MBAs and undergrads at on-campus fairs. Some companies are even making offers to college graduates before a particular job is determined for them, which is a sign that highly educated, highly skilled workers are in high demand.
Students have always been looking for ways to launch their careers before graduation, so what is it about a start-up that seems so threatening to administrators? When students throw themselves and their mental energies into starting a company and courting investors, they're distracted from the stated goal of an MBA program: to learn how to run businesses by taking classes. It's also an unspoken expectation that they'll participate in campus life by networking with fellow classmates, not outside investors​. Garth Saloner, the departing dean of the business school, told The Wall Street Journal that students starting companies should apply for an incubator instead, and that Stanford is "not the graduate school of entrepreneurship."