The Best Business Reads of December
The month's best stories from around the web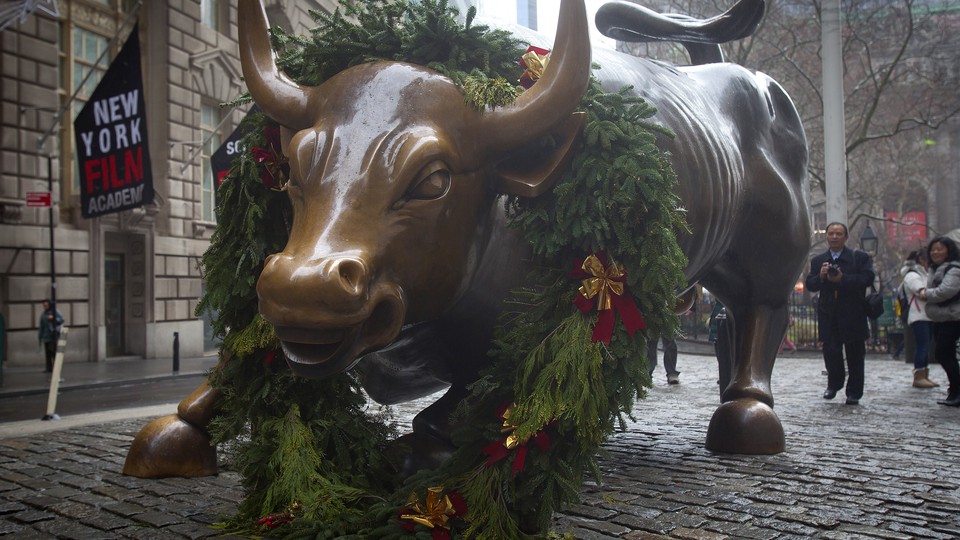 Having trouble keeping track of all the great journalism that is published on any given day is a good problem to have. But still, between Twitter, bookmarked sites, links shared by friends, and aggregating apps, it's easy to get overwhelmed.
If you've resolved in the new year to read/watch/listen to more incisive, beautifully written, captivating journalism, we're here to help: What follows is a list of the best things the writers and editors of The Atlantic's Business channel came across in December.
​* * *
Paul Krugman | The New York Review of Books
Whatever one thinks of the packaging, however, Reich makes a very good case that widening inequality largely reflects political decisions that could have gone in very different directions. The rise in market power reflects a turn away from antitrust laws that looks less and less justified by outcomes, and in some cases the rise in market power is the result of the raw exercise of political clout to prevent policies that would limit monopolies—for example, the sustained and successful campaign to prevent public provision of Internet access.
​* * *
Roman Mars | 99% Invisible
The skyline of beautiful downtown Oakland, California, is defined by various towers by day, but at night there is one that shines far more brightly than the rest: the neon-illuminated Tribune Tower.
​* * *
"The CEO Paying Everyone $70,000 Salaries Has Something to Hide"
Karen Weise | Bloomberg
I began to see how Price was writing his own origin myth one interview at a time. With what he says is a $500,000 book deal, he's solidifying his place as the next do-gooder businessman, joining the CEOs of bigger companies, such as Zappos's Tony Hsieh and Whole Foods Market's John Mackey. In the process, he's surely become the only credit card processing executive to be feted by Esquire, courted by literary agents, and swooned at by women on social media who declared him "yum." But how it all happened is a little more complicated.
* * *
"How Corporations Profit From Black Teens' Viral Content"
Doreen St. Felix | The Fader
Part of the reason the originators of viral content are stripped from their labor is because they don't technically own their production. Twitter does, Vine does, Snapchat does, and the list goes on. Intangible things like slang and styles of dance are not considered valuable, except when they're produced by large entities willing and able to invest in trademarking them.
* * *
"Global Supermarkets Selling Shrimp Peeled by Slaves"
Margie Mason, Robin McDowell, Martha Mendoza, and Esther Htusan | Associated Press
After being sold to the Gig Peeling Factory, they were at the mercy of their Thai bosses, trapped with nearly 100 other Burmese migrants. Children worked alongside them, including a girl so tiny she had to stand on a stool to reach the peeling table. Some had been there for months, even years, getting little or no pay. Always, someone was watching.

No names were ever used, only numbers given by their boss—Tin Nyo Win was No. 31.

Pervasive human trafficking has helped turn Thailand into one of the world's biggest shrimp providers. Despite repeated promises by businesses and government to clean up the country's $7 billion seafood export industry, an Associated Press investigation has found shrimp peeled by modern-day slaves is reaching the U.S., Europe and Asia.
* * *
Alex Blumberg | StartUp
When the offer was made, I remember thinking, "Is it because I'm good or because I'm a brown woman?"
* * *
"The Everyday Effects of The New York Times' Nail Salon Exposé"
Chava Gourarie | Columbia Journalism Review
The series' effects on the daily lives of the city's mainly female immigrant nail salon workers and owners have been less fully explored. For Colon and others, the media attention was its own kind of force. The Times report thrust people and communities who are normally invisible into the light. They were there all along—crowding the sidewalks of Queens and Staten Island, waiting for the subway, waiting for their papers, waiting for clients to enter salons across the city and pick a color—but their voices were rarely heard.
* * *
"Minorities Exploited by Warren Buffett's Mobile-Home Empire"
Mike Baker and Daniel Wagner | Seattle Times
Clayton's predatory practices have damaged minority communities — from rural black enclaves in the Louisiana Delta, across Spanish-speaking swaths of Texas, to Native American reservations in the Southwest. Many customers end up losing their homes, thousands of dollars in down payments, or even land they'd owned outright.

Over the 12 years since Buffett's Berkshire Hathaway bought Clayton Homes Inc., the company has grown to dominate virtually every aspect of America's mobile-home industry. It builds nearly half the new manufactured homes sold in this country every year, making it the most prolific U.S. homebuilder of any type. It sells them through a network of more than 1,600 dealerships. And it finances more mobile-home loans than any other lender by a factor of more than seven.
​* * *
"Uber: On the Road to Nowhere"
Steven Greenhouse | The American Prospect
Uber has also become the foremost symbol of the on-demand economy, with a super-convenient app that consumers love because it often gets them a car faster than it takes to find a taxi. The company sees and depicts itself as offering a cool, new, flexible employment model that is being copied by other companies, including Lyft, Handy (housecleaning), Caviar (food delivery), Postmates (on-demand delivery), Washio (dry cleaning), and Luxe (parking your car).

To many, however, Uber has become the foremost symbol of something else—something unlawful.
​* * *
"Michael Burry, Real-Life Market Genius From The Big Short, Thinks Another Financial Crisis Is Looming"
Jessica Pressler | New York Magazine
What makes you most nervous about the future?
Debt. The idea that growth will remedy our debts is so addictive for politicians, but the citizens end up paying the price. The public sector has really stepped up as a consumer of debt. The Federal Reserve's balance sheet is leveraged 77:1. Like I said, the absurdity, it just befuddles me.
​* * *
"Turmoil in the Weird Karaoke Market"
Caleb Garling | Priceonomics
Karaoke tends to feel more like a game than an artform. You're standing in front of a crowd, doing your best to recreate the vocals over a second rate version of your favorite song. The lyrics float up in old school Nintendo-esque typeface, changing color to indicate what to sing, as the room laughs and cheers you on. A step above sing-alongs, a step below a cover band. It occupies this funny place where whether you love it or hate it, you know not to take it too seriously.

But the businesses involved don't feel that way.
​* * *
Ariel Levy | New Yorker
Most of our entertainment, of course, has also been formed by people with penises, and Soloway is trying to change that: through her hiring practices, her choice of subject matter, and the way she thinks and acts at work. "We're taught that the camera is male," she said, turning to walk uphill, backward, to tone a different part of her legs. "But I'm not forcing everybody to fulfill something in my head and 'Get it right—now get it more right.'" Directing with "the female gaze," she asserted, is about creating the conditions for inspiration to flourish, and then "discerning-receiving."