A Canal District With Everything but an Actual Canal
In Worcester, Massachusetts, just the idea of a waterway is enough to inspire a local-business boom.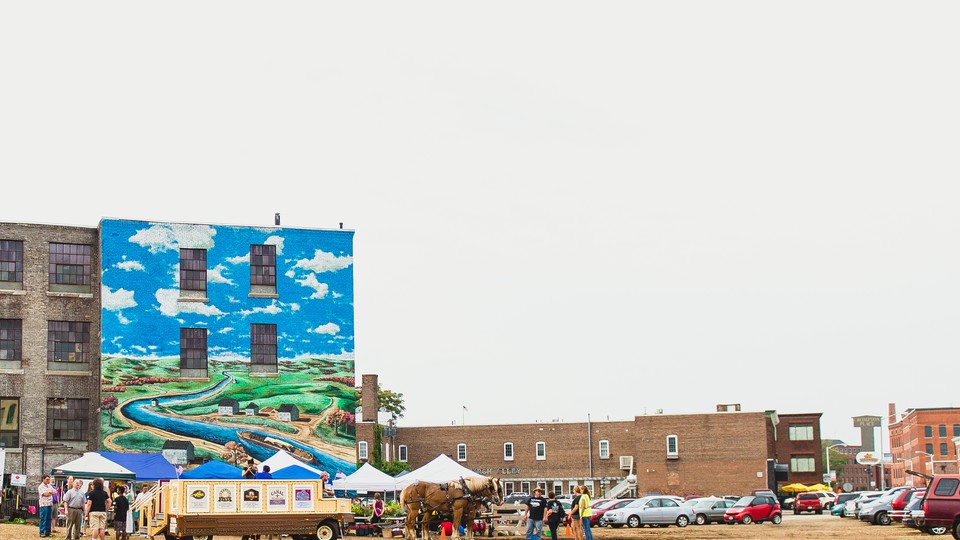 In the 20 years after the Blackstone Canal opened in Worcester, Massachusetts, in 1828, the town quadrupled in size. The goods produced in Worcester's factories—textiles and machinery, wire and cast iron—could now be shipped to Rhode Island's port within two days. Worcester grew into a capital of the Industrial Revolution and a beacon for immigrants looking for opportunity.
The canal itself was not in use for long. It closed in 1848, made obsolete by railroads, and by the 20th century the portion that passed through Worcester had been paved over, relegated to use as a sewer.
But the idea of an urban waterway, in this post-industrial age, has seemingly universal appeal. Many current Worcester residents have lined up behind a proposal to resurrect theirs. The rallying cry "Free the Blackstone" has helped to turn a once blighted area into one of the hottest spots in this otherwise unassuming city of 180,000—despite the canal still being very much buried.
It's a testament to the power of water, the lifeblood of cities everywhere, even when the water in question hasn't seen daylight in more than 100 years.
In the early 2000s, Allen Fletcher, the middle-aged scion of a wealthy Worcester family, bought a vacant public school two blocks from the paved-over canal, converted it to apartments, and moved in. The neighborhood, then known variously as Water Street and Green Island, was mostly empty except for a few bars and some light industry. Occasionally, Fletcher would come home to find an old car stripped for parts and abandoned in front of his building.
But he saw potential. The neighborhood, which as recently as the 1970s had been the city's Jewish quarter, abutted downtown, offered easy access to transportation, and boasted a few handsome, if derelict, 19th-century mills.
The Blackstone Canal remained only as a vague civic memory, although the idea of uncovering it popped up from time to time when a newspaper columnist decided to mine local history for copy. Fletcher, a history buff himself, happened to own the local alt-weekly paper, and he emerged as the waterway's new champion.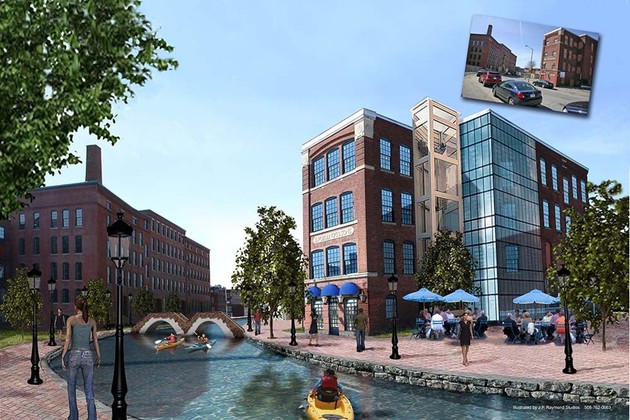 Soon after he moved in, Fletcher and some neighbors founded a group called the Canal District Alliance. Their weekly meetings at a local bar attracted bigger and bigger crowds, drumming up enthusiasm that culminated in a 2003 city-sponsored feasibility study, which laid out a plan to recreate a little over a half-mile of the canal, crisscross it with bridges, and line its banks with "lively public places."
Historical markers and a reproduction canal lock would tell of Worcester's role in early U.S. history. There would be boat rides, new parks, and waterfront cafés.
That was as far as things went. Although the neighborhood group helped to secure $7.6 million in federal stimulus funding for streetscape improvements in 2010, no one wanted to kick in the $30 million that backers estimated it would take to start the project.
But the idea alone was enough to inspire local development. "What happened was, a lot of people came and said, 'Wow, cool,' and a lot of them started opening businesses here," Fletcher says.
Today the old Crompton Loom Works—which may one day overlook a restored canal—houses small businesses such as Crompton Collective, a vintage home goods and crafts emporium that has won social-media devotees and accolades from blogs. Upstairs, Birch Tree Bread, which opened last year, sells European-style loaves, sandwiches, and espresso to an all-day crowd.
The Canal Lofts apartments took over an old envelope plant in 2011, and the long-vacant shoe factory next door is also slated for a residential conversion. There are still empty storefronts and weed-choked lots, but some two dozen bars and restaurants have opened, and the neighborhood hosts an annual calendar of well-attended events, including "Canal-O-Ween," a farmers' market, and history-themed horse-drawn wagon tours.
"Even though the canal has not happened, the district has come alive," Fletcher says. "The dream we spun in the air really had an effect."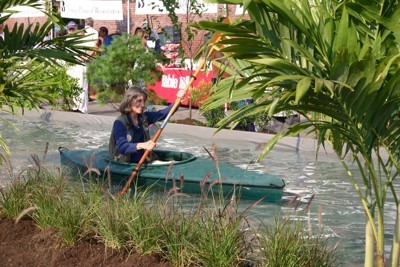 Neighborhood leaders still hope an actual canal will flow above ground once again, and the Canal District Alliance continues to push for state and federal funding for the project. The dream feels less far-fetched since President Obama created the Blackstone River Valley National Historical Park in 2014. The City of Worcester is also facing pressure to reduce sewage overflow into the Blackstone River, which may offer funding opportunities.
Advocates point to other cities—such as Indianapolis, San Antonio, and Providence (at the other end of the original Blackstone route)—where restored urban waterways have spurred hundreds of millions of dollars in investment. Worcester's success so far raises the question: How crucial an ingredient is the water, really?
Mullen Sawyer, the recently-elected president of the alliance, grew up poor in the 1960s in the neighborhood that would become the Canal District, and watched with sadness as it decayed into a "wasteland" by the 1990s. Now, "if you walk down Water Street, probably every fourth business is new. Every building is undergoing renovation, including some that haven't been used in generations."
It's impossible to know what would happen if the canal were uncovered. As it is, Sawyer says, "Just the thought of the canal is something everyone can get excited about."
---