Affordable Housing and Jobs Are Too Far Apart
A new report shows how cheaper rentals are clustered away from high-paying work in Cleveland, Houston, and Los Angeles.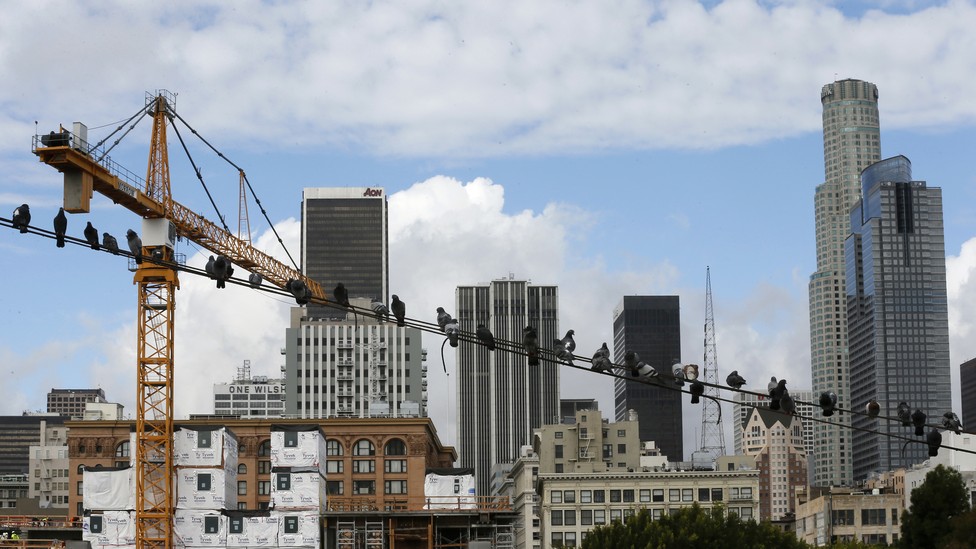 People living in high-poverty neighborhoods in the U.S. often don't have easy access to good schools, jobs, or parks and other green spaces. Instead, the residents of such neighborhoods are exposed to violence and environmental hazards on a daily basis. Growing up in such difficult environments, research has shown time and again, leads to a lifetime of negative consequences.
To help the situation, anti-poverty policies designed to pull poor families out of downtrodden areas have been put in place all over the country. Giving out housing vouchers, for instance, has been one effective way to help low-income families live in better neighborhoods. Federal and local governments have also encouraged the development of affordable-housing units in rich neighborhoods (although many such efforts have faced significant pushback).
But a new report by the Center for American Progress reaffirms that these initiatives have not been nearly sufficient in meeting the growing demand for affordable housing. "As a result, there is a great divide between where low-income people can afford to live and where opportunities exist," the report's authors write.
To illustrate this divide, the CAP report examined the location of vacant affordable units for rent in the Cleveland, Los Angeles, and Houston metro areas. (These are units that a household earning 80 percent of the area's median income can afford without spending more than 30 percent of household income on rent and mortgage payments.) These cities are in different parts of the country and have different laws, economies, and city planning. But in each case, housing options for the poor are primarily located in low- to mid-opportunity neighborhoods—where opportunity is measured by presence of things like high-paying jobs, good transit, retail, and education.
Cleveland
Just a decade ago, Cleveland was the poorest city in America. Even though its previously-languishing downtown is now being resuscitated, the city has a long way to go: one in three of its residents remains below poverty line, according to recent census data. The city is also extremely segregated by race. And according to the Center for Community Solutions, 42 percent of the city's black residents live in poverty. (For whites, this figure is 28 percent.)
The map below shows few affordable-housing options in nice neighborhoods, such as Avon Lake (the dark blue region on the left side, at the top, with a peak), for city residents trying to make ends meet. Most cheap rentals are clustered around low-opportunity areas (red areas in the center):
---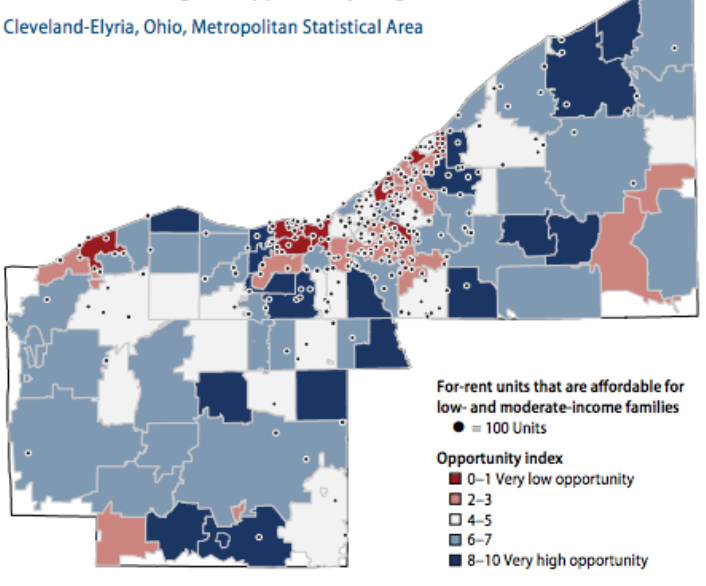 ---
Los Angeles
L.A.'s median housing prices are at a record high this year. More than half of the city's households spend more than 30 percent of their income on rent, the L.A. Times reports.
While residential segregation has actually been decreasing by some measures, the stark urban inequalities highlighted by the 1992 Rodney King riots have by no means disappeared. In certain census tracts, youth poverty is at 100 percent, and violent crime in high-poverty neighborhoods is a huge concern. Yet some of these low-income neighborhoods, the map below shows, are the only places where poor families have the option to live:
---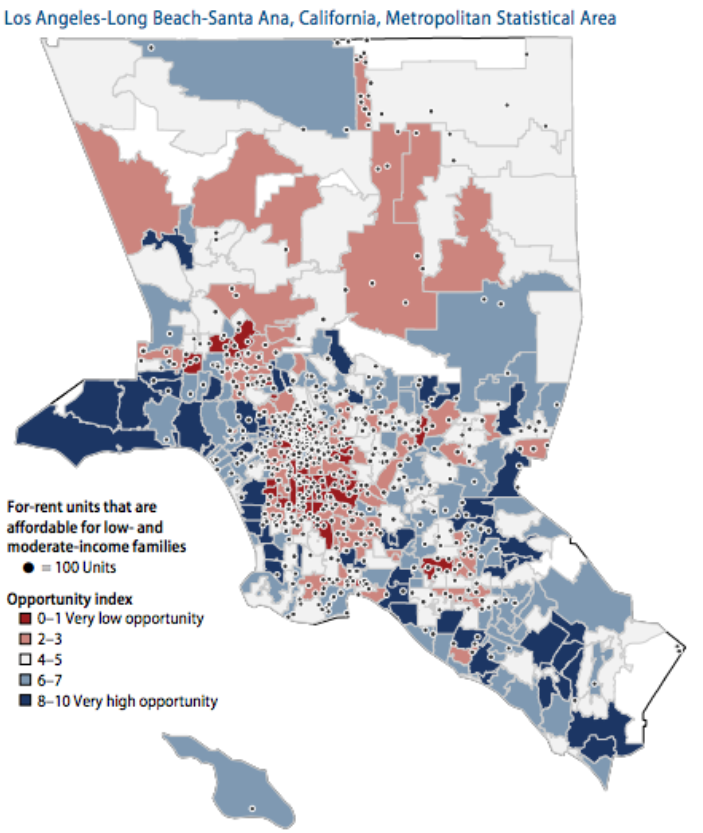 ---
Houston
In Texas and other states in the South, communities of color (especially Latino and Asian groups) have been driving population growth over the past couple of decades. Houston, in particular, is incredibly diverse. According to PolicyLink, it's the ninth most diverse metro in the country, with 60 percent residents of color. And as it continues to grow economically, it's only expected to diversify further.
But though metro-level segregation has been decreasing since the 1990s overall, segregation in the city itself remains higher than other parts of the metro area, some researchers at Rice University have found. In fact, Latinos are living further away from whites than they have in the past. Together with African Americans, Hispanic residents of Houston tend to live in neighborhoods with high unemployment and high concentrated poverty.
While Houston's housing has been getting pricier overall, its affordable units are more scattered across neighborhoods than those of the two other cities examined in the CAP report. Still, most are located in lower- (red) or mid-opportunity areas (grey) than in higher-opportunity ones (blue):
---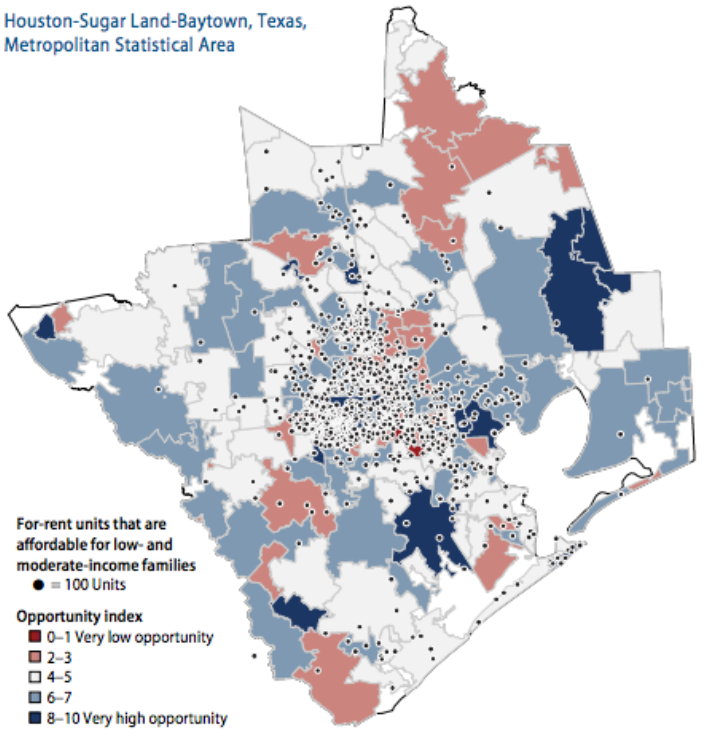 ---