Reclaiming the Calm of Christmas by Expanding Advent
By celebrating for nearly two months, one family basks in the season's peacefulness, rather than its frenzy.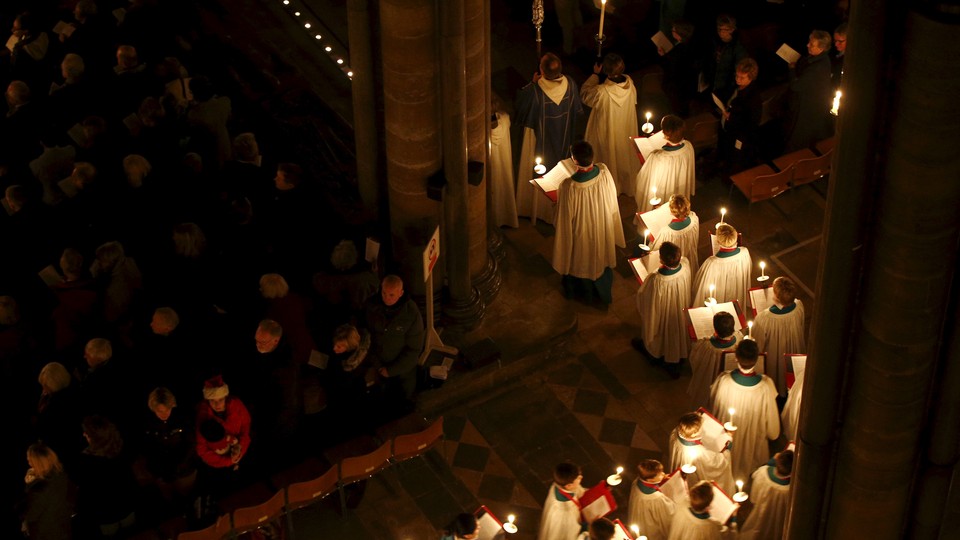 My family's Advent ritual begins with the lighting of squat tea candles sitting atop a wooden wreath I made out of cedar shingles from our neighbor's kindling pile, and a prayer. The wreath is simple, tacked together with wood glue and a few nails. If a storm comes and breaks off some pine boughs, perhaps we'll add those too.
For the last two years my family has been observing Advent, the season when Christians celebrate Jesus's birth and await his second coming, for three additional Sundays; instead of starting in December, we start in early November.
This puts our family's emphasis on the
sense of expectation that defines Advent, and less so on the letters to Santa and mountains of presents that attend Christmas. It's not that we're abandoning gifts or Santa (though I've thought about it)—expanding Advent simply allows us to shift our focus during an otherwise chaotic season.
Expanded Advent was actually a common Christian practice up until the 11th or 12th century. The Advent Project, a small movement within the Episcopal Church, has aimed to bring it back, and almost 100 churches across the U.S. and Canada have adopted the practice.
For my family, the shift to expanded Advent came just as the weight of carrying out Christmas started to crush me. My boys were two and four, and December's frenetic pace left me depleted and battling bronchitis. My immune system's holiday collapse was becoming a tradition as consistent as filling the Advent calendar with goodies. I had started to wonder what this exhaustion was for, since my expectations rarely materialized. Instead of an idyllic family Christmas, our kids' excitement would dissolve into turf wars over new toys that ended in meltdowns on Christmas morning. Meanwhile, my husband and I would debate when we could impose mandatory naptime in order to get some peace from the havoc we had created.
Early on I read blogs that outlined how to prepare for Christmas throughout the year, so I could enjoy my holiday and still pull it off. One year I bought the stocking-stuffers in October, but then I couldn't find them until February. It turns out letting the gift-buying of Christmas encroach further left me without what I really wanted—space for contemplation.
Our church switched to expanded Advent after our priest fell in love with the concept, and our family minister, Page Clothier, has been instrumental in implementing the change. "Expanded Advent is good for everyone, especially women," Clothier said when I told her about my yearly burnout one Sunday during Advent in the church nursery, as my infant daughter chewed on toys and a friend's two-year-old served us pretend ice cream. "Women have to run the Christmas machine, and it just isn't necessary." Though it's not always women anymore, one family member generally shoulders the holiday burden, and everyone ends up burnt out in January. "I just feel so peaceful now during Advent," Clothier told me.
Thanks to our transition to expanded Advent, I'm beginning to feel that way too. Just as the holiday lights, decorations, and presents begin to flood the aisles, my family sits down to light the candles. As our church's priest, Mother LouAnn Pickering, explained, "We're walking the path toward Christmas and we're doing it prayerfully and spiritually." During the weeks when the nights are at their longest, letting the light in is a powerful symbol.
I've discovered that much of the beauty of Advent occurs as we walk that path: when the boys pick out food-drive items while grocery shopping, or check out books from our church library and read stories after school, or use copy paper and markers to make ornaments for the tree. So for seven Sundays, instead of four, we let the light in.