Adele Versus the Scalpers
By one estimate, the megastar's efforts to prevent concert tickets from winding up on the secondary market has saved her fans $6.5 million.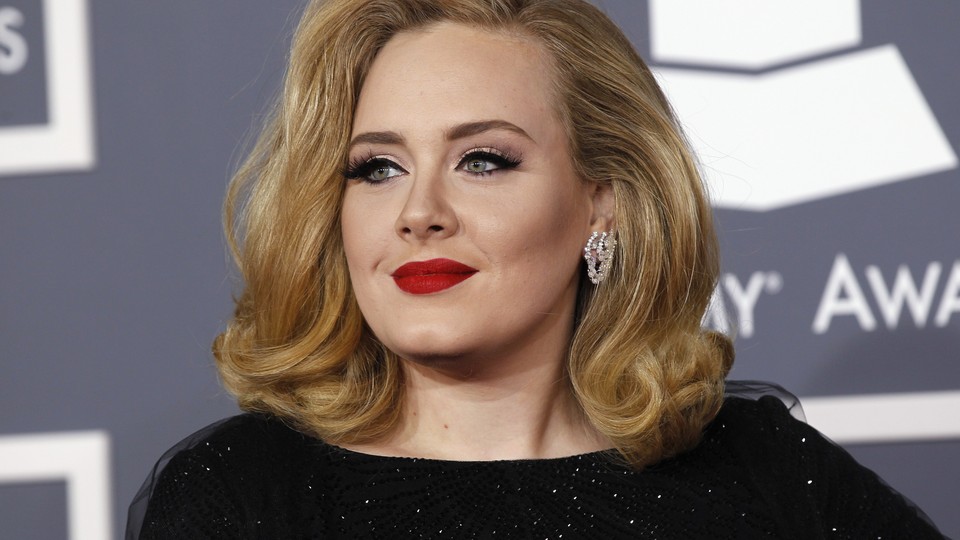 For American Adele fans, there haven't been many opportunities to see the star live on stage: She cancelled most of a 2011 tour due to a vocal cord hemorrhage and hasn't toured the states since. So Adele's announcement of a 2016 North American tour provoked a bit of excitement. But things have not gone as fans hoped: Tickets went on sale Thursday morning, but unfortunately for the thousands of people who were repeatedly refreshing their browsers, tickets sold out within minutes on Stubhub, there were longer-than-usual wait times on Ticketmaster, and the singer's website blocked many purchases. Later that day, Adele.com listed all shows as sold out.
Fans took to Twitter to complain, sometimes cleverly aping Adele lyrics in the process:
While it's not uncommon for these inconveniences to happen when a ton of people are competing for limited quantities, in this case Adele is leveraging her popularity to go after the live-event industry's scourge: scalpers. Adele has partnered with Songkick, a website  that specializes in selling and managing tickets sold through an artist's website, to sell 235,000 tickets to legitimate fans and to block approximately 53,000 sales to those who were determined "known or likely" scalpers (possibly determined by the quantity of tickets people were trying to buy). As a result of Songkick's efforts, more Adele fans were able to buy their tickets at normal prices instead of the exorbitant fees scalpers (or "touts" as British people call them) charge.
"By selling the highest number of tickets we were able to through our own channels, and working with Songkick and their technology, we have done everything within our power to get as many tickets as possible in the hands of the fans who have waited for years to see her live," Jonathan Dickins, Adele's manager, said in a news release. Adele's efforts to thwart scalpers saved her fans an estimated $6.5 million in elevated resale ticket prices, according to Chris Carey, the CEO of Media Insight, a consulting firm.
These savings were possible with relatively little intervention: Songkick only controlled 8 percent of Adele's North American tour tickets, and some of the remainder are sure to wind up in the resale market. (In the U.K., by contrast, Songkick controlled 40 percent of the sales for Adele's tour.)
Ticket resales have long been a contentious topic in the live-event industry (the secondary-ticket industry worth an estimated $8 billion). Professional scalpers make extremely large profits by quickly buying tickets at face value, and then offloading them, often for double or triple the original price. After Bruce Springsteen tickets were listed for upwards of $5,000 days before the tickets even went on sale, the New York attorney general sent letters to popular resale sites, TicketNetwork and Vivid Seats, asking about what are known as speculative ticket advertisements (ticket listings for which the seller may not actually possess the tickets at all, and buyers are duped into purchasing different or nonexistent tickets). And Adele isn't the only artist doing battle with the resale market. Mumford & Sons wrote a letter entitled "To all our Fans Around the World: Help Us to Stop the Ticket Touts," and Elton John called ticket reselling "extortionate" and "disgraceful."
In an interview with the New York Times music critic, Jon Pareles, earlier this month, Adele implied that she doesn't pay much attention to business side of the industry. As she put it, "I'm really pretty out of touch with the music industry. The ins and outs of it don't interest me in the slightest." But this is not the first time that she has taken a stand against common industry practices, and in a highly visible way. Shortly before her hit single "Hello" broke download records, Adele revealed that the album the single is on, 25, would not be available on streaming services such as Spotify or Apple Music.
Additionally, in a profile in The New York Times, Adele mentioned that she "didn't want to be the face of anything," referring to the endorsements she's declined over the years.  She joins the ranks of artists like Beyonce, Taylor Swift, Jay Z, and others who have restricted access to their images and music.
All told it seems that, despite her professed lack of interest in the music industry, Adele is tackling many of the music industry's most prominent issues—streaming services' cannibalization of album sales, artists' ability to control the availability of their work and image, and the secondary-sales industry. And she's doing all that while enjoying both commercial and artistic dominance.