A Mega-Merger of Equals
Dupont and Dow Chemicals announce the creation of DowDuPont, a $130 billion company.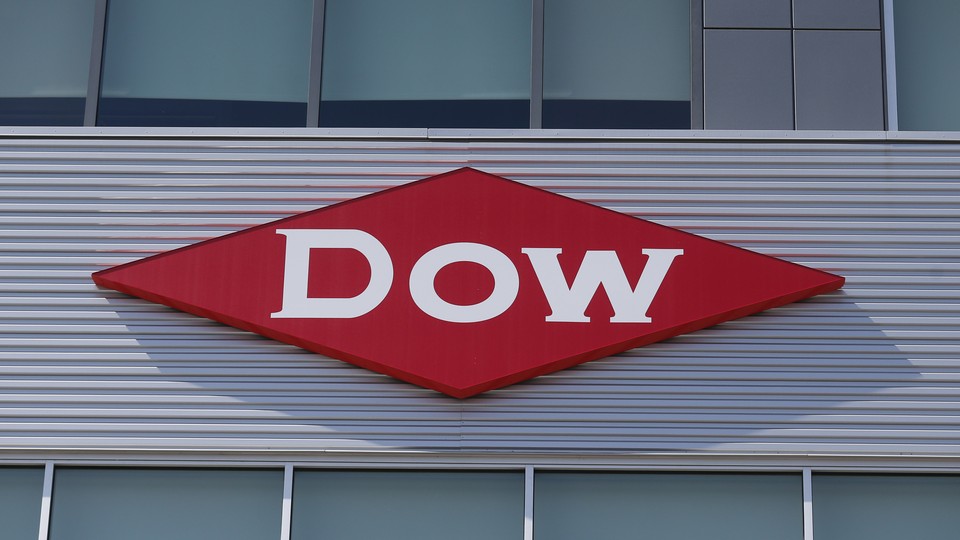 The boards of directors of DuPont and Dow Chemical Company have unanimously approved a merger between the two chemical giants, the companies announced Friday. They are calling it a merger of equals, and the combined company, DowDupont, is worth more than $130 billion.
The merger is expected to close in the second half of 2016, subject to approval by regulators and shareholders from both companies. About 18 and 24 months after a merger, DowDupont will be spun off into three independent, publicly traded companies—an agriculture company, a material science company, and a specialty products company, the statement said. The spin off is expected to be tax-free, and is an attempt to assuage regulatory concerns about the size of the proposed merger, one of the year's biggest.
​Andrew N. Liveris, Dow's chairman and chief executive officer, called the merger a "game-changer."
"This transaction is a major accelerator in Dow's ongoing transformation, and through this we are creating significant value and three powerful new companies," he said. "This merger of equals significantly enhances the growth profile for both companies, while driving value for all of our shareholders and our customers."
Liveris will become executive chairman of the newly formed DowDuPont Board of Directors.
Edward D. Breen, chairman and chief executive officer of DuPont, called the merger "a definitive leap forward" for his company's plans for higher growth and higher value.
"Each of these businesses will be able to allocate capital more effectively, apply its powerful innovation more productively, and extend its value-added products and solutions to more customers worldwide," he said.
Breen will become chief executive officer of DowDuPont. A yet-to-be named chief financial officer will report to him.
Under the terms of the deal, Dow shareholders will receive a 1 DowDuPont share for each Dow share; DuPont shareholders, meanwhile, will receive 1.282 shares in DowDuPont for each DuPont share they own. Shareholders from the two companies will own about 50 percent each of the combined company, excluding preferred shares.
The transaction, the statement said, is expected to save $3 billion over the two years after the transaction is closed.
The Wall Street Journal adds:
Still, there is no guarantee antitrust regulators would bless the union or that a breakup plan would address any such concerns. The merger would combine two top suppliers of industrial and agricultural chemicals and crop seeds, but it comes as sinking commodity prices and a strengthening U.S. dollar have hurt revenue across the companies' business lines.
The Journal in a separate story points out that the merger is likely to spur others in the industry.
Dow and DuPont get most of their revenue from sales of chemicals and materials, but a combination wouldn't sharply shift the competitive landscape in that relatively fragmented industry. A deal would, however, be the first major shake-up in more than a decade for the seed-and-pesticides business currently led by six firms including Germany's Bayer AG and BASF SE. Those companies are contending with weak crop prices world-wide that have pinched farmers' wallets and forced them to curtail spending on everything from seeds to fertilizer and tractors.
DowDuPont would be headquartered in Midland, Michigan, and Wilmington, Delaware.