A Home for Unlikely Neighbors
In one Harlem apartment building, single moms and formerly incarcerated individuals are building a community.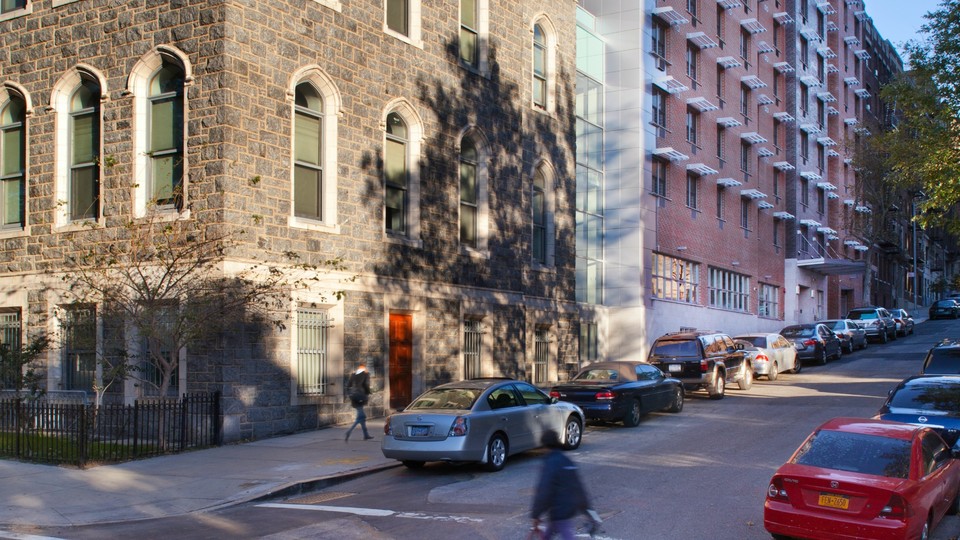 Not long after after Johnny "Knuckles" DeVincenzo finished serving his 44-year prison sentence, he was hanging out in the lobby of his apartment building. He noticed a woman with a small, crying child—they were both hungry, the woman explained. So DeVicenzo took them out to dinner.
A few months later, when he found out the child wasn't baptized, he brought the two to a church and stood in as the child's godfather as the child got baptized. It felt nice, to have that close friendship after so long in prison, so he started to reach out to other families in the building, asking moms if he could buy their kids toys, joking with the children or their parents—in short, becoming a grandfather of sorts to the dozens of kids who lived there.
"I enjoy speaking to people and I love children," DeVincenzo explained to me.
It may seem surprising that DeVincenzo, who served his prison term for firing shots that killed a two-year-old, and who gained his nickname from his habit of punching steel walls while in prison, would be so close to families with children. But the apartment where he lives, called Castle Gardens, in Harlem, by happy accident has become a melting pot for two different groups of people in dire need of affordable housing: aging ex-convicts and poor single moms.
Castle Gardens is run by the Fortune Society, a New York-based nonprofit that seeks to help formerly incarcerated people re-integrate into society. Fortune started the Fortune Academy, which provides short-term beds and support services to those recently released, in 2002 in a Gothic-style building nicknamed "the Castle" near Riverbank State Park in Harlem.
Then, in 2011, partnering with the development firm Jonathan Rose Companies, Fortune opened an 11-story building adjacent to the Castle with 114 permanent housing units. About 60 of the units are dedicated to formerly incarcerated individuals. The rest are open to low-income families. Because so many people coming out of prison are male, and because so many low-income families are single-mother-headed households, Castle Gardens, as the building is called, has become a haven for both. That's helpful both for the men trying to integrate into society and the women looking for a family where they had previously been all on their own.
"Part of what we're doing is building a supportive community," said JoAnne Page, the president and CEO of the Fortune Society "There's a healing force that community has."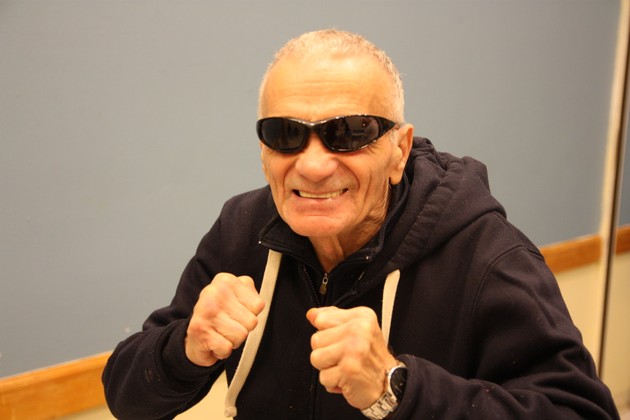 Re-entry is a tricky thing. The recidivism rate is 40 percent and in many places, including New York, finding a place to live and a job can be especially challenging because of limits on where people with criminal records can live and high prices. Formerly incarcerated individuals can thrive in supportive housing, where they can use in-house services such as case managers, or they can live totally independently.
Thanks in part to a 1999 Supreme Court decision prohibiting the segregation of people with disabilities, many housing providers integrate their supportive housing units with low-income units. Page says that Fortune has found that this type of integration can be helpful for both people in supportive housing and in low-income housing. And the staff does what they can to help people get along.At Castle Gardens, for example, there are weekly community meetings and frequent holiday dinners and events. The recidivism rate for people living in the Castle between 2010 and 2011 was only one percent.
"A lot of what it takes to bring people home is to be around a community of positive peers," Page said.
Still, when Fortune first talked about building Castle Gardens, investors were leery. Low-income moms with kids wouldn't want to live next door to formerly incarcerated individuals, they said. But when Castle Gardens opened up its low-income apartments to a lottery of people whose incomes were below 60 percent of the area median income, 2,000 people applied, said Stanley Richards, a senior vice president at the Fortune Society.
Barbara Biscaino was one of the people who applied. Biscaino and her daughter Nemiah, who was then seven, had been living in a homeless shelter for two years. They couldn't believe their luck when they became one of the first families to move into Castle Gardens. Nemiah, an honors student, started volunteering with the building and now Biscaino volunteers, too, working at a produce giveaway for the community. Biscaino says she likes being part of the Castle Gardens community; when she cooks, around holiday time, she always brings extra food to elderly neighbors like Johnny Knuckles. When her daughter has birthday parties, Biscaino reserves the community room and invites other kids in the building too.
When she moved in, Biscaino knew she and her daughter might be living in the apartment next to or above or below an ex-con.
"It didn't worry me at all," she said. "The only thing I would have had a problem with was if it was a pedophile."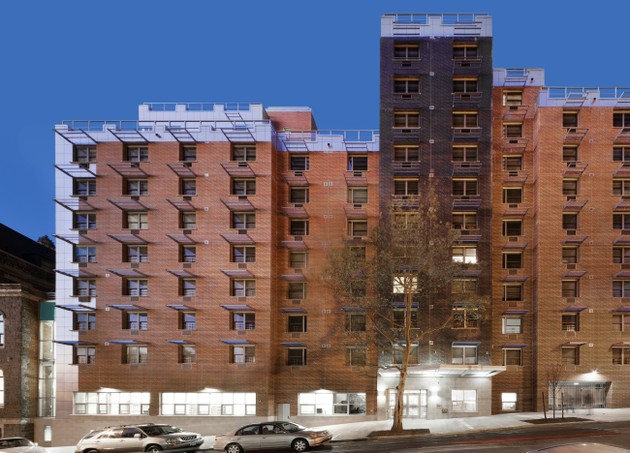 Many of Fortune's formerly incarcerated residents had been in prison for a long time, and are now aging in place. That makes it less likely that they'll wind up back in prison: Research shows that most people "age out" of crime. The recidivism rate for 20-year-olds is 60 percent, but much lower for people who are older when they are released, according to the Urban Institute. Arrest rates for homicides, rapes, and vandalism peak before age 20.
"People watch out for them. They're the grandfathers of the place, if you will," Page said.
I stopped by the Castle on a rainy evening that happened to be the night of the community Christmas party. DeVicenzo and other men and women sat around tables eating dinner while young children ran around the room shrieking and laughing and grabbing the shiny balloons that decorated the tables and chairs.
I talked to Vincent Hutchinson, who moved into the Castle in 2008 after serving 43 years in prison. He's now 82, and was a bastion of calm in the hectic dining room. I asked him if he minded all the children, who were making a lot of noise, but he just shook his head.
"This is what life is about," he said. "I grew up in a family, and now I see it here."
Richards says some of the old-timers are on such good behavior that they no longer have to report to parole, which is unusual for people serving life sentences (in many cases, if you are serving a life sentence but released on parole, you have parole for life). They include Johnny "Knuckles," who is so straight-laced these days that he says a New York homicide detective approached him and gave him a card, in case he saw anything out-of-the-ordinary in the neighborhood that he wanted to report. His law-abiding role in the community could be attributed to the anger management and life skills classes he went through at the Castle, it could be because he's over 80. Maybe he avoids trouble because he feels so strongly about his community at Castle Gardens. It's easier, too, to get by these days than it was when he was growing up in foster care in Queens. Now, he gets Social Security and has enough to pay his rent. Then, he had to steal for it. He still wants to punch a steel wall sometimes, but that's just to show off how strong his knuckles have become.
"If you asked me what I was going to do when I got out, I may have put a gun in my hand or done other things to make money," he told me. "But now I get SSI, and I don't have to steal any more. That kind of life is behind me."