A Day in the Life of a Department-Store Elf
"You have to talk to the kids in an elf way, and talk to the parents in a not-elf way."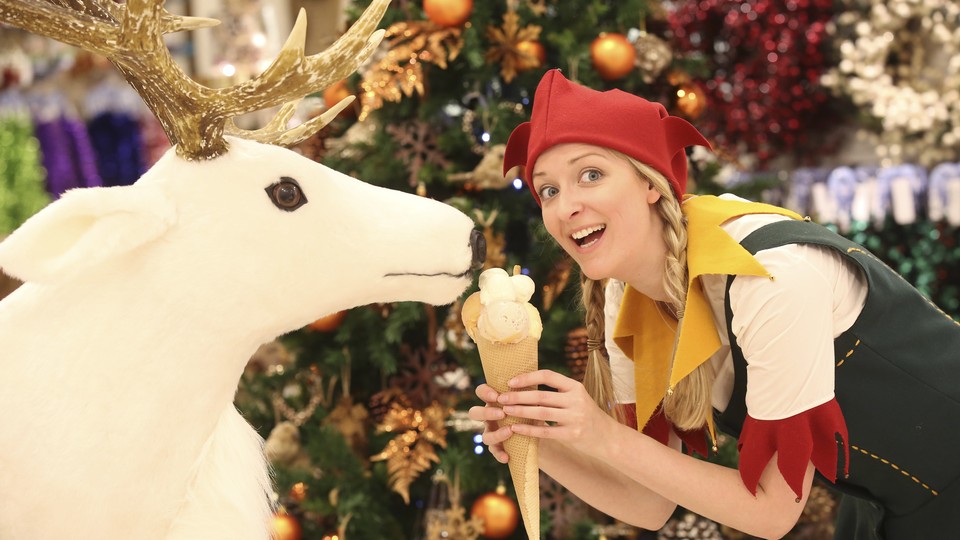 It's 22 days before Christmas, and the Bloomingdale's department store on 59th Street and Lexington Avenue in Manhattan is already decked in its holiday finest. Speakers pump carols out onto the sidewalk, crowded with pedestrians stopped to gawk at the windows. Inside, the whole place smells like cinnamon. In the first-floor lobby, ornaments twinkle like giant disco balls over the escalators, ferrying a steady stream of shoppers weighed down by brown bags.
On the sixth floor, temporarily wedged between fine china and shiny appliances, is Santaland.
Santa sits on a crushed velvet throne set against a noir-inspired panorama of New York City, and flanked by two Christmas trees, showered with a curtain of mirrors cut into circles, squares, and rhombuses. They shimmer as they twirl and catch the glare from thousands of tiny twinkle lights. Boxes of candy and shrink-wrapped gingerbread houses are stacked on shelves nearby.
It's the elves' job to make sure this little wonderland doesn't fall apart. This year, Erin Johnson is the head elf. When the kids arrive, her name is Sugarcookie.
"On the weekend, it's insane," she tells me. "This year, we're over here with the ornaments and stuff. I hope everything doesn't break."
When I meet Johnson, a woman is leading her airedale away from St. Nick. She brought her puppy to get his picture taken with Santa. Johnson—who is wearing the company-mandated sparkly green vest, but no slouchy hat—smiles and shrugs. She says this happens a lot.
It's the 27-year-old's third year as one of Santa's helpers. She has this gig from Thanksgiving weekend to December 23. The rest of the year she's an actress. She works at Santaland five days a week, from 10 a.m. to 6 p.m. The other days, she takes acting class and prepares for auditions.
When she's at work, Johnson makes sure all the elves are rotating through positions—sneaking guests' names to Santa, working the cash register, snapping photos of the kids. "You have to talk to the kids in an elf way, and talk to the parents in a not-elf way," she says. "You can really play up whatever they believe." When some kids spy Santa, she says, "they're so starstruck."
Johnson thinks her improv skills help her get into character and field questions from kids who take her gig very seriously. Sometimes kids ask things like why she's so tall. "I say, 'When we leave the North Pole in the morning, we grow three feet,'" she laughs. "I'm good at the job because I can back-and-forth all day about nonsense."
She says that nearly all of the elves are actors. (She met another one of the elves when they performed together at a cabaret.) "I think this job is really only appealing to an actor," she adds. "A short time with no promise of permanent work probably wouldn't appeal to most people." But it's a good fit for Johnson. She says the job pays the rent for her small Lower East Side apartment and allows her to pocket some extra cash. "In January and February, I don't know what I'm going to be doing yet, but I can go on auditions and know that I [have] money," she says.
When I visit, there's no one in line. It's the middle of the day, and most kids are in school. "Right now, it's so chill," Johnson says. "Kids can come up and chat with Santa for 15 minutes. It's magical." It gets much busier as the month plods towards Christmas, and parents grow increasingly frantic about not having checked a Santa portrait off the to-do list.
Sometimes, parents freak out. In the final days before Christmas, Johnson adds, she has to enlist security guards to help her soothe parents, whose brains are scrambled from an hour of milling around in the fluorescent area. She's familiar with the kinds of skirmishes that David Sedaris chronicles in his Santaland Diaries, an account of his stint as an elf at Macy's. "As head elf, I have to turn people away and be that smiling face that they yell at," she says.
Of course, kids have meltdowns too—some of which are hilariously documented in the book Scared of Santa, which features more than 200 pictures of kids wailing on Santa's lap. But Johnson especially loves when little kids ask Santa for advice about their crushes. "One little girl told Santa, 'I want Omar to love me,'" Johnston laughs. "That's her Christmas wish!" Her all-time favorite Santaland confession: a girl who said that she didn't feel comfortable with Santa coming down the chimney. "She asked him to please leave the presents with the doorman," she says.
The Tennessee native says that even after eight hours of Christmas every day, she's not tired of the holiday. "I'm obsessed with Christmas," says Johnson. "But I am getting a little tired of the playlist." She has a tree at home, but hasn't hung up any ornaments. "I feel like I don't need to buy decorations, because I'm surrounded by them all day."
---