Will a 'Goodwill Package' Win Back Angry VW Owners?
For people who paid several thousand dollars extra for a clean-diesel car, the company's $1,000 offering may feel meager.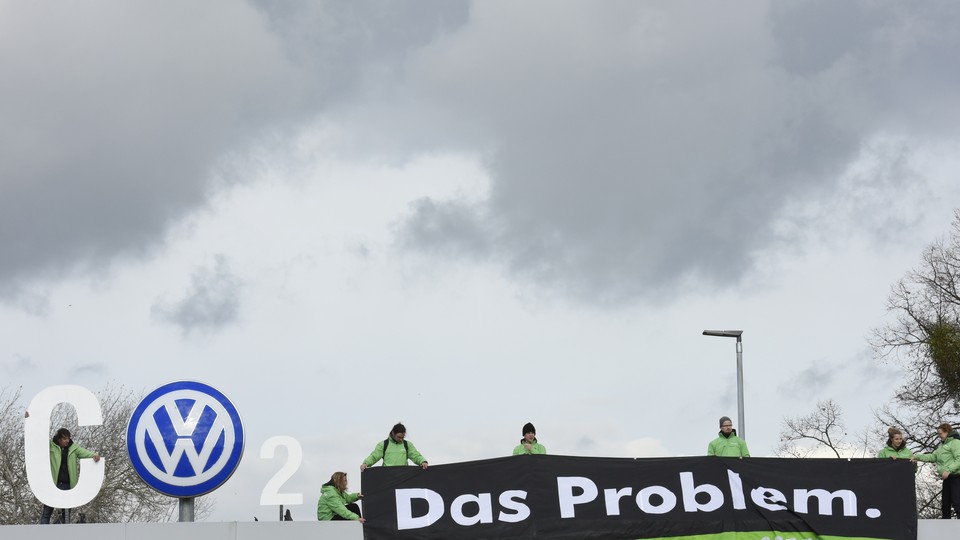 On Monday, Volkswagen announced that it will offer a combination of cash and dealership credit to the owners of the roughly 482,000 vehicles that were designed to cheat emissions tests. This compensation isn't required by any regulatory or judicial command, and the company is presenting it as a gesture of goodwill. "It's clear that our company betrayed the trust of our customers, our employees, our dealers, and the public," said Michael Horn, the CEO of Volkswagen America, in a video message accompanying the details of the offer.
The compensation is $1,000 total, $500 of which comes in the form of a prepaid debit card and $500 of which can be put toward service at a VW dealership as well as 24-hour roadside assistance for three years. If all owners accept it, it would cost the company about $500 million, which is part of the $7.4 billion Volkswagen has set aside to deal with the fallout of its scandal. Earlier this month, the EPA accused Volkswagen of cheating on emissions tests in 10,000 more cars than the company originally admitted, and a similar package for the owners of those vehicles is likely on the way.
(Any owner who accepts Volkswagen's package is still eligible to participate in a class-action lawsuit in order to receive further compensation in the future. There are already about 350 lawsuits filed against the company in the U.S. so far.)
Even when combined with the $2,000 credit, announced last month, to be put toward a new VW car, the overtures the company is making to its jilted customers will probably not be enough to appease many of them. One lawsuit estimates that owners paid $7,000 extra for a clean-diesel vehicle. And many owners continue to worry about the drop in resale value of their vehicles—not to mention their concerns about performance after Volkswagen has made the necessary repairs. Some owners simply want Volkswagen to buy their cars back—one FAQ on the company's site for customers is "I want to turn in my vehicle now. Can I and how?" (Volkswagen's response: "We ask for your patience.")
All of these gestures are independent of Volkswagen's legal obligations, which have yet to be determined. (Some analysts think that the $7.4 billion the company has set aside will not be enough.) The company is still discussing software fixes with the EPA and the California Air Resources Board. According to an EPA spokesperson, an official recall won't be announced until that fix has been tested and approved.