There Are Plenty of New Apartments Being Built—Just Not Affordable Ones
A surplus of swanky residences means wealthier renters aren't seeing the huge price increases that poorer ones are.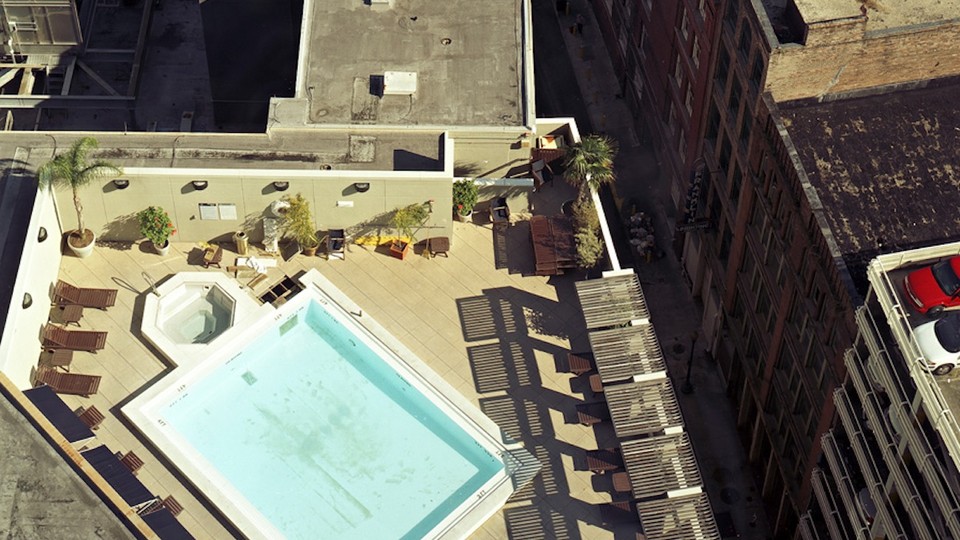 While the post-crisis, housing-market turmoil has mostly subsided, the impact of the crash on the rental market is ongoing. Simply put, rent has been skyrocketing in just about every American city.
Since many younger Americans continue to shun homeownership, both because of financial barriers and because of decreased faith in the value of owning a home of one's own, the rental market is getting more and more packed. With few people phasing out of renting and lots of people looking to rent their first place, vacancies around the country are low—on average around 7 percent of rental properties are open, which is low by historical standards.
Because the ranks of renters are growing without a corresponding increase in construction, rents are rising  across the board. Nationwide, the price of rent increased by about 3.7 percent from September 2014 to September 2015, according to data from Zillow. And it's estimated that by the close of 2015, the average percentage increase in rental prices will match (if not exceed) the rate at which home values appreciate. That comparison matters a lot: Generally, housing prices grow at the pace of inflation, plus 1 or 2 percent. That appreciation is what helps build equity, which makes homeownership appealing in the first place. The growth in rental prices is usually closer to the rate of inflation, recently it's been exceeding that.
But the price of rent isn't increasing for some as quickly as it is for others. In a recent analysis published on a New York Fed blog, the economists Jonathan McCarthy and Richard Peach find that the price of housing is increasing a whole lot more for those at the bottom of the economic ladder than for those at the top, even when controlling for the possibility that growing utilities bills are responsible for the increasingly heavy burden on renters.* That's especially troubling because it means that even relatively affordable apartments are quickly becoming too expensive for low-income families.
The reason for this gap is what construction projects developers are deciding to pursue these days. The Fed researchers took a look at housing supply and found that there's a lot more construction happening at the top of the market, where developers and builders are quickly getting luxury apartments to market. The wide selection of swanky apartments actually helps to keep inflation at bay for pricier properties. Since there are so many options at the top of the market, landlords compete for new tenants, which helps keep the cost down for consumers.
But for those in lower income brackets, things aren't working out as nicely. Construction has been slow for cheaper apartments, since many developers are more focused on renovating existing properties or building new ones in hopes of appealing to more affluent renters. That will only become more true as central urban neighborhoods continue to fill up, and more affluent renters show themselves to be happy to move to farther flung neighborhoods and pay higher prices than previous residents once did. Faced with a choice between building ritzy apartments that can be priced at the market rate or building government-subsidized ones, developers are generally drawn to the former. They can also benefit from making a building mostly market-rate units and leaving a small percentage of units as affordable-housing units, which earns them tax advantages but still allows them to make a hefty profit.
But even when a developer includes a few units that qualify as affordable housing, it's not enough. There's a ton of competition for the limited number of lower-priced units. Because government-subsidized units can include long wait lists, that only increases competition for the low-priced apartments available on the open market. That competition pushes prices up, making them not so affordable. Additionally, the lack of lower-priced units can discourage people from moving, for fear of being priced out of a neighborhood or city entirely. Which means that often the only available apartments are higher-priced ones recently vacated by those climbing up the rental-housing ladder.
In order to change that pattern, intervention is likely needed in the form of government policies that encourage and reward builders to build affordable units in the first place and then discourage them from converting them to pricier units in the future. Until then, millions of low-income Americans will continue to face fewer options and higher prices.
---
*The researchers at the Federal Reserve issued a note saying that "a spreadsheet error in the data analysis has raised doubts about some of the conclusions reached" in its report. This post will be updated once those errors have been clarified.