May the Profits Be With You
The selling power of Star Wars merchandise: a multi-billion dollar force unto itself.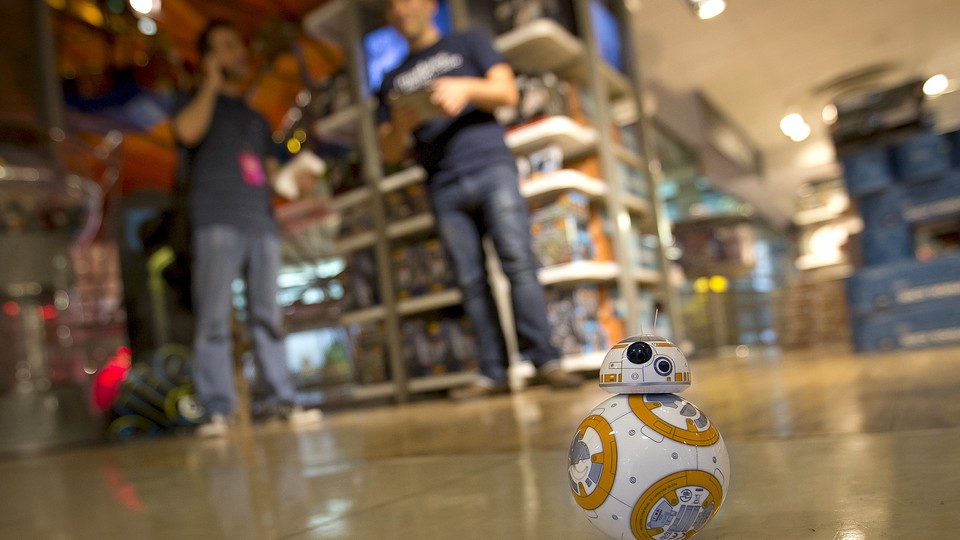 More than two months before the consumer rush of Black Friday this year, another equally cutthroat holiday took over toy aisles and electronics departments: the inaugural Force Friday. A Disney brainchild, the September 4 event was developed to drum up buzz for merchandise related to the upcoming film, Star Wars: The Force Awakens. It featured the release of never-before-seen toys and gadgets and launched a three-month span of promotions leading up to the movie's debut. On Force Friday, retailers across the country, including Target, Toys 'R' Us, and, of course, Disney Stores, opened their doors at midnight to eager shoppers, many of whom had been waiting for hours to get access to items such as the Millennium Falcon Lego set, the Furbacca (a Chewbacca-inspired Furby), and a BB-8 app-enabled droid.
That day alone Star Wars merchandise sales are estimated to have neared $1 billion. Following the movie's release date on December 18, those sales are projected to grow to a potential $5 billion in its "first year of release," according to Macquarie Securities analyst Tim Nollen. He notes that this could translate to $500 million in licensing and retail revenue for Disney, which purchased Lucasfilm for $4 billion in 2012. Other more conservative estimates have placed the total merchandise sales following the new film at a slightly less impressive $3 billion. In 2014, entertainment-based licensing generated total global retail sales of $107 billion, a value that Star Wars sales are expected to significantly contribute to in 2015 and beyond.
The merchandise that's been spawned by the franchise—which includes everything from R2-D2 action figures to Jedi Master Lightsabers to Uggs that are adorned with a bedazzled Darth Vader—have long driven most of the franchise's revenue, racking up $32 billion in total sales since the first Star Wars movie came out in 1977. This number is several times what the films have earned at the box office during that same period ($4.5 billon, according to IMDB). In its analysis of how much money the franchise has made thus far, The Telegraph notes that the total Star Wars haul including merchandise sales, movie tickets, and other products like video games and DVDs, among many other line items, nets out at $42 billion—trumping the combined total sales from James Bond and Harry Potter.
Rare collectors' items are also a key part of the Star Wars frenzy—in December, Sotheby's is set to auction off a variety of Star Wars memorabilia including two sets of "Power of the Force" coins, which are mounted together and valued at $35,000. Earlier this year, a Star Wars fan in London sold an IG-88 droid he had originally bought for a little over $2 for more than $6,000, jokingly urging others to "check their attics."
Much of the Star Wars appeal is an emotional one—many fans who have followed the franchise from its beginnings feel a strong connection and nostalgia toward the series. Additionally, because of its longevity, the films are ones that have resonated with people across generations—and become experiences shared by parents and children. As one reader said in a New York Times article chronicling Star Wars memories, "Our dad indoctrinated it in us. In fact my baby brother could imitate ewok sounds before he could speak English." Parents aim to solidify that connection by giving gifts on the Star Wars theme.
With the release of the new movies, the franchise is also constantly updating itself and being reinterpreted (and funded) by new audiences. The Force Awakens' movie-ticket pre-sales have already surpassed box-office records, making more than $50 million so far. With these kinds of profits, it's likely the Jedi will simply keep returning again and again and again.