The Futility of State-Level Efforts to Keep Refugees Out
If governors really want to deter Syrian migrants, they should just make their states terrible places to live and work.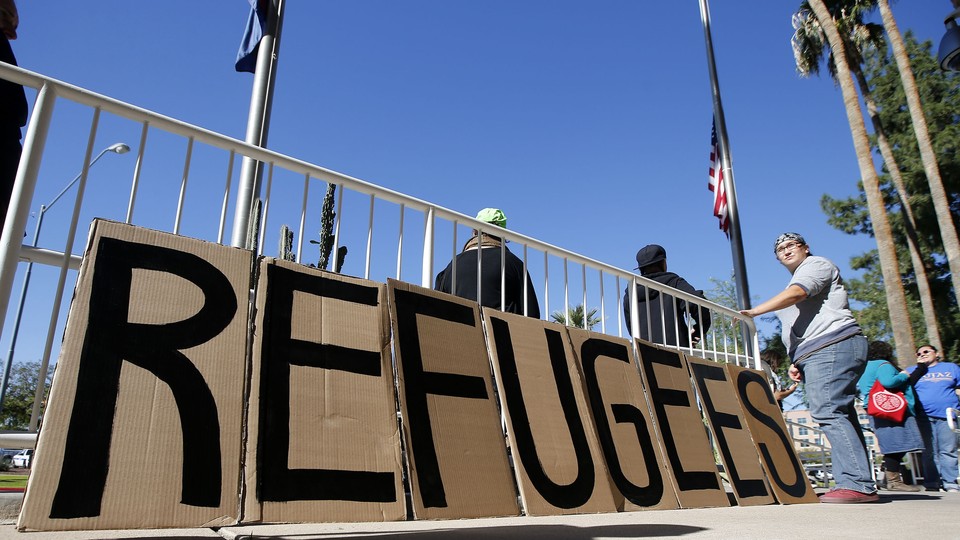 Amid the flurry of statements declaring Syrian refugees unwelcome in 26 states including Louisiana, Michigan, and Nevada, governors seem to be hoping one fact would just go away: Refugees can, and will, go wherever they want once they move to the United States.
According to the Office of Refugee Resettlement, in 2012 alone more than 10,000 refugees living in America moved to a different state from the one where they'd originally settled (The U.S. has resettled about 784,000 refugees from around the world since September 11, 2001).
The most popular destinations in 2012 were Minnesota, Florida, Ohio, and Texas, according to government data. That's even though Florida, one of the states whose governor recently said he won't accept Syrian refugees, hasn't exactly rolled out the welcome mat. In Florida, for example, the amount of refugee cash assistance available to a single adult in 2012 was just $180 a month, less than the assistance available in the majority of other states, even though median monthly housing costs are higher. Florida also pays out lower Temporary Assistance to Needy Families benefits than other states: just $303 for a family of three. California and Connecticut pay double that.
Secondary migration can be an organic phenomenon, with people moving to states where they know others, or where they've heard there are jobs. Despite claims that refugees move to states where they receive the highest benefits, Kathleen Newland of the Migration Policy Institute says refugees can lose cash and medical assistance when they relocate.
"It certainly gives the lie to the trope that they're just going to the places with the highest welfare benefits," she said. "If they do carry out a secondary movement, they lose their welfare benefits."
The federal government has reduced the amount of time refugees can receive cash assistance after arriving in the country. In 1981, refugees received 36 months of assistance, which was reduced to 18 months in 1982, 12 months in 1988, and 8 months in 1991. This might motivate migrants to move sooner than they otherwise would, because they have less to lose when they leave.
There have been cases of a planned, large-scale secondary migration among ethnic groups. Newland tells the story of a group of Somali refugees living in inner-city Philadelphia who worried that their children would be exposed to bad schools and violence in the neighborhood where they were resettled. So they sent a group of elders around the country to look for a place to raise their kids. They settled on Lewiston, Maine, even though there were few economic incentives to move there. They moved because the schools were good and the housing was cheap, according to Kimberly Huisman, who wrote a paper on secondary migration in Lewiston.
"It is very hard to find a job in Lewiston but I think it is good place to get an education, for our children to go to school," one refugee told her.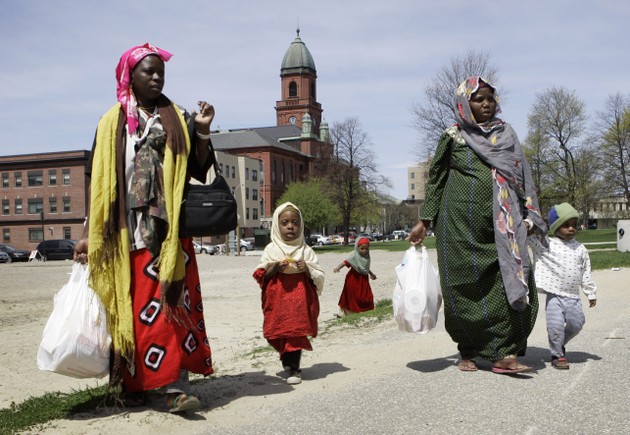 I was recently in Syracuse, which has accepted thousands of refugees over the years. Many leave, though, not because they don't like Syracuse, but because they can't find work. Indeed, some of the states with the highest influx of refugees had relatively low unemployment rates in 2012: Minnesota at 5.4 percent, Iowa at 4.9 percent. The states with the highest outmigration in 2012—Arizona, California, and New York—had some of the higher unemployment rates.
"Some of them will move after a week, after three months, to Minnesota," Abdullah Ismael, a Somali immigrant who lives in Syracuse, told me. "There are a lot of people there, and they say it's better."
In Texas, one of the states with the most secondary resettlement, 82 percent of refugees had entered employment, according to the Office of Refugee Resettlement. In California, one of the states that refugees have tended to leave, only 25 percent had.
It may be a lesson to those governors who don't want Syrian refugees. Want no refugees to settle in your state? Simply make it a harder place for any citizen to find a job, and you'll be all set.