Alibaba Brought in $1 Billion During the First 8 Minutes of China's Black Friday
On Singles Day, the company alone made more money than every American online retailer makes on the weekend after Thanksgiving.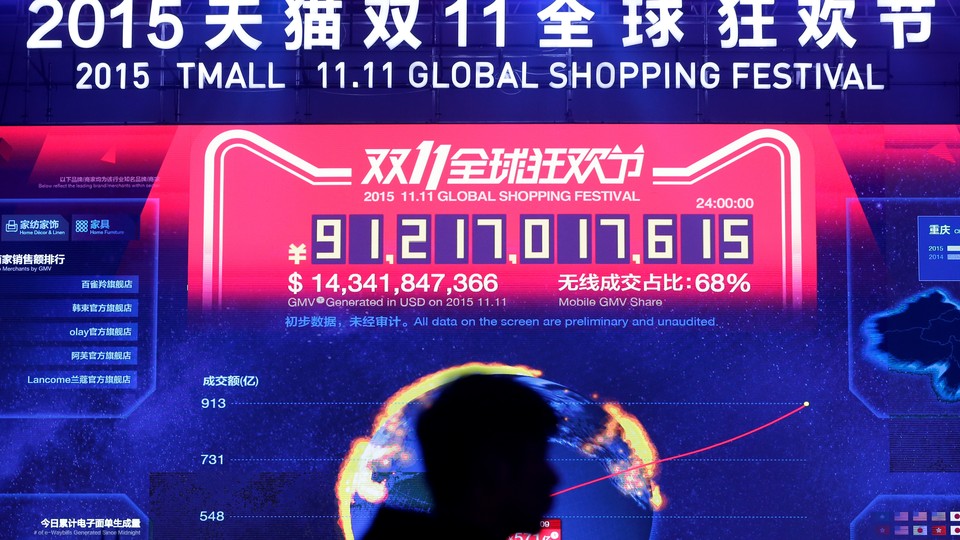 Singles Day—celebrated in China on November 11 each year—was dreamed up in the early 1990s by a group of college students looking to simultaneously commiserate and revel in their single status. They selected the date, 11/11, for its symbolic meaning—not merely the loneliness of the number one, but its visual resemblance to "bare branches," a Chinese phrase for those who are still unmarried. The day has evolved over time to become something akin to a "treat yourself" holiday, when people purchase presents for themselves and go out to commemorate being single—repurposing the spirit of Valentine's Day, when couples buy gifts for one another, for the individual.
Of course, given the consumer-centric undertones of the holiday, it wasn't long before retailers began to take notice, with one in particular launching a massive ad push in 2009. That year, the e-commerce monolith Alibaba began aggressively marketing around the day itself, offering specially-timed "Double 11" deals and bargains via its sites Taobao.com and Tmall.com, much like stores do on Black Friday in the United States. The debut of these promotions coincided with the explosive rise of e-commerce in China, leading to 5,740 percent growth in Alibaba's "Double 11" sales between 2009 and 2013.
The retailer, which now holds a trademark on the phrase "Double 11," also continues to own, at least metaphorically, the holiday itself. This year, within the first eight minutes of opening its proverbial doors, Alibaba had sold more than $1 billion in merchandise. In total on Singles Day, the company raked in $14.32 billion, breaking the record it had set in 2014, when it made a measly $9.3 billion. While many other vendors also offer enticing discounts, Alibaba continues to sweep online retail purchases, partly because of its history with the event as well as its existing dominance in Chinese e-commerce, making up 80 percent of Internet sales there.
To maintain its leadership and momentum, Alibaba also added a great degree of spectacle to its 2015 sales efforts. One such ploy featured Kevin Spacey in a commercial as his House of Cards character Frank Underwood, sending shoppers a message direct from the Oval Office. He expresses chagrin around his inability to participate in the holiday given the security of presidential firewalls and notes in his signature southern drawl, "If I were allowed to shop on your Singles Day, I wonder how cheap I could get a new burner phone, for example, because one burner is never really enough, is it?"
Alibaba also broadcast a four-hour variety show on television, leading up to the start of the holiday, including guest appearances by Chinese celebrities such as the singer Jolin Tsai as well as Daniel Craig, the current James Bond actor. Throughout the day, people were able to continue accessing prizes and coupons that the company was giving out, many of which were promoted via smartphone. According to Alibaba, mobile purchases spiked this year, accounting for as much as 72 percent of total transactions, versus 43 percent in 2014.
According to ​Business Insider, Alibaba's revenues on Singles Day far surpass the combined revenues of Black Friday and Cyber Monday, which are projected to be nearly $6 billion this year. While an Alibaba competitor, JD.com, did not disclose how much revenue it generated on the holiday, its sales, along with those of other participating retailers, likely added a significant amount to Alibaba's already staggering $14.3 billion take. That's a whole lot of candy hearts.