SeaWorld to Kill Killer-Whale Shows to Stay Afloat
Critics of the theme-park chain say the move doesn't go nearly far enough.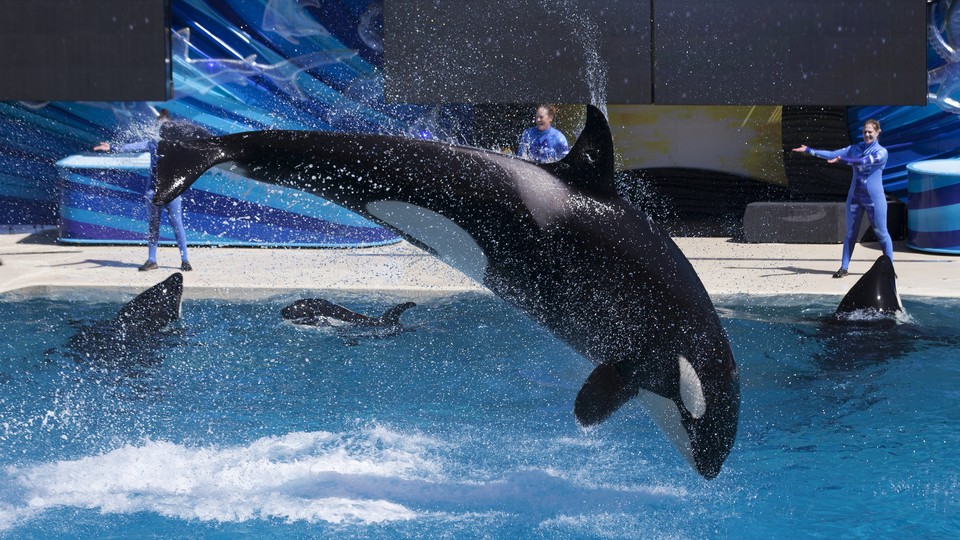 On Monday, SeaWorld announced it would finally end its "theatrical killer whale experience" at its flagship theme park in San Diego.
The move comes in response to an effective publicity campaign inspired in part by Blackfish, the 2013 documentary that alleged that orcas are suffering in confinement at the water parks. In the ensuing years, SeaWorld attendance has dropped and the company has continued to face protests.
"We are listening to our guests, evolving as a company, we are always changing," said Seaworld chief Joel Manby. "In 2017, we will launch an all new orca experience focused on natural environment. Two-thousand and sixteen will be the last year of our theatrical killer whale experience in San Diego."
The announcement was only met with tempered approval and for a few reasons. First, the killer whale shows in Orlando, Florida, and San Antonio, Texas, appear set to continue. Also, the orcas will continue to be held and bred in captivity, a key charge of SeaWorld opponents.
Lorena Gonzalez, an assemblywoman in San Diego, was muted in her praise of SeaWorld's decision, "Today's acknowledgement by SeaWorld does not end our push to halt inhumane orca captivity and breeding practices, but it's a step in the right direction."
Jared Goodman, a representative for PETA, was more direct:
This move is like no longer whipping lions in a circus act but keeping them locked inside cages for life, or no longer beating dogs but never letting them out of crates.